Jade Helm 15: One nation under siege?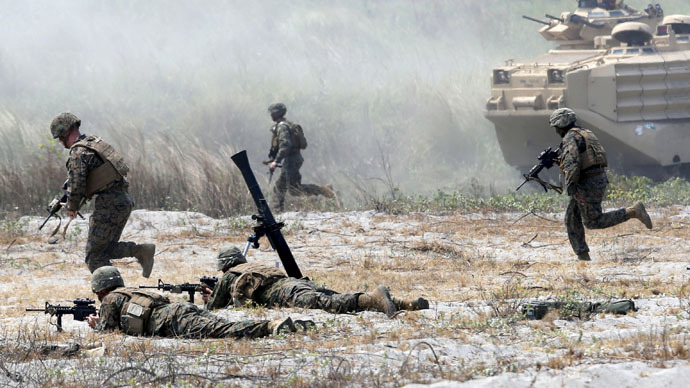 ​An unprecedented military operation spanning seven southwestern US states has grabbed the attention of not only conspiracy theorists, but the governor of the second largest state in the republic.
Jade Helm 15, the largest domestic military exercise ever held on US soil, will bring together over 1,000 members from the nation's elite forces, including Green Berets, Special Ops from the Navy and Marines, and SEALS. The sweeping operation, according to the Pentagon, will give soldiers an opportunity to practice "unconventional warfare."
But don't expect Humvees full of gun-toting American GIs careening along Main Street, causing a general ruckus. According to local reports, secrecy will play a large part in Jade Helm 15, which adheres to the enigmatic motto: "Mastering the Human Domain," complete with a baffling logo that features two crossed arrows, a dagger and a transparent shoe in the center.
READ MORE: 'Martial law exercise?' Texas jittery over US military drills
"They're going to set up cells of people and test how well they're able to move around without getting too noticed in the community," Roy Boyd, chief deputy with the Victoria County Sheriff's Office, told the Houston Chronicle. "They're testing their abilities to basically blend in with the local environment and not stand out and blow their cover."
Now if that isn't enough to raise the red flag of fear among conspiracy theorists and average citizens alike, an unclassified US Army map describes the states of Utah and Texas as "hostile" territory. The Army explains this classification as merely attempting to portray a hypothetical hostile zone in a real-war situation (US brass attempted to reassure the citizens of Texas by telling them their state is slightly larger than the central Asian nation of Afghanistan, which apparently did little to tamp down suspicions).
For many Texans, however, having their state described as "hostile" not only brought their Republican blood to a boil, it reconfirmed their worst fears that martial law was about to be declared, complete with mass arrests, gun confiscations, even deportations to FEMA "internment camps." In April, the citizens of Bastrop, Texas got a chance to grill a US Army Colonel in a public forum on such questions, but few walked away, it seems, feeling comfortable with the answers they received.
Meanwhile, don't expect your local media outlet to provide firsthand coverage of the biggest domestic military operation in US history. Although journalists have been granted access to past domestic maneuvers, and even permitted "embedded" reporters to travel with US forces in overseas battlefields, that same courtesy does not apply to Jade Helm 15.
"All requests from the media for interviews and coverage of US Army Special Operations Command personnel, organizations and events are assessed for feasibility and granted when and where possible," Lt. Col. Mark Lastoria, a spokesman for Army Special Operations Command, Lastoria said in a statement released to The Washington Post. "We are dedicated to communicating with the public, while balancing that against the application of operations security and other factors."
Great way to calm concerns over #JadeHelm - ban media coverage. https://t.co/Q2tmliC9Et

— Paul Joseph Watson (@PrisonPlanet) July 9, 2015
Indeed, so much conspiratorial dust has been kicked up over Jade Helm that Wikipedia has dedicated an entire page to the subject of 'Jade Helm 15 conspiracy theories' (some have even expressed confusion that there is no Wikipedia page devoted to the military exercises themselves).
Perhaps the wildest Jade Helm-inspired conspiracy theories involve the sudden closure of five Walmart stores at the same time the military operations will be running. Although Walmart said they closed the stores over "plumbing issues," local news reports say the retail giant has yet to file permits to begin repair work. Conspiracy theorists now believe these stores will serve as "processing centers" once martial law goes into effect this summer.
Others point to a less disturbing, more plausible reason for the stores closures: Wal-Mart is simply trying to thwart its workers from forming labor unions.
In April, the United Food and Commercial Workers Union filed a claim with the National Labor Relations Board that says the closings were in retaliation for "a history of labor activism" at one of the closed stores, in Pico Rivera, California, according to the New York Times. The Pico Rivera store was the site of the first strike at a Walmart store in the United States, in 2012, where employees demanded changes to Wal-Mart's work conditions, including paid maternity leave, access to full-time, and at least $15 an hour in pay for workers at the retailer's 4,500 stores across the nation.
However, while that may explain the closure of the Walmart stores, it does not explain why the US military needs to hold such lengthy military operations – amid a cloud of secrecy – in the first place. After all, the US has over 900 military bases worldwide. Surely such operations could have been held at one of those sites?
In any case, the public backlash has become so severe that it prompted Texas Governor Greg Abbott to order the State Guard to monitor all Jade Helm military activities in his state.
"I've ordered the Texas State Guard to monitor Jade Helm 15 to safeguard Texans' constitutional rights, private property & civil liberties," Abbott announced.
As if that were not enough, even martial arts expert and Hollywood tough guy, Chuck Norris, jumped into the debate, expressing his own reservations about Jade Helm.
Jade Helm Alert: Military Denies Media Requests To Cover "Texas Takeover" http://t.co/FoELdj1XBQ

— zerohedge (@zerohedge) July 9, 2015
"If you haven't heard about Jade Helm 15, you need to. It is multi-state training mission for special operations soldiers…with most of the activity happening on private property but some public, too," Norris wrote.

Now if Chuck Norris is showing apprehension over this unprecedented military operation, than it would certainly seem justified to say that the Pentagon has fumbled the public relations ball on this one.
Jade Helm 15 begins on July 15 and runs through until September 15.
The statements, views and opinions expressed in this column are solely those of the author and do not necessarily represent those of RT.
The statements, views and opinions expressed in this column are solely those of the author and do not necessarily represent those of RT.
You can share this story on social media: