​Will 'interests outweigh obstacles' in US-China relationship?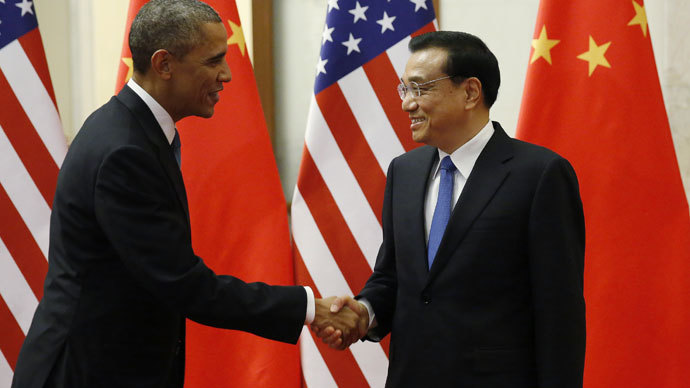 Although there were quite a few feel-good announcements, the Strategic & Economic Dialogue clearly shows mutual trust in Sino-US relation remains a massive work to be done
As the tension between Beijing and Washington over the South China Sea intensified, a number of alternative voices emerged advocating a rethinking of the Sino-US relationship.
From the policy of what many thought was focused on 'containment' of China, there are now suggestions that ask Washington to 'accommodate' the emerging Asian power by responding to its need to be treated as an equal partner on the international stage.
Some call it 'utterly ironic' that two of world's largest economies should build separate economic blocs - one leading the Asian Infrastructure Investment Bank (AIIB) the other the Trans-Pacific Partnership (TPP).
Others say Obama administration's opposition to the AIIB is not what the position of a responsible stakeholder should be.
Attendees at the recently concluded seventh US-China Strategic and Economic Dialogue (S&ED), including State Secretary John Kerry, Vice President Joe Biden, Secretary of Treasury Jack Lew, Chinese Vice Premier Liu Yandong, Chinese Vice Premier Wang Yang and Chinese State Councilor Yang Jiechi seem to have paid close attention to this advice.
READ MORE: US, China strike deal, set to hold joint military drills
Both sides reiterated the growing importance and 'responsibility' of China on the global stage and how the two largest economies should collaborate to resolve many of world's problems.
During his closing remarks, Kerry said: "The US welcomes the emergence of a stable, peaceful, prosperous China… there are very few global challenges that we could not better address through closer US-China collaboration."
Councilor Yang reciprocated by commenting that China is ready to cooperate and collaborate with the US wherever required in the Asia Pacific region and beyond.
"China is a participant, builder, and contributor to the current international system. We hope that China and the US will work together to uphold the victorious outcome of the Second World War and uphold the basic norms governing international relations."
Significant outcomes emerged from the joint summit notably on climate change, initiatives to protect the ocean, collaboration in cyber security codes of conduct, and cooperation in combating illegal wildlife trafficking, among others.
On the business side, both agreed to share a new "negative list" in order to move forward on the stalled Bilateral Investment Treaty (BIT) talks.
READ MORE: China confirms test of new hypersonic strike vehicle 'Wu-14'
Secretary Lew also cited steps taken by China with regard to its undervalued currency against the dollar. He acknowledged that the renminbi, or RMB, has appreciated in value and said that China's foreign exchange intervention has declined over the past year. Beijing committed to intervene in currency markets only when market conditions are disorderly.
However, beyond these feel-good words, the fault-lines continued to expose deep mistrust in the bilateral relationship.
Cyber security
The issue of cyber security featured prominently during the summit.
Earlier this month, there were reports of a massive hack on the personal information of millions of US federal employees. Citing the views of cyber experts, CNN reported that China could be behind the attack. Some suspect Beijing is building a vast database in what could be preparation for future attacks by China against the US.
Even though Kerry reiterated that the two-way discussions were "honest" and without "accusations" of cyber theft, Vice President Biden opened his speech by warning: "Nations that use cyber technology as an economic weapon or profits from the theft of intellectual property are sacrificing tomorrow's gains for short-term gains today."
At the same time, Lew expressed deep concerns "about government-sponsored cyber theft from companies and commercial sectors."
China – which earlier called the cyber hack charge "irresponsible"- responded by saying it is ready to crack down on hacking and cooperate with the US on cyber security as long as Washington "respects facts."
READ MORE: China rebukes US 'microphone diplomacy,' suggests 'proper way' of handling differences
Chinese public opinion referred to US suspicions of Chinese hacking of government computers as 'shadowing' the bilateral talks. Experts have questioned the right of the US to accuse China when it conducts its own massive surveillance on world leaders, research institutes and private phone calls.
Such views will certainly create a dent in the bilateral relation, a worrying trend given the increasing interdependence between the two countries.
As Vice Premier Wang stated, American exports to China have helped create nearly 1 million jobs in the US, while accumulated mutual investment topped US $120 billion. "With such convergence of the two countries' interests, neither of us could afford the cost of non-cooperation or even all-out confrontation."
China too has upset American businesses with its cyber-security law that requires local and foreign banks to use information technology equipment deemed "secure and controllable" by Beijing. Washington expressed strong opposition to such laws with President Obama stating in an interview that this has to change if China is to do business with the United States.
On the maritime front
Beijing heavily protects some of China's key sectors such as finance and telecom from foreign investment. Clarifying Washington's stance during the summit Secretary Lew said, "It is also of vital importance that there are non-discriminatory technology policies and open trade in information and communications technology goods."
Although not much was heard about the South China Sea, a closer look at some of the statements from the leaders of both sides underscore each side's contending views.
During his concluding remarks, Councilor Yang said, "On maritime issues, China reaffirmed its firm determination to safeguard territorial sovereignty and maritime rights and interests, as well as continued commitment to seeking peaceful solutions to the relevant disputes through dialogue and negotiation with those directly concerned."
However, Vice President Biden remarked that it is the US that has maintained stability and prosperity in Asia for 60 years.
READ MORE: Chinese mobile artillery placed on reclaimed island, Pentagon says
"We're going to continue to play a role for decades to come, but don't misunderstand it: We are a Pacific nation. What happens anywhere in the Pacific affects the United States as much as – more than any other portion of the world. And now we are a Pacific power, and we're going to continue to remain a Pacific power."
So at the core, the rift between America's uneasiness to accommodate and share space with an emerging Asian power and China's resolve to have its own way in how it conducts itself at least in Asia Pacific remains.
Washington continues with its claim to be rightfully concerned of everything that happens in the Asia Pacific as a dominant power that 'ensures stability' in the region. China reiterates that a lot of what happens in Asia is outside the purview of the US – especially concerning China and its neighbors.
Whether these divergent points of view have any telling impact on other spheres of the bilateral relation will become clearer during President Xi's US visit in September, when most of the ground breaking announcements are expected.
The statements, views and opinions expressed in this column are solely those of the author and do not necessarily represent those of RT.
The statements, views and opinions expressed in this column are solely those of the author and do not necessarily represent those of RT.
You can share this story on social media: