'Lifting anti-Russia sanctions now would be politically embarrassing for EU'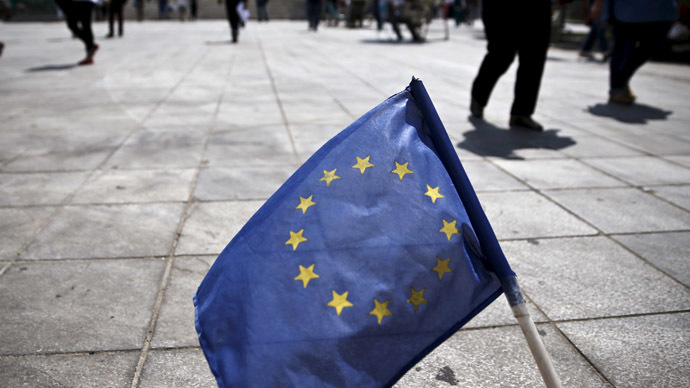 The situation with the sanctions won't escalate as Russia wants to keep a way open for political dialogue with the EU, said Alexander Mercouris, International Affairs Editor at Russia Insider, adding that Brussels' policy is "wrong" and "failing".
The EU is officially extending sanctions against Russia over the crisis in Ukraine. The restrictions will remain in place for at least another six months. However, the Union's foreign policy chief has said that Europe still wants to work with Moscow.
RT:The EU has extended its sanctions on Russia for the next six months. The move didn't come as much of a surprise, but why this particular time span?
Alexander Mercouris: I think that it was done in order to help get this decision through. If they'd gone for a full year that would have been very problematic because some European states notably France, Italy, Spain and of course Greece, Cyprus are known to be very uneasy about these sanctions. So by making it six months it was a kind of compromise that basically helped to get this decision through.
RT:The sanctions war is clearly hitting both sides. Which party is bearing the biggest brunt in your opinion?
AM: The country that is pushing the sanctions more than any other is Germany and the reason that is happening is not because the German people or the German business community support the sanctions, but because the German Chancellor Angela Merkel, and the German government have invested politically so much in the sanctions that for them to lift them now would be politically very embarrassing. So they have had to push to have the sanctions imposed and that's why that's happened.
READ MORE: EU extends economic sanctions against Russia for 6 months - official
RT:The EU's move is meant to keep up the pressure on Russia in terms of implementation of the Minsk deal. Why do they believe its Moscow that is hindering the peace process?
AM: In fact if you look at the situation it's absolutely clear that it's Kiev which is in fact hindering the peace process. If you look at the Minsk deal it didn't actually ask of Russia very much because this is an internal conflict between Ukrainian parties and it is Kiev that is failing to carry out the obligations it made under the Minsk deal to enter the constitutional negotiations for a new constitution and to grant autonomy to Ukraine's eastern regions. But the Western powers including Germany have invested so much politically in supporting the present Ukrainian government that it's politically too embarrassing for them to admit that. So rather than say that it's Ukraine that's creating the problems they do what they always do in this situation - which is blame Russia.
RT:Russia said it will retaliate - what kind of response should we expect?
AM: Russia has already retaliated by imposing its own counter-sanctions against EU food imports. Those will certainly continue. I don't think that Russians will want to take this economically much further because I don't think the Russians are frankly very interested in doing so. It's becoming clear this year that the sanctions on Russia have only a limited impact on the Russian economy and the Russians will for their own reasons want to keep some kind of way open to maintaining some sort of political dialogue with the EU. So this thing is not going to escalate more, but of course we are in a situation where the EU is persisting with the policy that is both wrong and which is failing.
The statements, views and opinions expressed in this column are solely those of the author and do not necessarily represent those of RT.