'If Syriza goes back on its promises to end austerity, it's finished'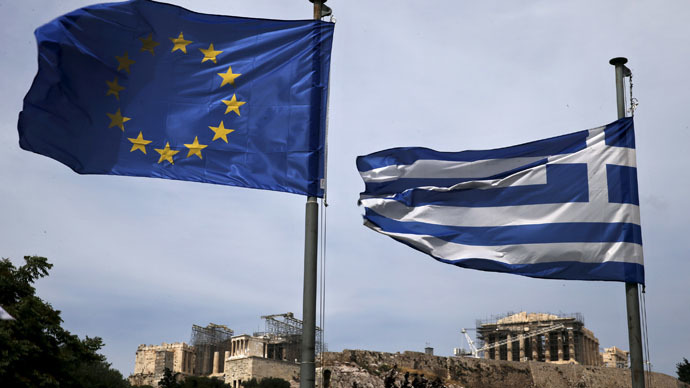 A fundamental problem for Greece is that at the end of the day it wants to be in Europe but doesn't want to have austerity policies, Mark Blyth, professor of political economy at Brown University, told RT's "In the Now."
Greece has delayed its IMF debt payment until the end of June. The country couldn't make a new debt repayment without a new bailout but creditors won't give money unless Greece imposes new austerity measures, to which Greece is strongly opposed. It's believed that a failure to reach a deal could bring Greece closer than ever to default.
RT:Would a default be a good thing for the Greek economy? A default doesn't actually mean total disaster and the examples of Russia and Argentina have shown that.
Mark Blyth: It wouldn't be a good thing in the short term, it would be incredibly painful. The situation with Russia and Argentina was [that] they broke currency arrangements because they thought it was a good idea to do so, and they both had their own currencies to go back to and in fact they never went away from. Greece will have to invent a whole new currency and that becomes very expensive in terms of getting to that point, and then reassuring creditors not to withdraw even more financing from the Greek system.
READ MORE: Putin holds phone call with Tsipras, agrees to meet in 2 weeks in Russia
RT:Would the Greek government be willing to default?
MB: They might be. You have to think about it in this way: imagine the Troika gets what it wants, Greece is going to run a 3 percent budget surplus for the next 50 years because that's how long it would take to reduce the debt down to 60 percent of the GDP. So any agreement they come to is what bankers call "extend and pretend." They still have to do a fundamental deal on debt restructuring and if that's not forthcoming, democracy will produce a result, even if the bankers don't want to.
RT:Why are the creditors so against the default? Admitting the Greek default doesn't mean a Grexit necessarily, does it?
MB: It doesn't. Because you can be outside of the Eurozone and still be in the EU and technically speaking all members of the EU are kindred members of the Eurozone. So there are lots of ways to manage this – by putting up capital controls or running a parallel currency. But these are all second best. Ideally, everyone would want a deal on the table which smoothes the transition to a more fundamental debt restructuring agreement.
A fundamental problem for Greece is that at the end of the day they want to be in Europe but they don't want to have austerity policies and the creditors want these policies. So there is not much room for an agreement here. If Syriza goes back on its electoral promises to end austerity, it's finished as a party. So it's not clear how they can do this other than everyone declares that they all got something. They get more money to pay back the creditors – the same money they are borrowing – and we continue the whole merry-go-round again.
The statements, views and opinions expressed in this column are solely those of the author and do not necessarily represent those of RT.