'FIFA scandal will not affect 2018 World Cup'- organizing committee head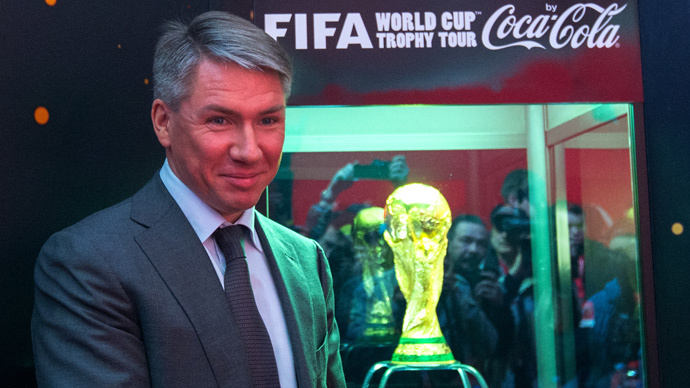 Russia intends to stage a spectacular and very hospitable World Cup in 2018 and preparation for it is already in full swing, says CEO of the 2018 FIFA World Cup Russia Local Organizing Committee, Alexey Sorokin.
RT:Among those FIFA officials arrested in Zurich, only two had any involvement in the selection process for the 2018 Russia hosted World Cup. But those two didn't actually vote for Russia. Could you explain who might be interested in that?
Alexey Sorokin: The way we see it and the way we read it in the FIFA press release, first of all the indictment and these apprehensions have nothing to do with the bids, with the voting for host countries of 2018 and 2022. The people who are implicated were not the Executive Committee (ExCo) members at the time of the vote. So they could not possibly have anything to do with the host country selection process. This is a totally separate investigation. We don't see any involvement or any concern of the World Cup in general.
RT:So the 2018 World Cup will not be in any way affected by this affair?
AS: No, it won't be affected. There is another investigation that is going on in Switzerland as we lately understood. This investigation has to do with the voting process, with the process of selection of the host countries. But again we have no information about the progress of this investigation. We did cooperate with the last investigation done by [former US attorney Michael] Garcia, we cooperated, submitted all the information. We don't know how else we can help any investigator who is interested in that.
READ MORE: 'We are the damaged party': FIFA vows to go on with World Cup plans despite scandal
RT:For fans who are anxious about the outcome of the 2018 World Cup and whether or not it will actually materialize - could you speak to the fears that it may not materialize because of this affair?
AS: Not only could it materialize, it's materializing as we speak. We are very deep in the preparation process. FIFA is fully satisfied by the course of preparation. We have a very good level of cooperation with the FIFA administration. We don't know how anything that goes on around the world of football can affect the preparation.
RT:Do you feel the reputational risk of this affair that is unfolding? Do you feel that the 2018 World Cup will be insulated from this reputational risk?
AS: I don't think so. It's a classic legal matter, which should be addressed exactly as such. So we should separate the image of the organization… By the way FIFA is participating as an injured side in this investigation. Authorities should treat it as purely legal matter. I don't know what possible negative consequences it should have for us.
RT:Do you have any fears about the politicization of FIFA and World Football?
AS: FIFA as well as other sport organizations has always claimed that sport is beyond politics. I think we should adhere to this principle and as much as we adhere to that, it serves the benefit of any sport. The ideal situation is that we think about sport, athletes, results and not about politics.
MORE:
The statements, views and opinions expressed in this column are solely those of the author and do not necessarily represent those of RT.