FIFA head caught in 'firing line' of US neocons (OP-ED)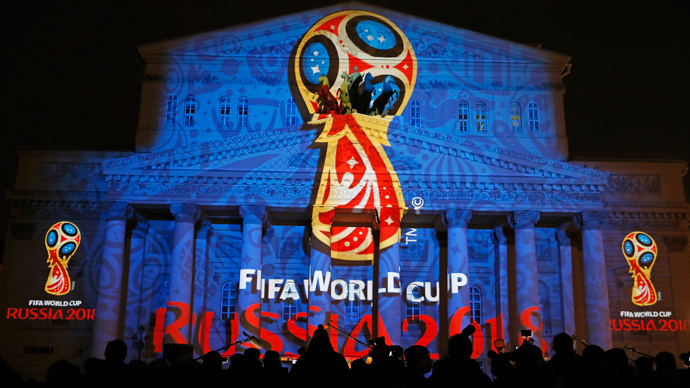 As the US levels charges against seven members of football's world governing body, and one particularly hawkish US politician is calling for the FIFA head to be ousted, RT interviews observers for their views of the incident.
Seven high-ranking representatives from FIFA, the world football's governing body, were arrested on corruption charges following a raid on a Zurich hotel. The individuals, who allegedly received over $150 million (£97 million) worth of bribes going back to the 1990s, have been indicted on corruption charges in a US probe, the US Department of Justice said.
The arrests come just two days before a vote to re-elect the head of FIFA. Incumbent Sepp Blatter, who is running for a fifth term, wasn't arrested. FIFA's headquarters in Zurich were also raided and documents seized. Walter De Gregorio, FIFA's new director of communications & public Affairs, said the events wouldn't strip Russia and Qatar of hosting upcoming World Cups in 2018 and 2022 respectively.
Just done live i'view on @RT_com on #FIFAarrests & political agenda of those eg JohnMcCain who want #WorldCup2018 taken away from #Russia.

— Neil Clark (@NeilClark66) 27 мая 2015
RT spoke with analysts to discuss whether the timing of the scandal was a coincidence.
According to Neil Clark, a UK-based journalist, "a lot of this [has] to do with the fact that you got all the bigwigs of FIFA at one place in hotels in Switzerland, ahead of Friday's annual general meeting."
"In terms of the FBI investigation, which we know has been going for a long time, this was really a perfect opportunity to arrest these people because they were in one place. And that's a big factor with the timing," Clark said.
FIFA's communications chief Walter De Gregorio said the president of football's world governing body, Sepp Blatter is not involved in the scandal. However, US officials said he's not in the clear yet. Blatter, 79, has been the subject of a major media campaign for some time now.
According to investigative journalist Tony Gosling, the timing "is really the dead giveaway."
"This investigation by the media and by various police authorities has been going on for about a year now and yet just two days before the election there are suddenly suspicions surrounding Sepp Blatter," he told RT.
FIFA is one of the last remaining institutions in the world not owned and controlled by the West, Gosling said.
Will crude US attack on FIFA presidential election go better than their assault on ISIS? My take on today's arrests http://t.co/KPYz6mVjd9

— Tony Gosling ✈ (@TonyGosling) May 27, 2015
"I'm thinking about important institutions such as the International Atomic Energy Agency (IAEA), people like these who are overseeing the nuclear world. The US angle on all this is a dead giveaway. Chuck Blazer and Jack Warner at FIFA seem to be at the heart of this conspiracy even though the US isn't really a soccer-playing country…We see them playing American football, a completely different sport, really."
In Neil Clark's view, there are several agendas at work here.
"We need to make sure that the awarding of these tournaments is fully transparent, which it hasn't been. So there are legitimate grounds for concern," he said. However, he also said there is a political agenda at play here.
"A lot of people didn't like, for political reasons, the awards to Qatar (the World Cup 2022), and particularly the award to Russia in 2018. So it is completely independent of what's happening today. For example, we have the US neoconservative Senator John McCain calling for Russia to be stripped of the World Cup. We've had the chairman of the Polish football association calling for Russia to be stripped of the World Cup. And the Ukrainian president, too. So there is a political campaign going on for the World Cup to be taken away from Russia or for countries to boycott it, and that's independent of this latest news. So we've got to be aware of the politics too, that certain people didn't like the awards going to Qatar and Russia in the first place," Clark said.
READ MORE: FIFA officials arrested on corruption charges, face extradition to US
McCain called on FIFA to oust Blatter because of "his continued support for Russia."
According to Neil Clark, the FIFA head is in the firing line for US "neocons, because Mr Blatter went to Moscow not that long ago and said that there was no question of the World Cup being taken away from Russia."
In the journalist's opinion, Blatter has become "a hate figure by people whose interests are not really in football, let's be honest, it's about Russia bashing and it really riles them that the World Cup is going to be in Russia."
Bryan MacDonald, journalist and broadcaster, argued the scandal is not aimed at removing World Cup 2018 from Russia; the issue here is Qatar.
"I think that there is an agenda in the West to have Qatar's World Cup removed from them… Qatar is a small country in the middle of the desert. It's basically Estonia in the desert. Obviously it's vastly wealthier but it's in the desert… It's not surrounded by soccer-loving nations; it's difficult to get to. The heat is overbearing there… I think the real agenda here is to get the World Cup moved out of Qatar. That's what certain people behind the scenes are up to," he said.
READ MORE: FIFA arrests over corruption LIVE UPDATES
MacDonald suggested McCain's rhetoric could possibly be explained by him being lobbied.
"I would imagine that what John McCain knows about soccer you can write down on the back of a cigarette packet," he said. "I would imagine that someone has lobbied John McCain here and McCain is taking lobbyists' views on board. The lobbyists probably have said it's a way to annoy Vladimir Putin, or a way to annoy somebody that John McCain doesn't like. And he has picked up this ball - if you excuse the rugby metaphor - and ran with it."
Journalist Tony Gosling, commenting on American lawmakers getting involved in the governing of football, said that he would like to see football thrive as sport completely independent of politics.
"But it seems we've got a bunch of control freaks in the US, they want to control all these institutions. And this is definitely a torpedo aimed at Blatter for this Friday election," Gosling said.
The statements, views and opinions expressed in this column are solely those of the author and do not necessarily represent those of RT.