FIFA officials arrested on corruption charges, face extradition to US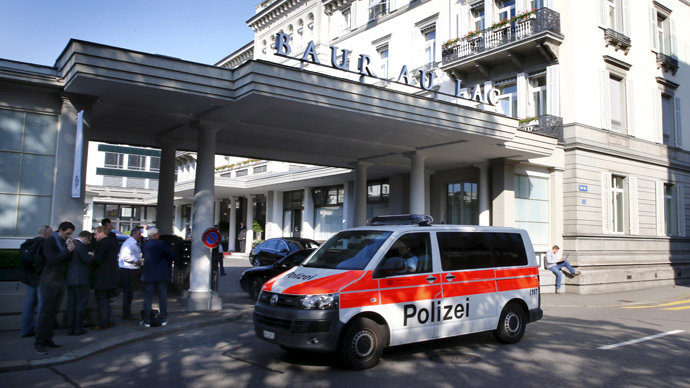 A massive US investigation has led to an early morning raid by Swiss police on senior football officials staying at a Zurich hotel. The suspects face federal corruption charges and may be extradited to the United States.
The organization's officials reportedly stand accused of making World Cup bid bribes, arranging broadcaster and marketing deals, as well as wire fraud, racketeering and money laundering.
An official statement by the Swiss Federal Office of Justice said the six football officials have received millions of dollars over the years for crimes set up and organized from the US, with American banks involved in the payments. The crimes reportedly go all the way back to the early 1990s.
BREAKING: Here's an image of the reported @FIFAcom officials arrest courtesy of @nytimes. #FIFA#Chargedpic.twitter.com/370Z8a5Vvw

— beIN SPORTS USA (@beINSPORTSUSA) May 27, 2015
"The bribery suspects - representatives of sports media and sports promotion firms - are alleged to have been involved in schemes to make payments to the soccer functionaries - delegates of FIFA and other functionaries of FIFA sub-organizations - totaling more than US$100 million," the Swiss Federal Office of Justice said in a statement. "In return, it is believed that they received media, marketing, and sponsorship rights in connection with soccer tournaments in Latin America.
"The US Attorney's Office for the Eastern District of New York is investigating these individuals on suspicion of the acceptance of bribes and kickbacks between the early 1990s and the present day."
In an update on the investigation, the Swiss Attorney-General's office says electronic and other information and documents were seized from FIFA headquarters as part of the investigation.
It said it's questioning 10 persons who participated in the vote on the 2018 and 2022 World Cup allocations when they were part of FIFA's executive committee back in 2010.
Russian Sports Minister Vitaly Mutko told reporters that the arrests made on Wednesday were not in any way connected to Russia's successful bid to host the World Cup in 2018, according to TASS news agency.
Football's big shots were staying at a lavish five-star hotel in the Swiss Alpsahead of this week's FIFA presidential election.
New York Times reported they were caught unawares as police entered reception, obtained keys and proceeded upstairs. The arrests were all made quietly – some without handcuffs, others even allowed luggage. Pictures emerged online of the figures being led out under covers to avoid disclosing some identities.
Hotel staff trying to use sheets to hide officials as they exit. pic.twitter.com/o0VFKuFnQi

— Sam Borden (@SamBorden) May 27, 2015
The Swiss FOJ also confirmed that FIFA president Sepp Blatter was not among those arrested. Blatter is expected to become sports' most powerful person again this Friday, when he secures a fifth term as president.
The NYT added that the indictment features the names of 14 officials, citingthree law enforcement officials "with direct knowledge of the case."
The officials confirmed the charges against Vice-President Jeffrey Webb, as well as Eugenio Figueredo, Jack Warner, Eduardo Li, Julio Rocha, Costas Takkas, Rafael Esquivel, José Maria Marin and Nicolás Leoz.
All are senior FIFA figures or committee hopefuls.
Assembled media outside the hotel in Zurich. Crowd is growing. pic.twitter.com/cjZ5GcJMAc

— Sam Borden (@SamBorden) May 27, 2015
The BBC witnessed Webb and three others on the list being escorted out of the hotel. They included Li of Costa Rica, who was to join the association's executive committee on Friday; Figueredo of Uruguay – president of South American football governing body Conmebol; and Brazil's Marin, who's a member of FIFA's club committee. Journalists saw police officers carrying his suitcase
The Department of Justice has confirmed nine of the corruption indictments to be against officials, the other five against top executives.
Further charges were also expected against sports-marketing executives who were involved in and facilitated the payments. They reportedly include Alejandro Burzaco, Aaron Davidson, Hugo Jinkis and Mariano Jinkis. José Margulies was reportedly an intermediary who facilitated illegal payments.
One of the law enforcement officials told the NYT: "We're struck by just how long this went on for and how it touched nearly every part of what FIFA did… It just seemed to permeate every element of the federation and was just their way of doing business. It seems like this corruption was institutionalized."
SHOULDN'T WANT TO JUMP AROUND THE ROOM FOR JOY AT PEOPLE BEING ARRESTED BUT HERE WE ARE. #FIFA

— sarah sprague (@sarah_sprague) May 27, 2015
The press is expecting an official announcement on Wednesday afternoon from the FBI and the US attorney-general.
Switzerland's treaty with the US provides that on matters of general criminal law, the local authorities can extradite suspects for prosecution in American courts if requested.
The detainees are being questioned by the police on behalf of the FOJ.
According to the rules, a simpler procedure will be offered to suspects who agree to voluntary extradition. The FOJ has the authority to approve and carry that out immediately.
If the charged person opposes extradition, the US will have to be invited to submit a formal extradition request in the period of 40 days since the charges were made, according to a rule specified in the bilateral agreement.