Why we love to hate Russia? European writer Guy Mettan enlightens RT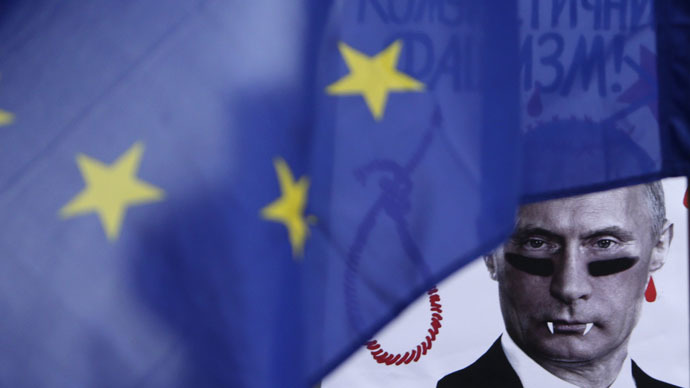 Europe has manufactured an artificial "Russian enemy in order to create an artificial European identity," French journalist, politician and author Guy Mettan told RT France, speaking about his book "Russia-West: A Thousand Years Of War."
L'#Europe crée "l'ennemi russe pour pouvoir se créer une identité européenne" @GuyMettanhttp://t.co/QdiUiJzIzgpic.twitter.com/VPV3jigoQ9

— RT France (@RTenfrancais) May 18, 2015
The writer said he became interested some 15 years ago in the how relations between Russia and the West had developed. During this time he has been frequently dismayed by the way Russia-related news was covered in the Western media. But it was the Ukrainian crisis that really motivated Mettan to write the book.
"Pro-russisch": Das Produkt der Massenmedien Mehr: http://t.co/6kaJYAVPkl#Ukraine#Russen#Russophobiepic.twitter.com/utH4fBqSLs

— remembers.tv (@RemembersTv) January 8, 2015
"When the Ukrainian crisis exploded in February 2014, I was really shocked by the way my colleagues were covering these events with a consistent anti-Russian bias," the journalist told RT France.
Anti-Russian sentiment is prevalent in the West, both in Europe and the United States, Mettan said, adding there is no such a phenomenon "in China and Japan and other countries."
"For me it is a form of racism. I believe that there is no other way to explain it," the writer said, adding he thought the roots of it were in "stereotypes that arose from the split between Orthodoxy and Catholicism. <…> This is why my book is called 'A thousand years of war'," he said.
It's funny when smb says"all Russians are racists". Yet,s/he doesn't notice the racism in this statement.#Russophobiapic.twitter.com/Vl8EJZoF9n

— Sergey A. Armeyskov (@armeyskov) January 28, 2015
Modern Russophobia originated in Western Europe in the 18th century, Mettan continued, saying the West became hostile towards Russia during the colonial expansion of Europe, when Western states realized Russia was "a major power" on the continent.
READ MORE: 'Stop blaming everything on Russia': Heirs to 1917 revolutionary-era emigrants appeal to EU
According to Mettan, the US adopted Russophobia after World War II, but added that "today Russophobia has become essentially American."
"Once Nazism was defeated in 1945, the Americans turned against their Russian ally, which was also the case with the British in 1815, soon after their victory over Napoleon."
American Russophobia was first linked to the struggle against communism, Mettan explained, but it "continued unabated" even after the fall of communism and the end of the Soviet Union in 1991. "It consists of two forms: an ideological form around the so-called struggle for democracy and human rights and then, of course, a geopolitical rivalry, because the US wants American hegemony to prevail," he said.
READ MORE: Russia overestimated EU's independence from US – Lavrov to French media
Speaking about the European Union, Mettan said the bloc "has no identity" and struggles to exist, especially since the integration of new Eastern European countries. Freshman EU members, such as Poland, Romania and the Baltic states, once associated with Soviet Russia, felt the need to create a new European identity.
READ MORE: Polish FM trolls Russia with V-Day insult, gets verbal volley
"And what could be easier than to invent an enemy, an opponent," the journalist said, adding that for these EU members "Russia acts as an ideal enemy" and also allows them to get support from the US military and oil lobbies.
A nice visualization of #Russian#stereotypes & #Russophobia via @RussianUniverse "The Real Russian #Aggression" pic.twitter.com/miGXfuASiy

— Cara Sposa (@murashckina) December 20, 2014
The author said that although he had some fears of hostile reviews from other journalists who he criticized in the book, his work ended up being "rather well received." Both literary critics and the general public accepted it positively. "I realized the public was tired of the completely biased way the dominant Western media reported events related to Russia, and now [the audience] is hungry for another point of view," Mettan told RT France.
READ MORE: Americans, Europeans want non-MSM coverage of intl. news – poll