'Iraq is scapegoat in US fight against ISIS'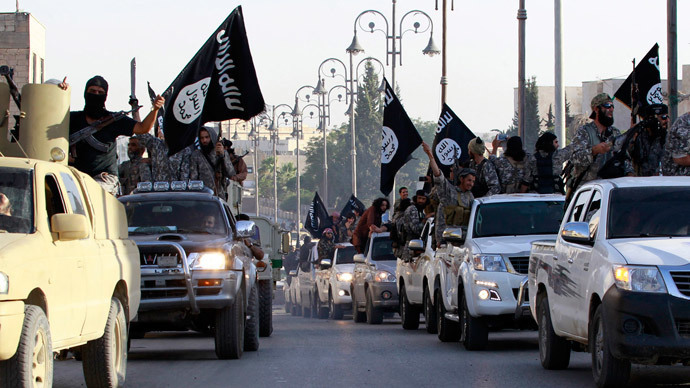 The US is contradicting itself saying the Iraqi army has no will to fight Islamic State (IS, formerly ISIS) as they also claimed to have trained the Iraqi military so they could provide security within the country, defense consultant Moeen Raoof told RT.
RT:The Iraqi city of Ramadi was seized by Islamic State militants last week, prompting an exodus of refugees. Now we are hearing some strong accusations from the US and UK, saying Ramadi fell because the Iraqi army was not willing to fight. Is that a fair point?
MR: It's an astounding statement. The US defense secretary ought to watch his words because they claimed that they provided adequate training to the new Iraqi military so that they could provide security within the country and now they are contradicting themselves by saying that the Iraqi army hasn't got the will to fight or provide defense in their own country. It's really astounding.
READ MORE: 'No will' to fight ISIS? US Defense Sec blasts Iraqi troops
RT:Former British General, Timothy Cross, recently said the Iraqi military will not be able to combat IS for a generation. But hasn't that been obvious for some time?
MR: What is obvious is that former generals in the UK and the US have all been parachuted into plumb jobs with non-executive directorships in private security companies and companies that mine for vast resources within the countries that they previously destroyed. So it's not a surprise they say that they need a lot of help because their companies they are non-executive directors in would benefit from contracts being given out.
RT:US Senator John McCain said on Sunday that the US simply lacks a strategy to fight IS. So is the Iraqi army simply being used as a scapegoat?
MR: It is. Remember that John McCain represents defense companies. He is the mouthpiece, if you like. The only beneficiaries in the whole affair are defense companies selling more arms in the region and we know Qatar, Saudi Arabia, Kuwait and Jordan are all going to be recipients of vast amounts of defense equipment and arms not to mention the bullets to kill more Iraqis and Syrians. But also the other beneficiary in all that chaos is Israel, of course.
READ MORE: 'We pledge full US support': Biden backpedals after US slights Iraqi army
RT:Former British general, Timothy Cross, also said that the UK is considering boots on the ground in Iraq. What are your thoughts on such a statement?
MR: What a ridiculous statement. Also General Dannatt, who was in charge of the Army at the time of the illegal invasion in 2003 of Iraq, made similar statement if my memory serves. And again these generals are in non-executive directorships in companies that benefit, but also they authorize the troops, they sent troops out to die in an illegal war and thy should be apologizing to the families of British troops not to mention over 1 million Iraqis who have been killed in prosecuting this illegal war.
RT:Washington has invested huge sums in the training of Iraqi troops and providing equipment. Has it had any positive effect?
MR: The only positive effect it will have for the Kurds is that the Kurds are now about to get ready to declare a breakaway state and the whole project has been working towards this end. They want to breakaway Kurdistan from Iraq because of the vast oil resources there and again the beneficiaries are these companies that are mining for the natural resources. This is the only benefit I see for Kurdistan – a breakaway state.
MORE:
The statements, views and opinions expressed in this column are solely those of the author and do not necessarily represent those of RT.
The statements, views and opinions expressed in this column are solely those of the author and do not necessarily represent those of RT.
You can share this story on social media: