Iraq Diary, Day 7: The threat to Karbala and the plight of Iraq's IDPs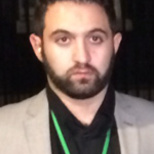 Eisa Ali
Eisa Ali is a correspondent at RT UK bureau in London. He is also a political analyst with a focus on Iraq, Lebanon & Syria. He studied Law & Marketing at university before becoming a documentary film maker, journalist and writer. His writing has appeared on Antiwar.com, Informed Comment & Digital Resistance and he has appeared on the BBC, Press TV, and Etejah English as an analyst and commentator.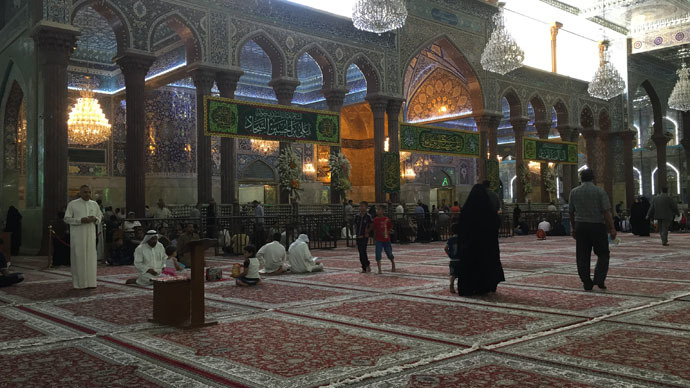 On Saturday, we enter the mosque of Imam Hussain in Karbala, a stunning piece of architecture which just days before had been threatened by IS leader Abu Bakr al-Baghdadi, who said Baghdad and Karbala were next in the jihadists' sights.
In the ISIS reading of Sunni Islam, monuments like this are polytheistic and must be destroyed. Not all Sunni schools of thought agree with this rigid interpretation. We see Barelvi Sunnis who are visiting from Pakistan, while Sufis also visit the shrines of their holy figures regularly.
For the Shia, Karbala is one of the holiest places of Earth.
Hussain was killed here in the 7th century by the forces of the Caliph Yazeed in a battle which is reenacted by Shias to this day, in a not too dissimilar way to passion plays. For the Shia, the battle of Karbala is the archetypal battle between good and evil.
The mosque's foundation has been part of efforts to look after the thousands of internally displaced persons (IDPs) fleeing ISIS. They have helped Iraqis from all walks of life.
"We have helped Sunnis from Ramadi and Christians and Shia from Tal Afar and Mosul," one official tells me.
We travel the road between Karbala and Najaf. Every year, somewhere between 15 and 20 million people walk this route as part of the Arbaeen commemorations, defying the bombs and bullets of ISIS, who consider the Shia to be heretics worthy of only death.
In recent years, makeshift mosques have been built along the route to look after the pilgrims as they undertake the walk, which lasts around three or four days.
Those temporary structures are now being used to house tens of thousands of IDPs from around the country.
We speak to Dr Abdul Aziz, a doctor from Tal Afar who lost six members of his family, including his son.
"We resisted ISIS the first two days of their attack and killed many of them. On the third night, however, some sympathetic local Sunnis helped them enter by attacking the army and police. Finally, after ISIS sent a suicide truck bomb they were able to take the whole town."
He says they fled to Sinjar first and were looked after by the Yazidi community there. When the Yazidis couldn't do anything more for them, they tried to go to the Kurdish region of Iraq but, like so many others fleeing ISIS, were not allowed to enter without a sponsor because they weren't Kurdish.
He eventually made it down to the south, together with a few other families. He thanks the religious institutions and the local people for their help, although he acknowledges that they are limited in what they can offer. I ask him whether the government has done much.
"[Prime Minister] Abadi put money aside for the IDPs but none of it has made it down. He wants to help, but there is corruption from the top officials right down to the bottom."
Iraq is hamstrung by corruption. At every level, in almost every institution, graft is having devastating consequences. The army has well-known problems of corruption, with some blaming corrupt generals and local politicians for "selling" Ramadi to ISIS. In Mosul, local generals were inflating the number of soldiers on the payrolls in order to claim salaries from Baghdad, and then pocketing the money for these "ghost soldiers." All of this has helped ISIS in their rampage across the country.
Other families who fled ISIS are living in shipping containers, sat along the same stretch of highway. The conditions are upsetting and unhygienic. As we drive to Najaf, I look to the right to see a new football stadium being built. What Iraq needs less than anything right now is another white elephant casting a shadow over its destitute people.
Dr Abdul Aziz has a final message he wants me to pass on to the world. "Russia is our friend and we support them. But they need to back Iraq with arms to fight ISIS so we can all go home one day."
The statements, views and opinions expressed in this column are solely those of the author and do not necessarily represent those of RT.