​Iraq Diary, Day 6: 'Iraq must tilt to Russia & China'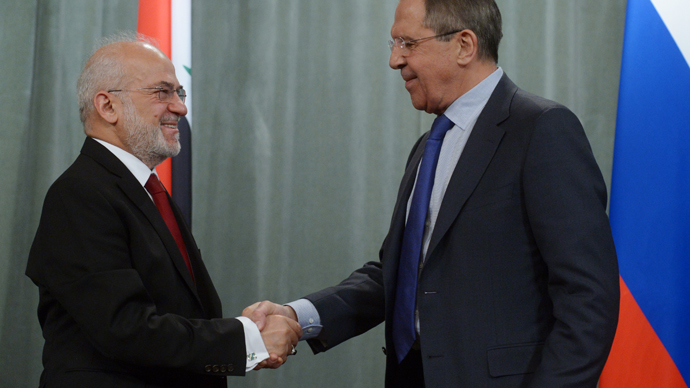 On Friday, we meet with Muafak Ruba'i, Iraq's former national security adviser, at his home on the River Tigris.
During the interview, I ask him about the fall of Ramadi and he is scathing about the American attitude to the fight against ISIS.
"The Americans aren't serious about fighting ISIS. They have one policy in Iraq and a different one in Syria. To fight ISIS, you need one coherent approach everywhere."
The rope that hung Saddam around the head of his statue, now at the home of former nat sec adviser Muafak Ruba'i pic.twitter.com/roiCWSIZXR

— Eisa Ali (@EisaAli_RT) 22 мая 2015
He also talks about the almost non-existent airstrikes in Ramadi, contrasting it to the heavy airstrikes launched when ISIS approached Erbil. I ask him about Prime Minister Abadi's trip to Moscow and he is positive about it.
"Iraq must diversify its friends and tilt to the east, to Russia for military and intelligence cooperation and China for economic cooperation. We already have a relationship, but it must be strengthened."
He finishes with an interesting observation.
A new Iraq
"There is a new nationalism in Iraq which is manifested in the Hashd Shabi. It is inclusive of all of Iraq's communities but also has influences of Shia culture and identity" Ruba'i says.
Iraq's Shia majority for years were stifled and suppressed in expressing their identity. Under Saddam, even simply performing the pilgrimage to Karbala would mean certain death. Millions of Shia were dismissed as 'Iranians' due to the fact their ancestors settled in Iraq hundreds of years ago and they were killed or expelled from the country as a result. But now there is a sense of defiance, as the new existential threat in the form of ISIS looms large over Baghdad.
People hang flags and banners celebrating Ali and Hussain, the two Shia Imams buried in the Holy cities of the south. The message is clear: We are Shia and proud of it. ISIS will have a major fight on their hands to take Baghdad.
Interestingly, this has influenced other communities as well. The annual commemorations of Arbaeen now always include delegations of Christian pilgrims. A few years back, Christmas fell at the same time as Arbaeen and one Baghdad church toned down its decorations as a sign of respect. Earlier this year, a group of Shia militia and government leaders visited a Baghdad church to mark Easter and also to assure the Christian community that they would protect them at all costs.
Abu Azrael, Iraq Interior Minister Mohammed al-Ghaban et al in church on Easter Sunday (photo from Iraq MOI) pic.twitter.com/Oi0paMcK3W

— W.G. Dunlop (@wgdunlop) 5 апреля 2015
In the evening we get our things together and head to the south for the next stage of the journey.
The statements, views and opinions expressed in this column are solely those of the author and do not necessarily represent those of RT.
The statements, views and opinions expressed in this column are solely those of the author and do not necessarily represent those of RT.
You can share this story on social media: