'US alienation game to spark WW3, not China's economic failures'
US billionaire investor George Soros warns the world is on the brink of WWIII unless the US financial system opens up to China. But a former US diplomat told RT that it has nothing to do with the economy, but everything with bad US geopolitical policy.
"If there is conflict between China and a military ally of the United States, like Japan, then it is not an exaggeration to say that we are on the threshold of a third world war," Soros was quoted as saying by MarketWatch at the Bretton Woods conference at the World Bank.
Soros added that if China's efforts to establish a domestic-driven economy fail, it could turn to launching an external conflict to distract its population.
To avoid disaster, Washington needs to strengthen its economic ties with Beijing, according to Soros.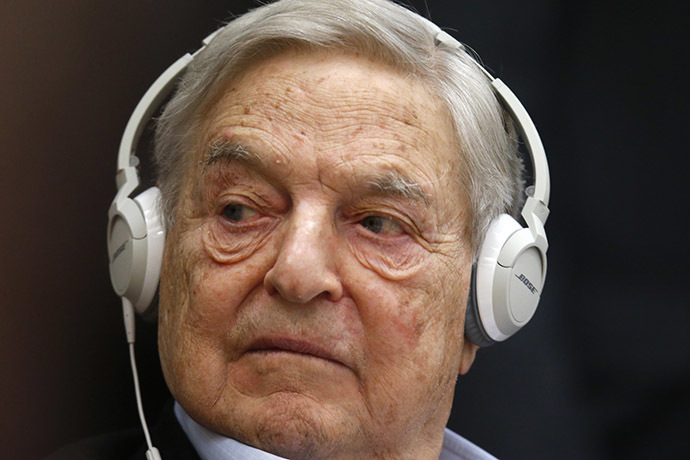 The former US diplomat and advisor to the Republican Party, James George Jatras, told RT that "a remote possibility" of war is possible, but not because of the economy or China's currency. Potential conflict could only come from the United States' poor geopolitical choices that do not benefit the American people.
"I do question the reasons he gives for suspecting that there is this danger… This has nothing to do with the economy, nothing to do with currency, and everything to do with very bad American geopolitical policy that has alienated the Russians, it is alienating the Chinese and pushing the Russian and Chinese closer together. This is not in the American interest," Jatras said.
The idea that the China will deliberately provoke a confrontation with an American ally to distract its population if its economy has problems in the future is "an absurd suggestion," he said.
The main problem is the US expanding its security presence right alongside "the vital interest of another rising power" for the reasons that clearly do not benefit the US.
"What we really need to do and what Mr. Soros is not talking about at all is to reevaluate what our strategic presence in some of these regions that are far from the US, but very close to China. There is a possibility of confrontation there."
The US is strengthening its relationships with certain countries not based on what is best for its own economy, but what will best contain China.
"What kind of argument is that? We should be doing things that benefit our own country, our own people, our own workers. Not because it is going to somehow bottle up China, which I think is a dangerous thing to try to do," Jatras said.
"In some ways I think we are doing in the South China Sea what we did in Ukraine, with respect to Russia. We are inserting a security presence right up against the vital interest of another rising power at the reasons not entirely clear how they benefit the US."
The statements, views and opinions expressed in this column are solely those of the author and do not necessarily represent those of RT.
You can share this story on social media: