​'Double standards between Christians and Muslims'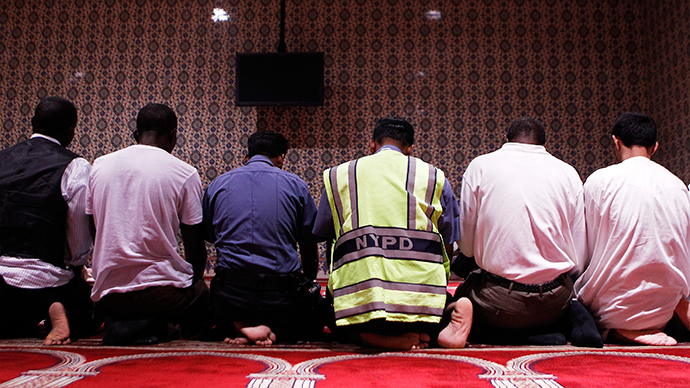 Following the news that a non-Muslim American who threatened to burn down a mosque was released on bail, double standards seem to be at play in the US, Paul Salahuddin Armstrong, Co-Director of the Association of British Muslims told RT's In the Now.
Last week, Robert Doggart, 63, a former candidate for a Tennessee congressional seat pleaded guilty to charges that included threats to burn down a mosque and a school in a Muslim community in New York State. Doggart was released after posting $30,000 bail. Salahuddin said that the incident proves there is a "prejudice in our culture against Muslims."
RT:Why the silence, because the man is Christian? Is it that simple?
READ MORE: Former congressional candidate planned to 'utterly destroy' Muslim community in gun assault
Paul Salahuddin Armstrong: It certainly looks that way, doesn't it? What is the other explanation? You've also got Timothy McVeigh, who was the Oklahoma bomber. Yet, there wasn't so much emphasis placed on him. Then of course you've got (Anders Behring) Breivik in Norway and look at what he did. The press was very slow to call him a terrorist. Then you've got the Lufthansa pilot who took a plane into a mountain and killed everybody on board. And it was just put down to him being suicidal and having psychological issues. But those wouldn't be taken into account if he was a Muslim. Yes, it does certainly seem like there is a prejudice in our culture against Muslims when it comes to the law and how the law deals with them, and it doesn't help with community relations.
RT:He is facing 5 years in prison, and now he's free on bail. Surely a Muslim man with similar intentions would be charged with terrorism, never let out on bail. Why the blatant double standards here?
PSA: It seems pretty self-explanatory, doesn't it? It certainly looks that way. You would think that when there are a lot Muslim people within the community who are feeling that their privacy is being infringed, they feel that they are constantly being watched by the secret services. And this is the same in Britain as in the US. You would think that they would actually be careful to make sure that justice is done and that he is tried for the appropriate crime. But instead we see this; this is a travesty of justice.
RT:Do you think that the community or some kind of organization level or anyone for that matter will try to intervene in this case?
PSA: I think there is likely to be repercussions from this in the future because people aren't going to just sit by and see this sort of the thing happen without at least speaking out against it. I wouldn't be surprised if Muslim groups in America lobby the government, and ask for these issues to be addressed.
RT:You're mentioned some previous acts of violence with the Lufthansa pilot, Breivik in Europe, What about the situation in UK?
PSA: We've got this group called EDL [English Defense League] in the UK which attack mosques- they put pigs outside mosques. Fortunately, nothing that goes to the extent of wanting to blow up mosques, as far as I know. But again, they tend to being treated much more lightly than if there was a large Muslim group of their size doing exactly the same things. So yes, it appears to be double standards.
The statements, views and opinions expressed in this column are solely those of the author and do not necessarily represent those of RT.