'Kiev blames Russia as Ukraine approaches default'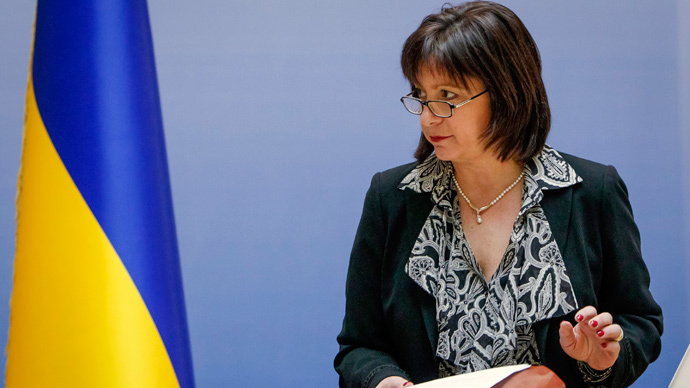 As Kiev passes legislation allowing it to halt debt repayments, Russia is getting the blame, Jacques Sapir, from the School for Advanced Studies in the Social Sciences told RT.
Ukraine says the newly passed legislation is aimed at countering "attacks from dishonest lenders." It described the halt of repayments as a matter of justice, given the poor state of the economy. It also called on foreign lenders to share Ukraine's burden.
RT:What does this bill aim to achieve - a kind of 'technical default'?
Jacques Sapir: Basically the bill is attempting to achieve a restructure but on Ukrainian terms. This is called by any means 'default'. But the problem now is how not only countries but also international organizations will react to that. We have to remember that Greece is already in a similar situation and so far the situation has been much tenser between international organizations and Greece than with Ukraine.
RT:A government statement on the bill refers to "attacks by dishonest lenders." What does this mean?
READ MORE: Russia to take legal moves if Ukraine defaults on $3bn debt - finance minister
JS: I think that basically it was intending to put the blame on Russia. Why? Because Russia has not accepted an agreement which will have worked against Russian interest and that was perfectly understandable. Right now the Ukrainian parliament is trying to shift the blame from Ukraine onto Russia. But I don't think that it will work - everybody in the financial environment, in the financial sphere understands the main problem is coming from Ukraine.
RT:The Ukraine finance minister [Natalie Jaresko] has been emphasizing the importance of Russian trade and investment to Ukraine's economy. How does that sit with the proposed debt repayment moratorium?
JS: For once, the Ukrainian minister of finance is telling the truth. Yes, of course, trade relations with Russia were extremely important for Ukraine before the Ukrainian so-called revolution. In 2012, even in 2013 around 22-25 percent of all Ukrainian exports were to Russia.
So it will be of course make sense that Ukraine could resume its trade with Russia. But at the same time, Ukraine is pretending to be attacked by Russia. It is very funny to see that a country is, on one hand, saying: "Yes, I'm under attack by a country," and on the other hand, say "It will be very nice if we could resume trade with the same country." That doesn't fit, that doesn't work this way and to some extent the Ukrainian government will have to ask for more money. Or if the Ukrainian government wants to achieve a kind of full deal with Russia it has to come to a new position on Eastern Ukraine, on Donbass, and first of all to implement the Minsk agreement.
The statements, views and opinions expressed in this column are solely those of the author and do not necessarily represent those of RT.