Iraq Diary, Day 2: The role of Iraqi journalists and Christian militia fighting ISIS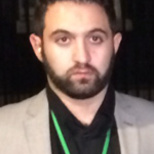 Eisa Ali
Eisa Ali is a correspondent at RT UK bureau in London. He is also a political analyst with a focus on Iraq, Lebanon & Syria. He studied Law & Marketing at university before becoming a documentary film maker, journalist and writer. His writing has appeared on Antiwar.com, Informed Comment & Digital Resistance and he has appeared on the BBC, Press TV, and Etejah English as an analyst and commentator.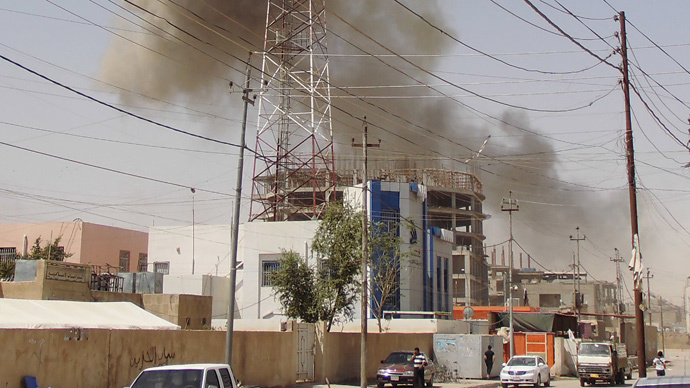 On day two of my trip to Iraq we meet Hashd Shaabi, the name of a group of mainly Shia militia organizations participating in the attacks on ISIS, before meeting with a brigade of Christian militiamen in Baghdad.
On Monday morning, we travel to meet the Hashd Shaabi media team at their Baghdad offices. The facilities are modest and the men working there are all in their late teens or early twenties. I ask if they're getting paid and they say no. They tell me they are volunteering and wouldn't accept money for what they do.
On the walls are photos of cameramen from the team who have been killed filming from the battlefield. They say that 20 men have lost their lives so far. They show us some of the video footage from their collection and it is immediately obvious why so many of them have fallen. Their cameramen bravely enter right into the middle of the clashes. One clip shows a suicide bomber driving an armored vehicle right at a Hashd position. The truck is hit by a rocket and detonates before it can inflict any casualties.
We then move into another room where we meet Hajj Muhanned, the head of the media team. We explain what we want to do, where we wish to travel and he tells us what is possible. He informs us that the Ramadi front is a no-go zone since ISIS took over the Anbar Operations Command post. I don't protest too much.
He then tells us of his disappointment as to how Iraq has been covered by some Western media outlets. For example, he said that on the day some of the biggest mass graves from the Speicher massacre were discovered in Tikrit, the journalists his men were risking their lives to protect were downplaying what is ISIS's single largest atrocity to date (more than 1,700 Shia cadets were executed one-by-one in a single day), instead choosing to write about refrigerators being looted.
"We aren't angels from the heavens, but there has been a concerted campaign by some to try to equate us to ISIS. We want them to tell the truth, nothing more," he implored.
Christian community stands firm
In the afternoon, we go to meet Reain al-Kaldany, leader of the Kataeb Babylon (Babylon Brigades). As suggested by his name he is a member of Iraq's Chaldean Christian community and the head of their political movement. There is a kindness in the face of al-Kaldany and those with him and this hospitable manner makes us feel very welcome.
Al-Kaldany says his fighting group has been active since the ISIS takeover of Mosul and the crimes against Iraq's Christians that followed it. He blames politicians in Saudi Arabia for supporting ISIS and says that his men have captured vehicles with Saudi license plates and other documents.
For security reasons, he doesn't reveal how many men are under his control, but al-Kaldany says they have been fighting mainly in Nineveh and Salahuddin Provinces. I ask him who is training his men and whether they have previous military experience.
"Most of the men were inexperienced but have now been trained by Hashd Shaabi and have since gained experience at the front. Most of the trainers are Shia militia commanders but some are Christian generals from the time of Saddam's army," he responds. "Since Tikrit we have more Sunnis joining too."
One of the men sitting in Reain's office is Abu Yahya (not his real name). He says he fled Saddam in 1995 and returned to Iraq from the West last year to fight ISIS. He is one of those Christian generals now training anti-ISIS forces. He tells us of one story about the Christians' ordeal.
"One elderly lady from Mosul was a teacher. An old student of hers was also her neighbor for 30 years but he joined ISIS. He robbed her house and made her leave."
I asked why he left the comfort of the West to come here.
"I couldn't just sit at home and watch this happen. I have one son back home. He is proud of me. He realizes that my heart is here in Iraq and that is all I need. I fight alongside Muslims every day and we will march together through Ramadi."
Al-Kaldany, however, sounds a note of caution.
"Last night, I had some leaders of the tribes from Anbar call, asking me to send men to fight ISIS. But we have conditions; they mustn't turn round later and make false accusations accusing us of looting, etc., and they can't let ISIS back in again once the fighting is over."
It seems that learning to trust some of the tribes who have assisted ISIS in the past could be a much more difficult task than winning the war itself.
The statements, views and opinions expressed in this column are solely those of the author and do not necessarily represent those of RT.