'Kerry's Russia visit shows US seeks to soothe relations'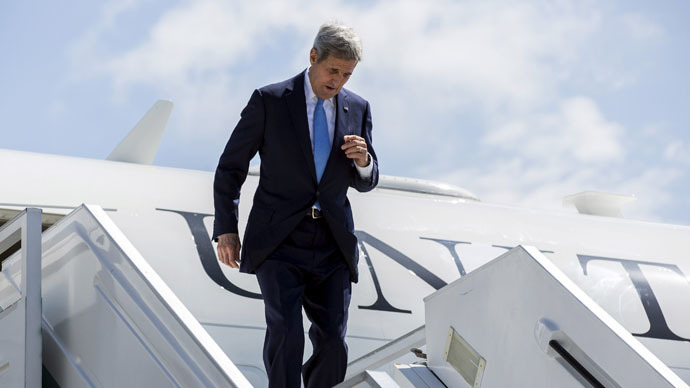 Kerry's trip to Sochi to meet FM Lavrov and President Putin demonstrates that the US is now aware that sanctions they imposed on Russia have failed and they are looking for a way out of the row, says Marcus Papadopoulos, editor of Politics First Magazine.
RT:In the past US Secretary of State John Kerry used harsh words to describe Russia's stance on Ukraine. How does he feel now meeting President Vladimir Putin in Sochi?
Marcus Papadopoulos: I think it's also very important to stress just how important this meeting is today because it's in the interest of world peace, world stability for the two most powerful countries in the world – Russia and the US – to be directly talking to each other and to be sitting around the table and literally they are sitting around the table today in Russia. So while the fall-out over Ukraine is exceptionally serious, there is only one way to resolve the tension between the US and Russia and that is through talking and through communication.
READ MORE: US Secretary of State Kerry traveling to Russia, set to meet Putin, Lavrov
RT:Only on Monday a State Department spokeswoman said that it's important to keep the lines of communication open with Russia. Are we seeing a new chapter in US-Russia relations?
MP: How has this meeting come about? Here's a major clue: the Americans have gone to see the Russians in Russia. John Kerry has gone to Sochi to meet with his Russian counterpart, Sergey Lavrov, and to meet with President Putin. So I would argue that demonstrates that the Americans are now acutely aware that the sanctions which they imposed on Russia last year have emphatically failed to achieve their objective which was to decimate the Russian economy and to bring Russia to its knees. And the Americans are now looking for a way out or at least they are trying to soothe relations with Russia because the Americans in all senses of the word cannot afford a confrontation with Russia and also the Americans need Russia's help in regard to Syria and in regard to Iran. So yes, while the State Department has been coming out with some absurd accusations in the last year and a half reality is dawning on the Americans that Russia is not going anywhere, Russia will defend its national security, interests over Ukraine and the Americans have to talk to Russia now.
READ MORE: Potatoes for Kerry: Russian FM keeps up gift exchange traditions
RT:There's been much talk about the rapport between Lavrov and Kerry - will that help smooth the talks?
MP: Yes, I think there's a genuine rapport between Lavrov and Kerry and of course that does help because it enables both of them to have a frank and comfortable conversation with each other. I also believe that it prevents there being any awkwardness between the two. However we mustn't overplay the significance of the rapport between the two because of course the US government and the Russian government have completely opposite views when it comes to Ukraine, which has of course brought about the crisis and the serious standoff between the two countries. And also Moscow and Washington are seriously opposed to each other over Syria. So yes, this rapport can help with relations between two countries – in this case Russia and the US – but we shouldn't overstate it.
The statements, views and opinions expressed in this column are solely those of the author and do not necessarily represent those of RT.
The statements, views and opinions expressed in this column are solely those of the author and do not necessarily represent those of RT.
You can share this story on social media: