'US wants to use the Iraqi government as carrot and stick against Kurds'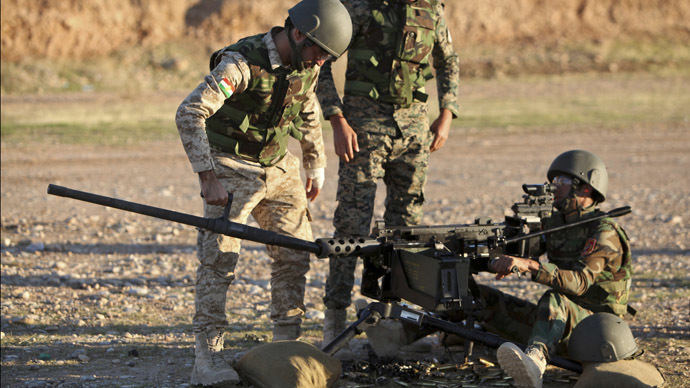 Providing Kurds with weapons through the Iraqi central government lets the US maintain its influence over it while direct weapon supplies to the Kurds serves none of the US strategic interests, former US diplomat Peter Mark Van Buren told RT.
US senators are pushing for a bill allowing direct military aid to the Iraqi Kurds fighting the Islamic State terrorists. The bill has been sharply criticized by the Iraqi government.
RT:We've heard that Baghdad is against this bill. Why would the US risk losing the support of the Iraqi government?
Peter Mark Van Buren: It's important to understand that this bill is being put forward by a select group of individuals in the US Congress, not by the US government. The White House obviously opposes it and the chances of this bill changing any American policy on the ground are exactly zero. The US continues to funnel the weaponry to the Kurds through the Baghdad central government largely to maintain its influence over that central government, and to be able to use the central government as a bit of a carrot and stick against the Kurds. There is nothing in America's broader strategic interest that would be served by directly supplying weapons and I don't think that's what you are going to see happen.
READ MORE: US Senate mulls bypassing Iraqi government in arming Kurdish militia
RT:Are you surprised that we haven't heard any sort of words from the US government reassuring the Iraqi leadership because clearly they are concerned?
PB: I think Obama has once again found himself in between a rock and a hard place which appears to almost define American policy in Iraq and in the greater Middle East these days. He is facing increasing criticism from the right in the US, particularly two core sponsors of the bill - Rand Paul and Marco Rubio, both of whom are Republican presidential candidates - are using the issue to picket Obama's alleged weakness. So he's got to be careful what he says but I think at the end of the day what is going to matter is what he does and that is going to be no substantive change.
RT:The Kurdish leader also said that Iraqi Kurds will hold a referendum on independence. What are your thoughts on that because presumably that could be extremely disruptive for Iraq and also the wider region?
PB: Absolutely, it would be inflammatory to hold such a referendum particularly as the Islamic State is still in some form of disillusion. The Kurds were careful to say that once the Islamic State is defeated, they're going to hold that referendum. And of course, the defeat of the IS can be defined by a number of people in a number of ways. Essentially, what you've got is the Kurds arguing for a little more room in terms of their future independence, a little more muscle in their relationship with the US. These often times apocalyptic statements that the sides make are really part of this negotiating process. The US is going to have to give a little towards Kurdish independence, as will the Baghdad central government, but not very much. And the way things are done in that region - you start off with these big statements and then negotiate yourself on the details.
READ MORE: Kurdistan's independence is inevitable, but only through peace - Iraqi Kurdish leader
RT:There hasn't been any public statement from the US concerning the possible Kurdish independence, has there?
PB: I haven't heard any statements and it's a little bit surprising that the White House hasn't at least confirmed earlier statements about Kurdish independence. My belief - the US has some official standing policy that's a bit vague but essentially says "not right now, people". It's surprising that they haven't confirmed it. But again with the Kurdish leader in town and the Republican presidential candidates barking at his heels Obama may be waiting a little bit in order to say something about that. This is largely about politics in Iraq and politics in Washington - and very little about weapons in the Middle East.
The statements, views and opinions expressed in this column are solely those of the author and do not necessarily represent those of RT.