Forced out of Ukraine: Local journalists showing their true colors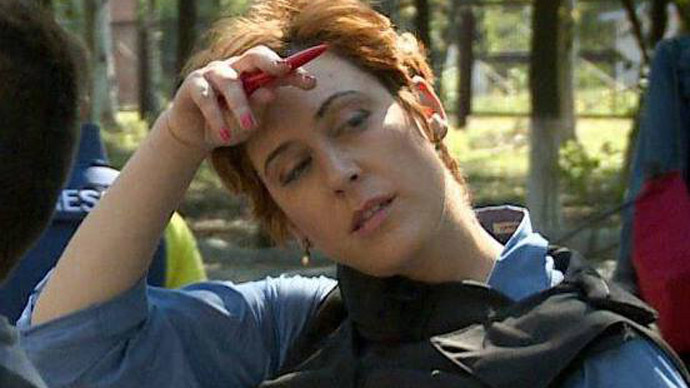 I write just after leaving Kiev after being alerted a Ukrainian colleague – Denis Kazansky – instigated an online campaign that spiraled from him blaming Ukrainian intelligence for letting me into his country, to people calling for me to be killed.
And by the way, I was in Ukraine to report on the wildfires that were sweeping through the area around Chernobyl – and nothing even remotely political.
I write this with a heavy heart. When did we, the journalists, become the story? When was the line crossed that it's okay for a journalist to instigate a hate campaign against a colleague?
Some of the threats I've received - translated from Russian : "not just to catch her but to kill her" ; "catch her and f*** her"

— Paula Slier (@PaulaSlier_RT) May 5, 2015
Kazansky basically called me the "scum of the earth," and subsequent tweets by his followers called to "f*** her,""take a knife and pull out all her Russian shit," and "not just to catch her but to kill her." The intention, no doubt, is to frighten me. And in this respect Kazansky can be pleased – I was concerned enough to leave the country. But instead of applauding himself I suggest he do something far more important – ask himself with what integrity he wears the badge of our profession.
Kazansky makes no secret of the fact that he supports the Kiev government and hence takes issue with my reports from Eastern Ukraine where people are highly critical of it. I respect his right to disagree with those I interviewed, but that doesn't mean they should not be allowed to express their views or be given air time, especially in light of the fact that they repeatedly told me they believe the Ukrainian media is lying.
Работник кремлевского пропагандистского телеканала "Раша тудей" Пола Слиер, которая со смехом рассказывала на российском...Posted by Денис Казанский on Sunday, May 3, 2015
As a Ukrainian blogger and editor Kazansky is free to disseminate as much information as he wants criticizing my reports – this is after all freedom of speech. I also don't mind that much if he questions my journalism although I do think its stooping low as I have twenty years of experience to back up my credentials.
I do, however, think he crosses the line when he triggers incitement against me - and against every journalist who thinks differently to him. Let me be quite clear: I might not agree with what Kazansky writes, but I will defend his right to express it. And I expect the same back – no more, no less. If we as journalists don't support each other and our profession then we make a mockery of our trade.

At a recent conference organized by the Organization for Security and Co-operation in Europe entitled "Protection of Safety and Integrity of Journalists in the OSCE region," a question was raised why journalists don't work together to counter threats against the media community. I said then, and I repeat it here, that I wholeheartedly applaud the idea. After the session I approached the two Ukrainian journalists who'd participated in the discussion but they ignored me. I can understand their position but I do think it's a pity that as journalists we cannot reach out and support one another as after all we are doing the same job. Perhaps if readers see us doing this they'll understand that it's not okay to intimidate, threaten and ultimately hunt down journalists, no matter how much they disagree with their reporting.
What does Mr. Kazansky achieve by getting me out Kiev? He complains my stories only show one point of view but then denies me access to get the other. It is one thing for the crazies out there to make good on Mr. Kazansky's words; it is quite another for him to taint our profession and use the very privileged position we have as journalists to shed light on the many different narratives out there.
Paula Slier, RT.
The statements, views and opinions expressed in this column are solely those of the author and do not necessarily represent those of RT.
The statements, views and opinions expressed in this column are solely those of the author and do not necessarily represent those of RT.
You can share this story on social media: