​Leaking CIA secrets leads to severe punishment, unless you are the boss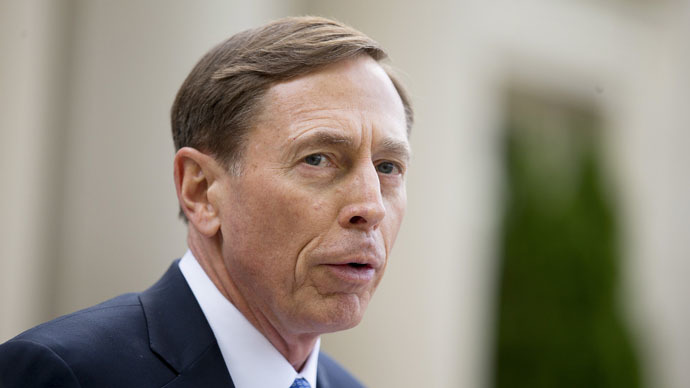 The problem with the lenient treatment of former CIA Director, David Petraeus, isn't that he was lightly punished for his leaks. It is that other whistleblowers are punished at all.
It's a tale of two CIA employees. The first, Jeffrey Sterling, has just been convicted of leaking information about a bungled agency sortie to James Risen, a reporter. The operation took place almost 20 years ago, around the time everyone was doing the Macarena and Tom Cruise's first Mission Impossible movie was released. Federal prosecutors are calling for a 24-year prison sentence for Sterling.
The second, David Petraeus, has already learned his fate. He received a $100,000 fine and two-years probation. The six-figure sum may seem like a lot to you, but it's less than the former 4-star general earns for a single speech.
He did, actually RT @emptywheel Judge Keesler thinks he sent a message by fining Petraeus 75% of one speaking fee for leaking covert IDs.

— Glenn Greenwald (@ggreenwald) April 23, 2015
Petraeus was the boss, Sterling an underling. However, Sterling's so-called misdemeanor pales into insignificance when compared to Petraeus' actions. The latter handed his lover, Paula Broadwell, information on the identities of covert officers, diplomatic discussions, war strategy and even private chats with the current US President, Barack Obama. This is about as top-level as it gets.
Petraeus' apologists emphasize that the difference between the two cases is that the public never learned the information that Broadwell was given. They use this to justify the leniency shown to the almost four-decade military veteran.
Nevertheless, the case of John Kiriakou rather knocks this defense on the head. In 2007, Kiriakou admitted that the CIA had a secret torture program. The following year, authorities issued criminal charges against him for slipping a journalist the name of a covert agent. As in Petraeus' case, this name wasn't published. Regardless, in 2012 Kiriakou was handed a 30-month federal prison sentence. He was partially released in February.
When honesty is not the best policy
Kiriakou freely admitted to his mistakes and those of the CIA. It's pretty certain that his honesty was his downfall. On the contrary, Petraeus initially lied to FBI officials when they quizzed him about his, probably inadvertent, whistleblowing activities.
Lying to federal agents is a felony that carries a sentence of up to five years in prison. For reasons unknown, the former CIA Director wasn't charged with lying.
As Petraeus' reputation sank, the rats in the media hurtled off the sinking ship. Take Spencer Ackerman for instance. Back in 2010, he was brown-nosing the former general in Wired but 2 years later, he was full of remorse. Ackerman later became national security editor of The Guardian US.
It's worth pointing out that the CIA is not fundamentally against leaking small pieces of information to outsiders. For example, the Obama administration has been accused of allowing the filmmaker of Zero Dark Thirty, a movie which is essentially a vehicle for American war propaganda, to attend a talk by former CIA director Leon Panetta. During that natter, Panetta disclosed classified information. He was, conveniently, never prosecuted.
Useful idiots
We now have a situation where spooks will, literally, chase Edward Snowden to the ends of the earth and stay mute, as useful idiots in the media attempt to smear him as a "Russian spy." However, when the agency's (married) former head honcho hands over secrets of the utmost confidentiality to his bit on the side, he gets a slap on the wrist. While low ranking agents get jail time, the biggest fish are, inexplicably, allowed to lie to federal agents but escape prosecution. If such a chain of events happened in a tin-pot banana republic, we'd be rolling our eyes. Yet, this is not some backwards state, this is the USA, the world's self-styled policeman and - at least on paper – the greatest military power.
While Snowden claims to be happy enough in Moscow, there's little doubt he'd go home in a heartbeat if he were guaranteed fair treatment. Currently, the NSA whistleblower is unable to leave Russia. While safe enough in the world's largest country, in practically any other location he would probably be lifted by US authorities. If Snowden were a Russian agent, he'd no doubt be kicking back in a Sochi villa, rather than showing a willingness to face US justice.
Petraeus had no such problems while his case was being investigated. He spent time teaching at Harvard and making lucrative speeches, some of them abroad. The New York Times reported that he even advised the White House.
A level playing field
Snowden's American lawyer, Ben Wizner rather hit the nail on the head when he said: "'The problem is not that David Petraeus is getting lenient treatment - the problem is that lenient treatment is only available to people in high places.'
Of course, there is also the case of Chelsea (formerly Bradley) Manning, who in August 2013, was sentenced to 35 years in prison for handing classified information to WikiLeaks. The only radical difference between Manning's actions and those of Petraeus is that the former's leaks were published. Also, Manning was initially charged with aiding the enemy, which could have resulted in the death sentence.
As Wizner puts it, all whistleblowers should receive lenient treatment. However, the scandal here is that Petraeus' 'punishment' is so mild compared to that of Manning and Kiriakou. One can only imagine the treatment Snowden would get if he were to forsake his Moscow safe-haven and voluntarily return to the US before striking a plea-bargain deal. Undoubtedly, nobody should be prosecuted for leaking information to journalists, but if any government is determined to launch charges against the small fry, it has a moral responsibility to give high-ranking generals the same treatment.
The statements, views and opinions expressed in this column are solely those of the author and do not necessarily represent those of RT.
The statements, views and opinions expressed in this column are solely those of the author and do not necessarily represent those of RT.
You can share this story on social media: