'ISIS good at propaganda & marketing and youngsters buy into it'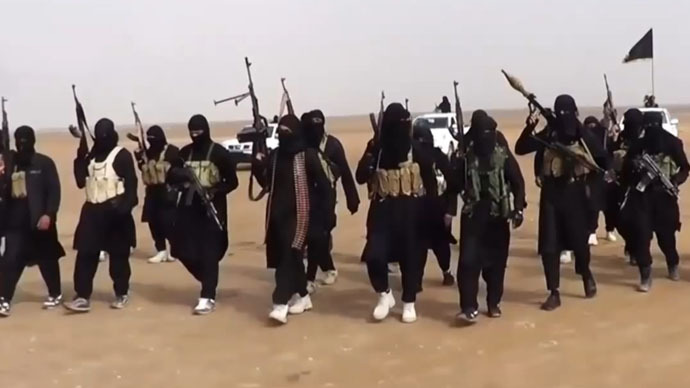 Teenagers in Europe who have family problems often become victims of IS propaganda that gives the impression of providing youngsters with a life they aren't able to achieve in their home countries, Nazir Afzal, former UK Chief Crown Prosecutor told RT.
The Islamic State is continuing to win over converts in Europe through a relentless propaganda campaign. According to various estimates, around 6,000 EU citizens are currently fighting in Iraq and Syria within the ranks of the jihadists. Nazir Afzal says Islamic State is gaining the status of a pop idol for teenagers in Britain.
RT:It's hard for most of us to imagine what could prompt a young British boy or girl to head to a warzone and join a terrorist group. What's the appeal?
READ MORE: 'Pop star' coverage and British foreign policy will ensure ISIS longevity
Nazir Afzal: When you talk about young people you have to remember how vulnerable they are. Teenagers particularly are susceptible to propaganda, to marketing, to all of those kinds of things. What is happening with ISIL, ISIS, Deash - they are very evil people, but they are very good at propaganda, they are good at marketing. And they are presenting this image that somehow this glorious campaign that they are carrying out in Syria and Iraq is one thing that attracts them. Compared to the life they may be leading, or living in their own homes, where they may well be oppressed in some way by their parents, they may be told by their parents that there are things they can't do. Their parents obviously feel very happy that they are at home but they don't pay much attention to what they are doing online, and when they are online they have access to charismatic individuals who try to sell them this message that "your life is not as good, you are unwanted, unloved where you are! We will love you, we will want you, and we will give you a life that you have no way of achieving in England or in Europe, or wherever you maybe." And that is a selling point that works.
RT: But what is being done at home to counter that selling point and protect the teenagers as a result?
NA: There are a lot of strategies that you have to put in place but you have to treat this like addiction... any addiction, whether it's addiction to drugs or anything of that nature. You can't just simply tell people: "What you're doing is bad, the police will be involved." You've got to give them hope, you've got to give them expectations that their life here will be meaningful and their ambitions will be realized, you've got to provide them with support, the communication has to be much better than it is. You've got to give them that impression that what they have here, and the potential that they have here, is so much greater than the unreal and evil world that they might be going to. They have no understanding... because when you're young you automatically think that there is something better that the life that you lead. And these people are very good at expressing a life better than the one that they have at the moment. You've got to give them hope; ambition, support, and you've got to communicate with them better than we are doing at the moment.
The statements, views and opinions expressed in this column are solely those of the author and do not necessarily represent those of RT.