#IAmAnImmigrant campaign 'to humanize & try to detoxify anti-immigration debate'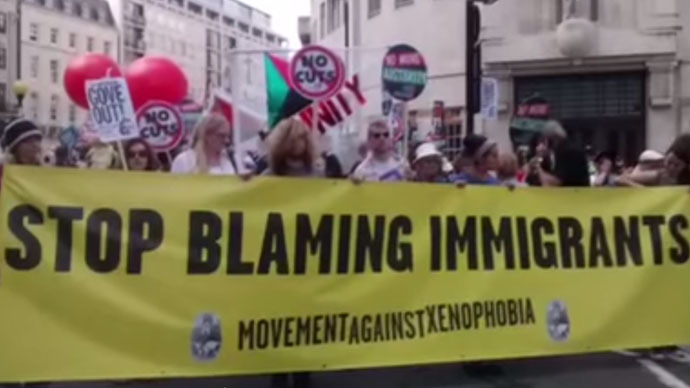 The aim of the 'I'm an immigrant' campaign in the UK is to humanize and try to detoxify the anti-immigrant rhetoric prevailing in Britain, and to say that immigrants are part of the country's diversified society, barrister S. Chelvan told RT.
A new social campaign against racism and anti-immigration has been launched in the UK. It is called "I am an immigrant", and the poster campaign was organized by the Movement Against Xenophobia and paid for through crowdfunding. One can find the campaign posters in the tube and train stations and on billboards all around the UK. The main aim is to make people rethink their view concerning immigrants.
RT discussed the campaign with one of its participants - S. Chelvan, Barrister at No5 Chambers.
RT:What made you decide to take part in this campaign?
S. Chelvan: Over the past five to ten years the whole debate in relation to immigration has become very toxic especially with what's happening over the past year in relation to the anti-immigrant rhetoric. So when the Joint Council for the Welfare of Immigrants and the Movement Against Xenophobia said they were launching an anti-immigrant poster campaign through crowdfunding, so that meant over thousand members of the public donated money towards this campaign. They were also asking for immigrants to put their names forward to be part of this campaign. So out of 200 applicants 15 of us were chosen to be the faces of this campaign to ensure that we can humanize the debate and try to detoxify the debate.
Great new campaign celebrating the many contributions of immigrants to UK @NoXenophobia#IAmAnImmigrantpic.twitter.com/A0U3B6jLtD

— Ben Ward (@Benjamin_P_Ward) April 13, 2015
RT:What has been the public reaction so far?
SC: On the social media and the news networks it has been absolutely amazing. We had the press launch last Wednesday and since that the whole campaign has gone viral. He had an official launch last night at the TUC headquarters here in London and it's been a very positive reaction to ensuring that we enter the debate and trying to humanize the debate to say that we are part of British society, and we should celebrate our diversity as a society which includes those who are indigenous and those who are also immigrants.
Hanna Yusuf, a student from London, comments on #IAmAnImmigrant campaign: "Most of the people who are afraid of immigrants have this idea that they only come to the UK to live off welfare and steal everyone's jobs. But actually most immigrants work and a lot of them are business owners and entrepreneurs who create jobs as a result. And I think the posters are a great way of portraying that."
RT:Your face is on one of the posters - naming you as a barrister "championing human rights and fighting for justice" - doesn't this look like self-promotion?
SC: Not at all. I'm actually working in immigration and asylum law on a daily basis. I work with migrants, so it's part of my professional life as well as my personal life. And all of us who have volunteered to be part of this campaign have done so because we are angry with the noise which is currently part of the debate which sought to stigmatize and dehumanize migrants. So it's got to do with being part of a campaign which is not just the 15 of us. It's now going digital and therefore if you go on www.iamanimmigrant.net migrants can also upload their photos with bias in relation to why they want to stand up and say "I am an immigrant". So it's not just 15 people, it's been thousands of people.
Spotted on Victoria line by @COrchestra, our great supporter. We need ur help to find these. Plz RT to get more in! pic.twitter.com/0jlf5QucPJ

— MAX: Move Agnst Xeno (@NoXenophobia) April 10, 2015
RT:Have you experiences discrimination in your profession?
SC: What I have witnessed over the past thirteen years practicing as a barrister in immigration and asylum law is that we have no such thing as uncontrolled migration. You only need to work-shadow me to show that there are clear obstacles for people to come in to the UK, or stay in the UK, or be part of the British family units, and by marrying people who are British nationals. So what I'm seeing are tighter controls in relation to those individuals who want to come into the country or stay in the country. What we are looking at here in the UK is a fair system which allows people who've got a legitimate basis to stay here or come here to be allowed to stay or come here.
RT:How does Britain compare to other countries when it comes to welcoming immigrants?
SC: I don't have the statistics to hand, but as somebody who works not only in the UK but also has international dimension to my practice, When I have been involved in for example a European project called the Fleeing Homophobia project a couple of years ago in relation to how the UK deals with lesbian and gay asylum and immigrants including asylum seekers from Russia on the basis of their sexual or gender identity I've been able to say that the UK has a lot more to do in relation to the fair equal treatment of migrants and asylum seekers.
The statements, views and opinions expressed in this column are solely those of the author and do not necessarily represent those of RT.