'Spanish gag law will make things dangerous for people, but won't stop rallies'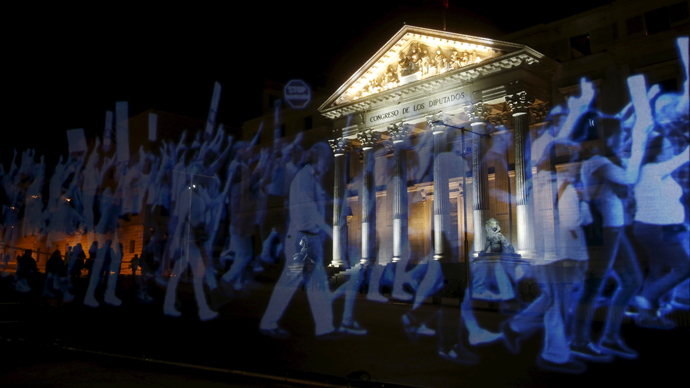 A new Spanish "gag law" will make things more dangerous for people and easier for the government to impose more austerity measures, says Clara Valverde, writer and anti-austerity activist. But people will still take to streets, she adds.
The Spanish government passed the Citizen Safety Law that limits the rights of the public to demonstrate. The controversial 'gagging' law should come into force on July 1. Last weekend activists from the "Hologramas para la Libertad"movement staged a protest against the law. The entire rally was virtual – with holograms of protesters projected outside the Parliament building in Madrid.
RT:What's your take on this new gagging law? Does it serve to bring more safety to the country?
READ MORE: Protesters in Spain stage first ever 'hologram march' against gag law (VIDEO)
Clara Valverde: No, I think it is going to make things more dangerous for regular people. I'm just thinking that myself, I organized demonstrations against the cutbacks in health through social media. I could go to prison for that. So that is going to make things more dangerous for regular people. Obviously it is going to make life easier for the government, for the austerity measures - to apply them and for the banks to be able to foreclose people. This is really a fascist law. So it is going to make things dangerous for people.
RT:What consequences will there be for those who violate the law?
CV: They will enforce it in a sense - if you don't pay you go to prison. People are going to prison now for two years without even being charged, even before this new gag law [has taken effect]. So it doesn't matter - if you don't pay, you will go to prison. That is not a problem for the government that you don't have any money. The UN has said that this gag law infringes our democratic rights, and the Spanish government basically says: "We don't care!" It is very much a banana republic kind of attitude that they have.
RT:Recent studentprotests in Quebecin Canada ended with a violent crackdown by police who used tear gas against the protesters for holding an "illegal rally". Do you expect similar reaction from the Spanish law enforcers against activists after the gag law comes into force on July 1?
CV: The Spanish police will probably get tougher, but Canada is very different. Right now there are a lot of courts tied up with a class action lawsuit because of those gag laws. But in Spain the laws are different - we still have leftover laws and judges from the time of Franco. Yes, things are going to be pretty rough. We have barely been out of fascism in the previous century, and it is coming back...
RT:Why protesters in Spain decided to challenge the controversial law using holograms?
CV: This hologram was a performance, a statement, a challenge to say that we are always going to be visible. But I think we will continue to go on the streets; you can't keep a country down, you can't keep everybody starved, out of their homes, etc. and expect nothing to happen. People will go outside. But it is a good statement to make through a hologram, to say: "We are here; we are always going to be here."
RT:Why are there such significant disagreements between the government and ordinary people?
CV: ... The thing is that the Spanish government is focused on their priority which is to bailout banks, and not the people. At the demonstration in Madrid, there were a lot of firemen wearing t-shirts that say: "We rescue people, and not banks!" And that is what we need. People need to be rescued because we are in really bad shape. The government has other priorities, but we do not have the same priorities. Things are coming to a head.
The statements, views and opinions expressed in this column are solely those of the author and do not necessarily represent those of RT.