Protesters in Spain stage first ever 'hologram march' against gag law (VIDEO)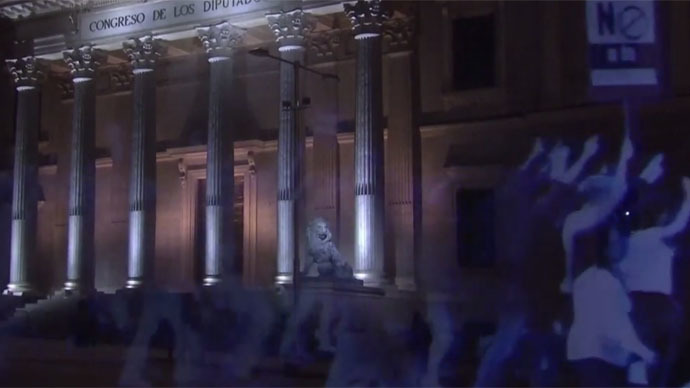 People across the world took part in a unique protest against the Spanish law that limits the rights of the public to rally. No one attended the virtual march, but holograms of protesters were projected outside parliament in Madrid instead.
Activists have recently launched a petition against the Citizen Safety Law, which has been called the "gag law" by opposition groups and the media, saying it "restricts citizens' liberties, and criminalizes their right to protest."
"To respond to this injustice" activists behind the "Hologramas para la Libertad" movement said they "saw the need to carry out a different kind of protest that would allow our demands to become unstoppable: the first hologram protest in history."
The draconian law, which was passed in the lower house of parliament in December, gives sweeping powers to the authorities. It makes it illegal to protest outside government buildings, insult police officers or refuse to show identification documents. On top of that, there's also a €600 fine for showing a lack of respect to anyone in uniform, while the photographing or filming of police officers, where they could be put in danger, will incur a €30,000 fine.
Hologram protest in Madrid against the Gag Law. "As we can't protest as free citizens, we protest as free holograms." pic.twitter.com/mjE9j4SBNe

— Giedre P. (@GiedreP) April 10, 2015
From now on the government can basically prohibit any protest if it fears order would be disrupted. People have to seek permission from the authorities to protest publicly. Any unauthorized protests outside buildings that provide basic services to the community will incur a fine of up to €600,000 ($746,000). This covers a huge number of buildings, from universities to hospitals. The measure has been slammed by the international community in recent months since it breaks international and EU laws.
READ MORE: Spain passes strict anti-protest law
"If you are a person you can not express yourself freely, you can only do that here if you become a hologram," a woman in the video released by the "Hologramas para la Libertad" said.
#10AHologramasLibres because they want you quiet, scared, and swallowing without protesting http://t.co/ksTFfRKIzC

— Albert Portabella (@APortabellaF) April 10, 2015
In February protesters got together in Madrid, as those demonstrating against a government decision to stiffen penalties for unauthorized demos blew whistles and banged drums before marching towards a square in the center of the capital. The organizers of the protests called for demonstrators to take to the streets in 20 other cities around Spain, AFP reported.
In December, marches took place in 30 cities around the country, with opponents of the law saying the draconian measure will take Spain back to the days of General Franco's dictatorship.