US Ambassador banned from Prague Castle: Time for America to treat Eastern Europe with respect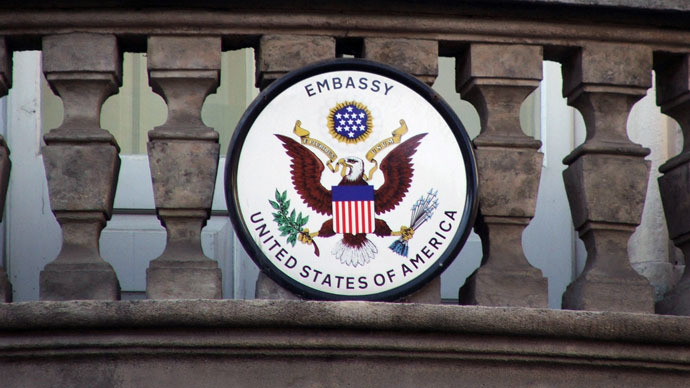 The most surprising thing about the President Zeman/Ambassador Schapiro row isn't the US envoy's comments. It's that a European head of state has decided to stand up to American bullying.
Diplomats are widely perceived as highly educated foreign specialists who endure years of training before being let loose on a sensitive posting. This is true of most global powers. However, there's one very notable exception, the United States. In America, ambassadorships are often crony appointments, rewarding political allies for services previously rendered.
READ MORE: Czech president says his 'doors are closed' to US envoy over Moscow WWII visit comments
The exception is when a country is either particularly useful to America or relations are especially strained. An example of the former is Ukraine where the State Department 'lifer' Geoffrey Pyatt was conveniently appointed a couple of months before the Maidan crisis erupted. Moscow falls into the latter category; the very experienced John Tefft was installed in 2014 to replace Michael McFaul, whose tenure was widely regarded as disastrous.
The Pyatt type of Ambassador takes a very hands-on role; in fact he even helped to choose the country's government. They are well briefed in US foreign policy goals and have a wide network within the State Department. Pyatt's partisanship in Ukraine isn't a solo run - it's transparently obvious that 'higher-ups' approve of his methods, whether they be directing traffic on the streets of Kiev or hysterically branding anti-government forces as 'terrorists.' Pyatt is also a skilled media operator who has successfully manipulated the Kiev-based hack pack. Of course, the fact that most western 'journalists' on the Russia-Ukraine beat have very little training in the craft makes that task a lot easier.
New #US Ambassador to #Ukraine Geoff Pyatt's video message to the country. He even speaks some Ukrainian. http://t.co/Wlsvxjq18D

— Christopher Miller (@ChristopherJM) August 7, 2013
The typical US Ambassador doesn't get to be a 'hero' like Pyatt. Instead, they essentially buy their sinecures. Generally, the positions are a reward for fundraising or, very occasionally, are granted to a high profile individual with connections to the country. An example here is when JFK's sister Jean Kennedy Smith enjoyed five years in Dublin, further strengthening the 'love-love' relationship between the Kennedy family and their ancestral homeland.
Bundling into office
These days, the fastest way to become 'Your Excellency' is by operating as a 'bundler.' A bundler is neither a type of wrapping, nor is it botany related; it's American terminology for an activist who pushes legal fundraising limits to their limits. Given the ridiculous expense of American 'democracy' - where Obama spent $1.1 billion on his 2008 campaign - these guys are invaluable. Whereas a private citizen can only give $2,500 to a politician, a bundler collects contributions from dozens of different individuals and presents the sum in one payment.
Naturally then, in the spirit of Kris Kristofferson's famous observation that "Nothin' ain't worth nothin' when it's free," they have to be rewarded once the candidate they backed secures the White House. The easiest way is a comfortable ambassadorship, where the US taxpayer can keep them in style for a few years. The most successful bundlers (bringing in $500,000+) even get to choose their location.
Sometimes these bundler nominees are hopelessly out of their depth. Take George Tsunis, who was slated for the Norway job and immediately hoped to meet "the President." He was apparently unaware that the country is a Monarchy. Then there's Colleen Bell, a soap opera writer/producer, who couldn't answer John McCain's questions about America's "strategic interests in Hungary." To be out-maneuvered by the hapless Arizona Senator suggests a deep level of incompetence. Also, don't forget Max Baucus who was appointed to Beijing after telling the Foreign Relations Committee: "I'm no real expert on China." At least he was honest.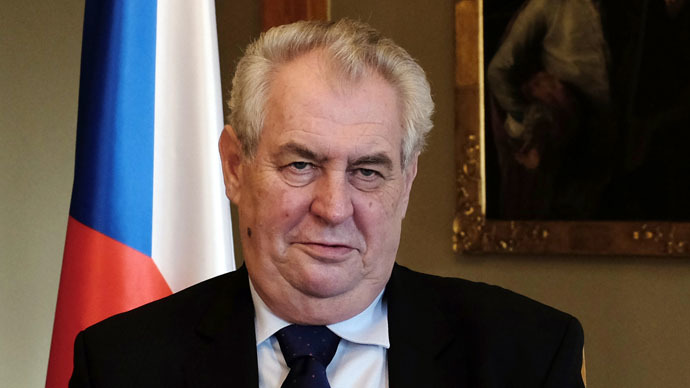 Schapiro's own holocaust history
This brings me to Andrew Schapiro. The Ambassador to Prague was a year ahead of President Obama at Harvard Law School. That said, Schapiro is somewhat different to most of Obama's motley crew. He has family connections to the Czech Republic where his Prague-born mother, Raya, was a Holocaust refugee. His Grandmother and Uncle both stayed behind and died, both in Poland, one at Auschwitz and the other at Treblinka.
It's beyond any doubt that Schapiro would be fully aware that Russian-led Soviet forces liberated those German death-camps. Even if Treblinka had already been demolished by the Nazi's in a futile cover-up attempt. Ironically, the first Soviet officer to enter Auschwitz was Anatoly Shapiro, a namesake.
The Ambassador's history makes his attempt to bully President Milos Zeman look even more ridiculous. However, one thing Americans don't like is for their edicts to be ignored. When you believe your nation to be "indispensable" how dare anybody question its orders?
What's clear is that once Barack Obama announced that he would not be attending the 70th anniversary of Victory Day in Moscow, the State Department expected all 'allied' countries to fall in line. Other than Greece (which is in dispute with the EU) and Cyprus, everyone else has played ball except the Czechs.
Completely unqualified for his role, Schapiro weighed in and directly criticized Milos Zeman's choice to visit Moscow on May 9. I can't even imagine the American reaction if the Czech ambassador took Obama to task for choosing to recognize Cuba or supporting an illegal coup in nearby Ukraine, to give two examples. Once most Americans had figured out where the Czech Republic actually is, the Ambassador would be vilified.
I'm in the U.S. for the holiday weekend. I wake up, turn on computer, and see that a lot happened while I was asleep! #GladITurnedMyPhoneOff

— Andrew Schapiro (@AndySchapiro) April 5, 2015
Zemans' motivation
Zeman claims that he's visiting Moscow to "give thanks" for the fact that Czechs are not speaking German nowadays. Another unmentioned historical fact is that Czechoslovakia (as it was then) was effectively handed to Hitler by the 'free world' in 1938. Conversely, Soviet tanks rolled into Prague 30 years later to viciously quell an uprising. Hence, Czechs have very ambivalent attitudes to both Russia and the Western powers. Given their historical experiences, Czechs generally believe that they can trust neither side.
Their President has virulently opposed the veneration of Stepan Bandera by the post-coup regime in Ukraine. In January, he noted that Bandera had intended to establish a Nazi-puppet state if Germany had succeeded in permanently removing Ukraine from the USSR. Like his predecessor, Vaclav Klaus, Zeman has also been critical of American-led sanctions against Russia.
Last week, Zeman attacked historical revisionists, pointing out that the USSR didn't annex Czechoslovakia after the war. "Soviet soldiers came in 1945 as liberators and by the autumn of that year had left our country," he said. "In 1946, free elections took place which, unfortunately, were won by the Communist Party."
Schapiro claimed that Zeman's Moscow plans were "short-sighted" as it would "be awkward" if the Czech President was the only statesman from an EU country on Red Square. The bundler turned bungler is obviously unaware of the scheduled Greek and Cypriot attendance. German chancellor Angela Merkel is expected to travel to Moscow the next day, May 10th.
The new American century?
Now that Zeman has barred Schapiro from Prague Castle, the residence of the Czech President, the next installment of this tête-à-tête will be fascinating. The President is certain to come under massive pressure from certain elements in his own government to backtrack. However, with three years remaining of his five year term, he's unlikely to easily surrender.
For the US, we might have reached a fork in the road of its treatment of Eastern Europe. I detect a feeling that support for American policy against Russia was taken for granted by Washington. However, the Ukraine crisis has changed all that. While the Baltic nations will back US policy to the bitter end, for what they consider to be existential reasons, many Balkan and former Warsaw pact members are taking a different view.
With moribund economies or in Greece's case barely any economy at all; many are wondering if the zero-sum-game espoused by Washington and Brussels is really beneficial. While most post-communist EU states made rapid progress following their initial accession, improvements have almost completely stalled since 2008. Hungary, Slovakia and the Czech Republic have all expressed varying degrees of discomfort at the EU's Russia policy. As have Greece and Cyprus which didn't endure communism. Additionally, Serbia and Turkey - both EU candidates - have both strongly opposed anti-Russia sanctions.
Washington now has a clear choice. Continue to bully Eastern Europe and risk watching support for the US crumble, or listen to the concerns of the region. The problem is that this would involve admitting that American Ukraine policy has been boneheaded and that Russia has a key role to play in Eastern Europe. They could start by appointing some real diplomats to the likes of Prague and Budapest, not Obama bagmen and women with a fondness for Ferrero Rocher.
The statements, views and opinions expressed in this column are solely those of the author and do not necessarily represent those of RT.
The statements, views and opinions expressed in this column are solely those of the author and do not necessarily represent those of RT.
You can share this story on social media: