'US citizens in danger in Yemen, State Dept must fulfill its obligation & bring them home'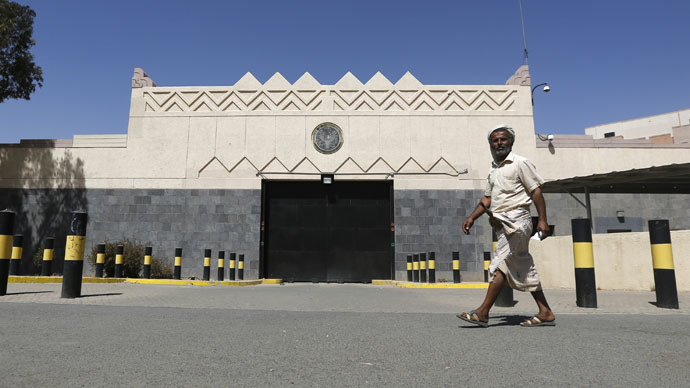 The duty of the US State Department is to protect US citizens wherever they are, thus it must fulfill its obligations and get US citizens stuck in Yemen back, Abed Ayoub of the American-Arab Anti-Discrimination Committee, told RT.
RT:What is the current situation in Yemen concerning US citizens?
Abed Ayoub: The situation in Yemen is very dire as the news reports have indicated. Plenty of US citizens and many Yemeni nationals find themselves in immediate danger of serious injuries even death as we've seen happened unfortunately to many innocent civilians in the country. So they are in immediate danger and there is an immediate need to get help for these individuals and hopefully to get them evacuated from Yemen and bring them home to the US.
RT:The US State Department evacuated its entire staff from Sanaa after suspending embassy operations on February 11. But the department's spokesperson, Marie Harf, said that there were no current plans to evacuate US citizens. Why is the US abandoning its nationals?
AA: Currently the US embassy is not evacuating the US citizens [who are] in Yemen. There is a duty of the US embassy and a duty of the State Department to protect US citizens across the world regardless of what country they are in. And right now the US State Department and the embassy have not fulfilled these obligations to the US citizens and they continue to leave them in immediate danger and they continue to leave them to what could eventually be death for some of these individuals. And they are facing some extreme and dire circumstances. There is a need for the US State Department to step up, fulfill its obligations and get these US citizens home and bring them back to America. This has been an on-going crisis and something that needs immediate attention from the US State Department.
READ MORE: Airstrike kills family of nine in Yemen – residents
RT:A statement from State Department says it's not abandoning its citizens, but they won't be evacuating them in the near future. Harf said basically that there was warning against travelling to Yemen in place and people should not have gone there. Is it any way to treat your citizens stuck in a conflict zone?
AA: This is not a way to treat the US citizens stuck in a conflict-zone. First of all many countries such as Russia, China and Turkey have evacuated their citizens from Yemen so we know that it's possible. We've seen other countries fulfill their obligations to their citizens, get them out of the county and bring them home. Yes, the US State Department has given warnings in the past. However those warnings don't alleviate your own duty to protect the citizens. So even though they've given the warnings, there is still a duty to bring citizens home and still a duty to protect these Americans, to protect these US citizens as they should. In other issues we've seen within the past year we've been in constant dialogue, in contact with the US State Department over the actions and the activities of the embassy in Yemen and particularly when it comes to taking the passports of the US citizens. So some of the US citizens have actually had their passports taken by the US embassy in Yemen, are living with no option to leave and they are stuck there. So how these individuals are supposed to heed the warning the State Department put out there and leave Yemen with no passport? You have many individuals who have had pending immigration matters which have taken years and they can't leave Yemen because the way the US State Department and the Embassy has processed the immigration forms. So you have these individuals who are stuck. And again you have individuals that may have gone for to visit family or individuals that were planning on coming back and they were particularly safe and regardless of the purpose of the visit and why and how long they have been there, the US State Department has a duty to these individuals and has to bring them home. The warnings that go up… and again those warnings do not alleviate the duty and do not get rid of the duty of the State Department to bring these citizens home.
READ MORE: Pope Francis calls to end 'barbarous violence' & bloodshed in global hotspots
RT:One group has already taken action into its own hands - it provides data that could be used in a lawsuit against US officials. Do you think people will actually sue the government for not implementing one of its core functions?
AA: The American-Arab Anti-Discrimination Committee - which is the organization I represent and work for - alongwith the Council on American-Islamic relations and the Asian American Justice Center have come together and put together our website called StuckInYemen.com. This website gives an opportunity for US citizens who are stuck in Yemen to fill out a form, give us the information, we are collecting that data and working with a team of attorneys who look at possible legal action moving forward. We hope to avoid that, we hope that the State Department can come up with a plan to get these US citizens out. In 2006 our organization, ADC, filed a law suit against the State Department for its failure to bring US citizens out of Lebanon during the 33 day Lebanon-Israel war. Now we know the circumstances are a little bit different between the two. However, the one underlying fact though that is similar - we have US citizens in both countries that are facing immediate danger and even facing death. So we do hope that the US State Department works with us, works with these organizations in bringing these Americans home and getting them out of danger immediately. We are collecting the data, we have hundreds of responses, we continue to get responses and we urge friends and family of individuals who have US citizens, or know US citizens stuck in Yemen, to send us their information on StuckInYemen.com, a very easy form to fill out. We get the information; we are going to be in touch with the individuals once we determine the right path moving forward, we do have many options on the table at the moment.
The statements, views and opinions expressed in this column are solely those of the author and do not necessarily represent those of RT.
The statements, views and opinions expressed in this column are solely those of the author and do not necessarily represent those of RT.
You can share this story on social media: