Pope Francis calls to end 'barbarous violence' & bloodshed in global hotspots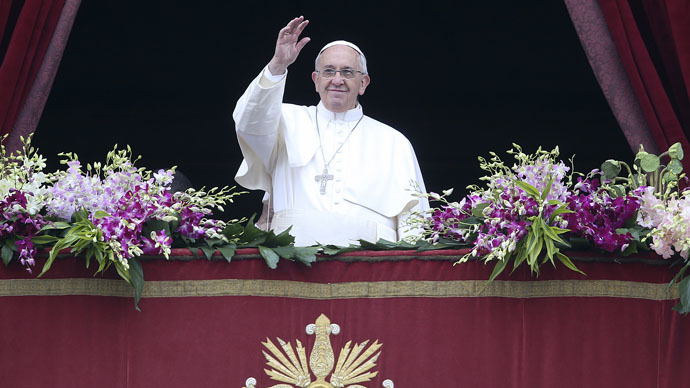 Pope Francis urged to end "absurd" violence, bloodshed and persecution in hotspots around the world in his Easter address, saying the international community must "not stand by before the immense humanitarian tragedy" in war-torn Syria and Iraq.
"We ask for peace, above all, for Syria and Iraq, that the roar of arms may cease and that peaceful relations may be restored among the various groups which make up those beloved countries," the Pope told tens of thousands of pilgrims, who gathered in St Peter's Square to hear him deliver his "Urbi et Orbi" (To the City and World) speech.
"May the international community not stand by before the immense humanitarian tragedy unfolding in these countries and the drama of the numerous refugees," he said in his third Easter message since his election in 2013.
READ MORE: Libya, Syria, Yemen: Sectarian conflict threatens entire Middle East
the g wagon tho #PopeFrancispic.twitter.com/2zEwnAryqw

— Justine Echenique (@heyyjustinee) April 6, 2015
The head of the world's 1.2 billion Catholics called to cease "absurd bloodshed and all barbarous acts of violence" in Libya and expressed hope for "the growth of a common desire for peace" in Yemen.
READ MORE: Saudi Arabia rejects all-inclusive arms embargo on Yemen proposed by Russia
"From the risen Lord we ask the grace not to succumb to the pride which fuels violence and war, but to have the humble courage of pardon and peace," said the Argentinian Pope, adding that he is thinking of those "who suffer injustice as a result of ongoing conflicts and violence."
Happy Easter #catholicprobs#PopeFrancispic.twitter.com/pHbVXiOBHo

— Emily Neuhaus (@Emma21Emily) April 6, 2015
The 78-year-old Catholic leader decried the recent massacre at Garissa University College in Kenya, where Al-Shabaab gunmen, an Al-Qaeda splinter group, killed at least 147 students.
READ MORE: 147 killed in Al-Shabaab attack on Kenya university
"May constant prayer rise up from all people of goodwill for those who lost their lives …for all who have been kidnapped, and for those forced to abandon their homes and their dear ones," he said, particularly referring to the victims of Kenya massacre.
Pope Francis asked the Lord to "bring light to beloved Ukraine," especially to those who "have endured the violence of the conflict of recent months."
READ MORE: Pope: Stop fratricide violence in Ukraine, stop pushing for 'victory'
"May the country [Ukraine] rediscover peace and hope thanks to the commitment of all interested parties."
The Pope called for resuming the "peace process" between Israelis and Palestinians "in order to end years of suffering and division."
The Catholic leader called to pray for the victims of modern slavery, for victims of drug and arms dealers, as well as for "the marginalized, the imprisoned, the poor and the migrants who are so often rejected."
"All who today are in mourning, and all men and women of goodwill, hear the consoling voice of the Lord Jesus: "Peace to you!" concluded the pontiff.
Pope welcomes nuclear deal reached between Iran and six world powers
Pope Francis has praised the recent breakthrough reached on Iran's nuclear program, following eight days of talks in Switzerland.
READ MORE: Tehran and world powers reach solutions on Iran nuclear program
"In hope we entrust to the merciful Lord the framework recently agreed to in Lausanne, that it may be a definitive step toward a more secure and fraternal world," he said.
Iran and the international powers said they reached "solutions on key parameters" of Tehran's nuclear program and that the result of the talks had created the basis of a future comprehensive nuclear agreement, to be concluded by a June 30 deadline.
#PopeFrancis 's #Easter Mass in #StPetersSquare look! Easter Egg Colored Umbrellas! ☔️ cred @fczenit_enpic.twitter.com/zIYgjXTq1m

— Angela Vincent (@GuardianAng) April 5, 2015
Pope Francis, born Jorge Mario Bergoglio in Argentina, has become extremely popular for his open-minded speeches, as well as for his noted humility and concern for the poor.
READ MORE: Vatican endorses military force against ISIS 'genocide'
In the past few months, Francis has repeatedly called to end military conflicts in Ukraine, Iraq, Syria, and Gaza and throughout Africa.
On several occasions, Pope Francis has lashed out against capitalism and its destructive influence on humanity. He also said he is considering embracing homosexual believers, as well as partially accepting same-sex and other religiously unsanctioned partnerships.