Polish discussions on Russia: Free speech for paranoiacs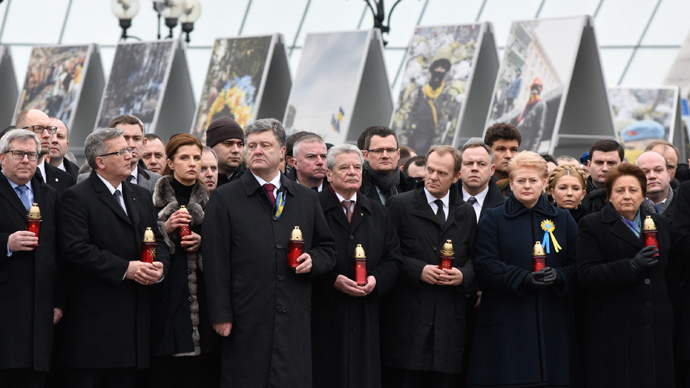 Sunday was "Polish day" in Kiev: Poland's President Bronislaw Komorowski and the head of the European Council Donald Tusk attended the ceremonies marking the first anniversary of Viktor Yanukovich's ousting from power in Ukraine.
Donald Tusk, a Polish national, did his utmost to deserve this invitation: days earlier, he called for additional sanctions against Russia, saying that "our diplomatic efforts will be fruitless if they are not backed up by further action."
In 2009, Donald Tusk - then serving as Poland's prime minister - claimed that Russia wasn't a threat and that he would do everything he could to improve Warsaw's relations with Moscow. In 2010, he accepted Vladimir Putin's invitation to visit Russia to commemorate the victims of the Katyn massacre when thousands of Polish officers were killed.
Now Tusk is the most active lobbyist of anti-Russia sanctions inside the EU. There is nothing surprising about this: lies and paranoia are reigning supreme in today's Poland, and Tusk goes with the flow.
Images from yesterday's March of Dignity in #Kyiv, #Ukraine. #Euromaidanpic.twitter.com/wWZBqxP2kx

— Donald Tusk (@eucopresident) February 23, 2015
Indeed, the recent statements by Polish leaders on relations with Russia are beating all records for alarmism. Polish Defense Minister Tomasz Siemoniak has already raised a lot of eyebrows when he called on the Poles to prepare for "difficult months and years" in connection with what he described as "Russia's aggression against Ukraine." (Polish media never view the Ukrainian crisis for what it is – a civil war, since this would raise the problem of Polish support for the Maidan revolution, which provoked the civil war.)
"We shall have difficult months and years ahead of us, because Russia does not hide its aim of blocking the European way of development for Ukraine. Since Russia openly uses military methods of achieving this goal, such a situation creates a long term threat to Europe," Siemoniak said.
However, the alarmism of the Polish defense office pales in comparison to the hysteria of Poland's former vice-minister for defense, Romuald Szeremietiew. When the Polish television channel TVN24 asked him if Russia could attack Poland, he said: "Russia not only can attack Poland, it must do it."
The interviewer probably could not believe his ears, since in a normal society (but not in today's Poland, of course) such a statement would likely see its author end up in a psychiatric clinic. TVN24's journalist kindly asked Mr. Szeremietiew (who now heads the Academy of National Defense) to explain what he meant. Why should Russia attack Poland?
Szeremietiew explained himself: "If Russia wants to rebuild its empire, - and Russia says it wants to do it, using lands from Vladivostok to Lisbon – what does it have to do? Russia says that it sees partners for building this geopolitical construction in the West: these partners include Germany, France, Spain and Italy. And then, on its way towards this empire, right in the middle of Europe, Russia finds this "hogweed" called Poland. And this hogweed sticks to the United States and sympathizes with Ukraine, who does not want to submit to Russia. So, what does Russia have to do to make its empire a reality? It has to uproot Poland!" Szeremietiew looked into the camera triumphantly, ending his historic prophecy.
On a more sober note, it should be mentioned that no Russian official has ever made statements on "rebuilding an empire," and of course only a person who just fell off the Empire State Building can imagine Chancellor Merkel helping Putin to extend his power from Vladivostok to Lisbon.
But in Poland the media believes anything about Russia. So, instead of calling the ambulance, the astounded journalists ran to Defense Minister Siemoniak asking for his comment: could the visionary revelation by Mr. Szeremietiew be true?!
When the reporters approached him with this question, Mr Siemoniak was just telling other journalists how Poland planned sending a convoy with "non-lethal military aid" to Ukraine, which would include "first-aid packages" of medicine for people "in distress."
Instead of explaining to journalists that Szeremietiew was in desperate need of precisely one such package, Siemoniak limited himself to saying that "we live in a free country, where everyone is free to say what he thinks."
READ MORE: Ukraine, Poland, Lithuania to form joint military force
Indeed, the border between being paranoid and being free (that is, a "free" journalist, politician, you name it) is getting dangerously blurred in today's Poland. The National Security Council in Warsaw is discussing sending "lethal" weapons to the regime now in power in Kiev, and Mr Siemoniak, imitating Obama, says with a serious face that "we leave that option on the table."
The voices of reason are few and far between, but you can hear them even in today's Poland.
Pawel Kukiz, a candidate for Polish presidency, recently said: "Polish politicians needlessly provoke Russia." Kukiz was especially concerned by a phrase from Zbigniew Bujak, formerly an influential senator, who said he "would be happy to see joint Polish-Ukrainian detachments fighting in Donbass."
"That sounds hideous," Kukiz commented, adding that Foreign Minister Grzegorz Schetyna needlessly confirms Russia's worst suspicions by his statements.
Mr Kukiz quickly added, however, that Warsaw should help ethnic Poles living in Ukraine, if Russia's border indeed moves to the Bug (the river, where the border between Poland and the Soviet Union was located before 1991). Obviously, paranoia and freedom go hand in hand in today's Poland.
Dmitry Babich, political analyst, for RT.
The statements, views and opinions expressed in this column are solely those of the author and do not necessarily represent those of RT.