'People lost faith in established European parties' - Euroskeptic AfD party member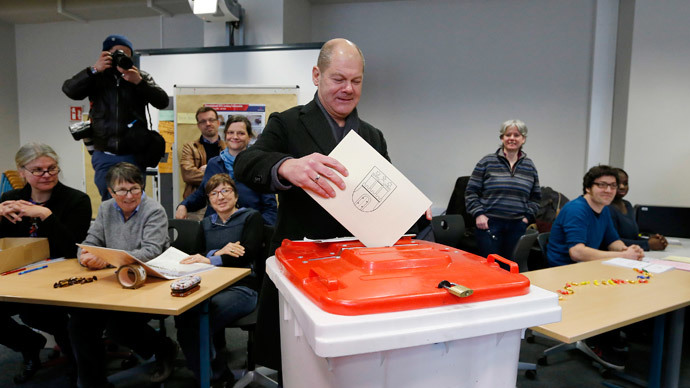 The Alternative for Germany (AfD) party is successful because voters look for parties that have right programs and are aware that established political parties have no answers to the up-to-date serious questions, Paul Hampel from the AfD told RT.
The euroskeptic Alternative for Germany party (AfD) won its first seats in the Hamburg state parliamentary election on Sunday. Angela Merkel's Christian Democrats (CDU) scored its worst election results since WWII.
RT:What's the significance of winning these seats for your party?
Paul Hampel: It is significant for us because we have shown that we are not only successful in the Eastern German states, like Thuringia, Brandenburg, and Saxony…where we got some 10-12 percent, we made it to the West. Hamburg is a first step, 6.1 percent, that is a very good result for us. We show that we are able to win elections in Western Germany as well. We are going forward to the next elections in Bremen in May and quite sure we will be successful there as well.
RT:Alternative, or what some call, "populist" parties are becoming more vocal across the EU. Is it a significant new trend? And what are the reasons behind that?
PH: It [has been] a trend in the last 24-30 months. More and more people not only in Germany, but in all Europe are aware that the established political parties have no answer to serious questions of today and especially of tomorrow. They have lost in a certain way their faith into them. As soon as that happens a normal voter looks for other occasions. I wouldn't say that everybody is convinced that we have the right answers. We keep a lot of protest voters as well. But now it's our job and our task to work on that and to convince people that we have the right answers for future programs and future problems as well.
RT:Has the victory of Greece's Syriza influenced the mood among European alternative movements?
PH: Yes, of course it has. We have said since the beginning of the euro crisis: "Let Greece go, let them go out of the euro currency and give them a haircut that they can reestablish their economyand their society." And Europe has done exactly the opposite. What we have done is that we have paid billions of dollars into the Greek economy and loan after loan with no result at all. We have said that now we've got the answers and that it's exactly what we've said for years. The European Commission, the European Central Bank, and the IMF [International Monetary Fund] not in that good mood at all.
RT:Greece is talking on Monday with its European creditors about a new loan. Do you think they will be able to charm the lenders?
PH: Of course it will charm the lenders. The European Central Bank can't do anything else than put money into Greece. They are so in fear that if Greece [leaves] the eurozone it would have a dramatic impact on the weak Southern European countries, as well. Why should you tell Portugal, Spain they should go ahead with austerity policy if Greece gets one loan after the other? But I bet on it - they will pay for them and finally by the way the Germans have to pay the bill.
The statements, views and opinions expressed in this column are solely those of the author and do not necessarily represent those of RT.