Palestinians, not Israel, should plan and zone their own communities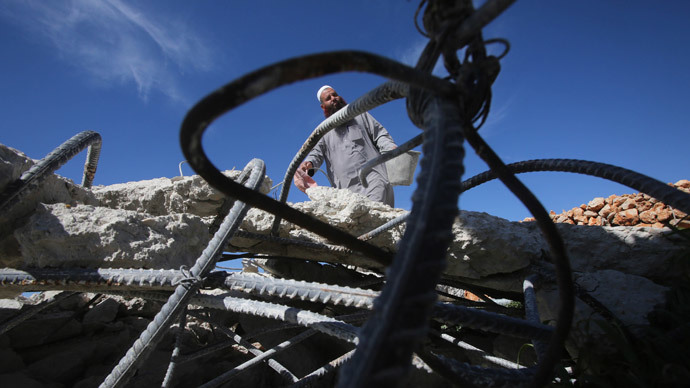 Palestine, rather than Israel should have planning and zoning authority Rabbi Arik Asherman from Rabbis for Human Rights, told RT. Over 500 rabbis have written an open letter to the Israeli PM calling for an end to the demolition of Palestinian homes.
READ MORE: 500 rabbis urge Israel to stop demolition of Palestinian homes
RT:Do you believe the letter your organization, Rabbis for Human Rights, has written will stop the destruction?
Arik Asherman: Our letter is part of a High Court appeal. We have an appeal at Israel's High Court of Justice asking that the planning and zoning committees that were abolished by Israeli army in 1971 be reestablished, so that Palestinians instead of the Israeli army have a role in planning their own communities. We think that's the way to stop home demolitions. When the judges heard the case one thing they said is, although on the one hand the current situation is unacceptable, they were a little bit reluctant to push the state to accept our solution. But they also said the state could do it, there is nothing wrong with it legally. And therefore our letter by rabbis from around the world who think that this is a religious injustice, and are trying to say to our prime minister: "Why are you opposing this? Let this appeal go through, so there can be a fair chance for Palestinians to build legally which they can't do right now."
RT:How does Israel justify its actions? And do you think its claims are fair?
AA: They would say it's an issue of law and order. But as an important 19 century rabbi said: "You can't let those with all the power in their hands decide how to be just to those ones sitting at the table." It borders on criminality, and it's always going to end badly. I think its part of the overall struggle, jockeying for the position of who is going to control the land, thinking that some eventual final status is a solution. And Israel wants to limit Palestinians building in Area C the, part of the occupied territory which is still under full Israeli control. And they want to have as much free land as possible. And the problem is that when you don't allow people to have a fair chance to build legally you have as we said hundreds of homes a year, hundreds of families without homes. And it's a real humanitarian tragedy in addition to what we think is a violation both of international law and the Jewish tradition as we understand it.
RT:The UN has also been vocal against the demolition of the buildings, why doesn't Israel listen to them?
AA: Unfortunately, historically Israel has not been fully responsible or responsive to international opinion. We are always hopeful that this will be a different case, particularly because there is no real security issue here. There is no reason why they couldn't. In fact, in the late 90s when the then Secretary of State in the United States Madeleine Albright took this as a personal issue and made a personal phone call every time she heard about a demolition. The demolitions then went down. But ultimately what we want to do is try to use Israel's democracy to try to stop this in a more permanent way and that's why we think that the solution is to return planning and zoning authority to Palestinian hands for their own communities as it is the norm anywhere in the world.
The statements, views and opinions expressed in this column are solely those of the author and do not necessarily represent those of RT.