'US interested in keeping Ukraine an open war as means of demoralizing Russia'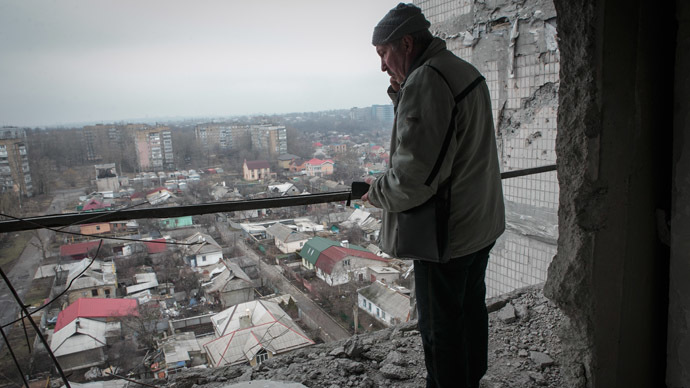 With a significant escalation of the Ukrainian crisis, which has developed into an expanding civil war, the US is interested in prolonging the hostilities in Ukraine as a means to contain Russia, political analyst Dan Glazebrook told RT.
READ MORE: Hopes for breakthrough: Moscow talks on Ukraine 'constructive,' joint doc 'possible'
His first impression from the latest developments is that the interests of Europe and the US compete when it comes to Ukraine. Political analyst Alexander Clackson told RT that the recent American drive to supply Ukraine with weapons "would go completely against anything that Europe would want."
It could be "very easy" for "far away" Washington, which, actually, regards weapons supply as a common strategy in tackling problems overseas, according to the commentators. "They were supplying weapons in Afghanistan, when Russia was at war with Afghanistan, to Al-Qaeda, they have been doing it with the Syrian rebels, a lot of whom have now joined [Islamic State, formerly] ISIS," Clackson said. "It is a strategy that hasn't worked in the past and actually created many problems."
"The role of the US and Britain – since last February's coup – has consistently been to try and to sabotage and scupper any kind of peace agreement that has come to the table," independent political analyst Dan Glazebrook told RT.
"They [the USA] want Ukraine to remain an open war, a means of demoralizing Russia, weakening Russia, a means of keeping the Ukrainian issue open as something to be rushed over the head with and to force the European partners to fall in line behind them in their economic war against Russia."
READ MORE: Lavrov: US escalated Ukraine crisis at every stage, blamed Russia
Alongside economic sanctions, a war of words has broken out. Daniel Welch found it "amazing to hear John Kerry talk about Russia redrawing the map of Europe," as the US Secretary of State "has it all completely backwards" – "and it doesn't take a lot of clairvoyance to see". Нe says that the new Kiev authorities – among whom is s Prime Minister who stated that "the Soviets invaded Germany in World War II" – were sponsored by the US, under the guise of NATO "creeping through country after country, right up to Russia's doorstep".
These words were echoed by investigative journalist Rick Rozoff, who told RT that "What the US has succeeded in doing with NATO expansion is to set up a military Iron Curtain along Russia's entire western border." He believes the alliance to be "an expeditionary global military strike force," that has no intention to reduce tensions.
Glazebrook also pointed out that the Atlantic allies had Kiev's collaboration, as the coup imposed authorities "mostly refused peace talks until the tide really started to turn against Kiev" – and only "the prospect of total military defeat" made them reveal a "sudden desire to make peace".
However, Ukraine's President Poroshenko has "his own domestic issues to think about," as in November parliamentary elections his block got far fewer votes than "the militant, semi-fascistic" nationalists who oppose peace talks, Glazebrook concluded.