'EU will do anything to keep Greece in'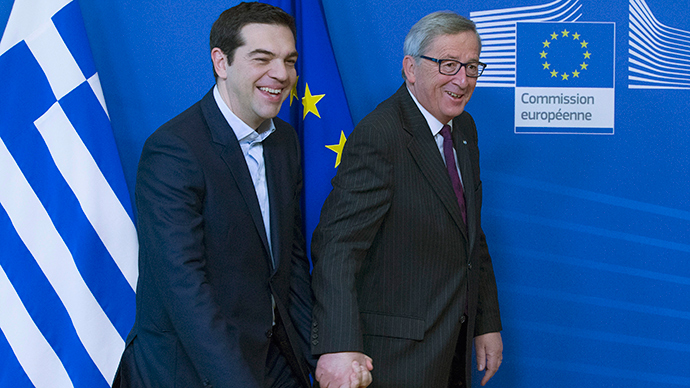 European leaders are desperately keen to keep the Greeks in the EU and they will do anything they can to persuade the Tsipras government to stay – but sooner or later, 'Grexit' is inevitable, David Coburn, UKIP MEP, told RT.
READ MORE: 'Greece won't be blackmailed': Banks get additional €10bn to counter ECB pressure
RT:Syriza's victory over a week ago raised many eyebrows in the EU, with European leaders concerned it threatened the unity of the bloc. So how sincere are these handshakes we have just seen?

David Coburn: I think they are very concerned…if Greece leaves the European currency, and fiscal defaults, and devalues…What will happen then if they start to do well? Which I would imagine they would, it's the best thing they can possibly do – to get out of it. If they seem to do well it is going to have a domino effect right across southern Europe and probably the rest of Europe as well. So they [EU] are desperately, desperately keen to keep the Greeks in and do whatever they can because, because that is how they get their salaries, by keeping the European Union rolling.

RT:Tsipras has emerged optimistic from the talks in Brussels. Do you think he managed to win any support among leaders there or it is some sort of the front that they are putting on?

DC: They are very good at that. Especially Mr [Jean-Claude] Juncker is very good at sort of being frightfully friendly and leading people down the golden path or holding their hands and going for windy walk with them. But the thing is, it is not necessarily going to result in anything. It will be interesting to see what happens when they speak to the Germans today, because the Germans are the ones who are footing the bill...all I can say at the moment is [that] you should be very careful of the EU.
UPDATE:Greek, German finance ministers 'didn't even agree to disagree'
They've always got very sneaky ways of getting around things, kicking the ball into long grass… and I think the sooner the Greeks get out of the euro and get…their own currency and start to improve their economy, the better for Greece and they shouldn't be led by the golden path by very sweet-talking Mr. Juncker.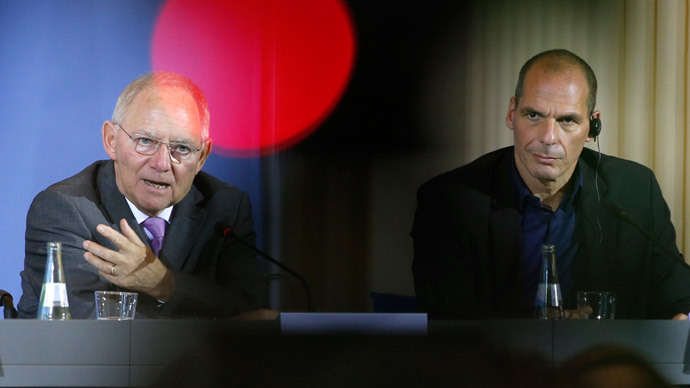 RT:Donald Tusk has stressed talks on Greece's financial obligations will be difficult. Is he implying there's no room for maneuvering there?

DC: There is always room for maneuvering. But I think that the point is [that] Greece is in such a mess now. There is not much that can be done. You just got to drag it on. They really do need to get closure on this and fight with them. I would go for getting out, devaluing the currency, and start defaulting and rebuilding my economy. I think that is a much better prospect for Greece. I think that is going to happen in the end anyway. This is just dragging it along. But it is not going to last.

RT:Alexis Tsipras also promised that debt relief for Greece is possible without shaking up the rest of EU. Do you think it's realistic?

DC: No, I think it [the EU] is already shaken, it is very shaken indeed. And what will continue to happen is they will try to kick it into the long grass as for long as possible, they will try to lead the Greeks astray with all sorts of offers. And in the end if they don't do what they say they are going to do, they are going to be in trouble at home.
READ MORE: 'No obstacle': Greece can leave eurozone leaving door open to others
The statements, views and opinions expressed in this column are solely those of the author and do not necessarily represent those of RT.
The statements, views and opinions expressed in this column are solely those of the author and do not necessarily represent those of RT.
You can share this story on social media: