​PACE 'ceases to be a forum' for solving Ukraine crisis following Russia's exclusion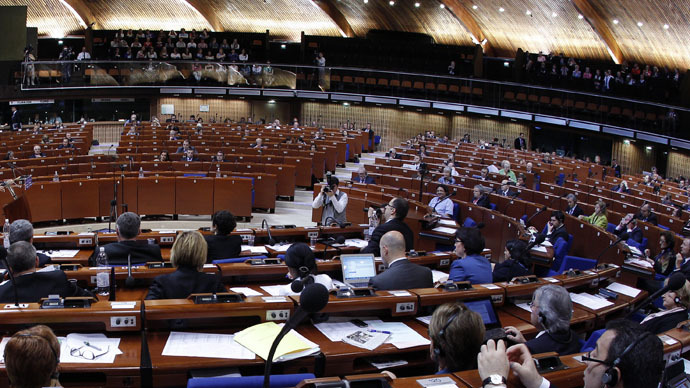 The Ukraine conflict can only be solved with Moscow at the table, but the West has taken away one of the few forums where the issue could be discussed, political analyst Martin McCauley told RT, speaking on PACE's decision to strip Russia's voting rights.
READ MORE: PACE strips Russia of voting rights until April over Ukraine, Russia quits for 1 yr
RT:Did you expect PACE to uphold the suspension of Russia's voting rights?
Martin McCauley: I was rather surprised because it was a very split decision – 35 to 34. The assembly was obviously split right down the middle with the majority of one, so it could have gone either way. And as one of the delegates said, this is a negative move because if you want to enter dialogue with Ukraine, you must have Russia there as a partner.
The Ukrainian crisis cannot be solved without Russia. And therefore the Parliamentary Assembly of the Council of Europe is one of the forums for that. And this now ceases, and therefore there is one forum less. And one can look forward, hopefully, that Russia would come back to the debating chamber and present its point of view. But it does not look like that, because Russia may, in fact, give up on the Council of Europe for this year.
RT:And do you think Russia is right to do that?
MM: Well, Russia has the right to do that. And they may say they have been treated very badly, and that they are quite willing to enter dialogue, continuing dialogue with Berlin, and with London and Paris and so on, and with Kiev. And Strasbourg is another place for the dialogue, and therefore it is one less. And therefore it reduces the opportunities for Russia to present its case. And on balance, it is to be regretted.
RT:On Thursday, the EU will discuss further economic sanctions against Moscow, for instance banning it from the SWIFT transaction system. Do you think more punishment is coming?
MM: That would make it even more difficult to enter into a dialogue, because Russia will feel that it has been victimized and everyone is ganging up on it and therefore their attitude will be, why should they enter any concessions? Why should all the concessions come from Russia's side?
And therefore the mood of the debate from now onwards would be rather more difficult, because Russia would see itself as being driven into a corner and the rest of Europe saying to Russia, 'You have to make the concessions, we don't make them. We make the rules and you have to abide by those rules.'
RT:We saw Russia offering some concessions. Allowing a monitoring mission to Crimea was one of them. Why wasn't that enough?
MM: Well, the Council of Europe, at least the majority of the Council of Europe, believes that Crimea is still part of Ukraine and that the Russian annexation of Crimea is, in fact, illegitimate under international law. So therefore if the delegation goes to Crimea, it means they accept that Crimea is part of the Russian Federation. And therefore, they don't want to do that because it will be a step in the international law. And it was to be expected that they would turn that down.
MORE: