​Oil price drop is 'economic warfare against US enemies'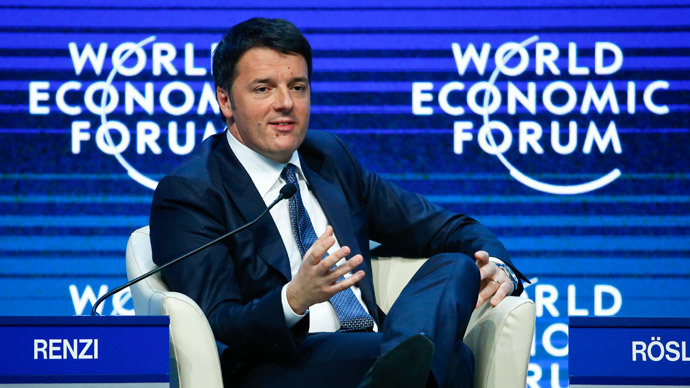 The current oil price decline can be explained by heavy selling in US future markets which is part of an all-out economic war between the US and countries like Russia, Iran and Venezuela, says financial journalist, Willem Middelkoop.
RT:Falling oil prices are a serious problem for some producers. What hope is there that a solution can be found in Davos?
Willem Middelkoop: We as investors just started to buy oil, given the price decline by 50 percent in just three to four months. I agree oil price should be bottoming out because the market fundamentals do not support current prices. I looked at the latest predictions by the IEA [International Energy Agency] – they claim that total world demand will be around 92 million barrels per day and total world production will be a share of 93 million barrels per day. So there is a very small surplus in the oil market.
RT:If the market fundamentals don't support those oil prices, some are suggesting that this is a result of energy warfare, targeting Russia, Venezuela, and Iran. Is that how you see it and how many participants at Davos see it as well?
WM: The current price can only partially be explained by technical factors like growing US oil production which increased by a million barrels per day in the last year. But I think it's quite reasonable to expect that the price declines, which we've seen over the last few months, were also caused by heavy selling in the American future markets, and you could call that a form of economic warfare – it is an [all]-out economic war between the US and Russia now. If we see who has more problems [caused] by current oil – they are Russia, Iran, Venezuela – these countries can be seen as enemies of the US.
RT:The country which doesn't have particular problems with the US and oil prices is Saudi Arabia. It says it could ride out low oil prices for nearly a decade. What impact could that have?
WM: The oil produced by Saudi Arabia and other OPEC countries have a very low cost base of around $10-20 per barrel. Of course Saudi Arabia can stand current prices but there have been signs and heavy comments from oil experts that the Saudis only support the US in bringing the oil prices down for the current time. Maybe there is a timeframe of another three to nine months that US can bring the oil prices down or keep oil prices down at this level. But there are many experts – T. Boone Pickens, an American oil billionaire, who said [that] the oil price will return to around $100 per barrel within 12-18 months – I think that he could be right.
RT:Davos has always had a reputation more of a glitzy get-together and a place to build business ties, than a place where problems are really solved. Will it be any different this year?
WM: I think Davos can be compared to Bilderberg meetings where insiders meet. I don't expect any contracts to be signed there. So it's more a coming together of insiders, industry experts, and business elite... and I think that is the best way we can see these meetings.
RT:There are plenty of other issues: The economic crisis in the Eurozone, youth unemployment, climate change etc. Will they be tackled at the Davos forum?
WM: I don't expect them to be. Everybody, at least in my industry, is looking towards the decisions more by the ECB – the European Central Bank. The quantity of usage, how much support they would give to the market. Because as we have seen from the developments, especially since last week's decision in Switzerland to cut the pack between the Swiss franc and euro, financial markets have been quite nervous and it's important now that the ECB will calm the markets by announcing QE [quantitative easing] tomorrow... and I don't expect that the developments in Davos will [make] a big difference.
The statements, views and opinions expressed in this column are solely those of the author and do not necessarily represent those of RT.
The statements, views and opinions expressed in this column are solely those of the author and do not necessarily represent those of RT.
You can share this story on social media: