Missile or landmine? Only impartial probe can prove what hit Ukraine bus
The shrapnel damage following a bus attack that killed 12 people in eastern Ukraine is consistent with both a nearby rocket landing and the explosion of an anti-personnel mine, security analyst and former British army officer Charles Shoebridge told RT.
Twelve passengers were killed and 13 others injured after a shell reportedly landed near a bus at a Ukrainian military checkpoint near the town of Volnovakha on Tuesday. The OSCE Special Monitoring Mission said they visited the site three hours after the incident and witnessed that the "bus had shrapnel damage consistent with a nearby rocket impact, estimated by the SMM to be 12-15 meters from the side of the bus."
The Organization for Security and Co-operation in Europe (OSCE), Ukraine, Russia, and the Donetsk People's Republic (DNR) have already decided to launch an independent investigation into the tragedy.
Security expert Charles Shoebridge told RT that only a credible and impartial probe can show whether it was caused by a missile, an anti-personnel mine, or even a combination of the two.
READ MORE: OSCE, Kiev, Donetsk, Moscow 'to create joint group' to probe deadly bus shelling
RT:Let's take a look again at the footage with the destroyed bus. What conclusions can be made from the damage it suffered?
Charles Shoebridge: There is absolutely no way this bus was hit directly by a Grad rocket, or shell, or even a mortar round, because, as your correspondent has also mentioned, the structural damage would be much, much greater.
That doesn't mean to say though that it couldn't have been hit by the shrapnel of, for example, a Grad rocket, or a shell, or indeed any other explosive device landing or being detonated a short distance away.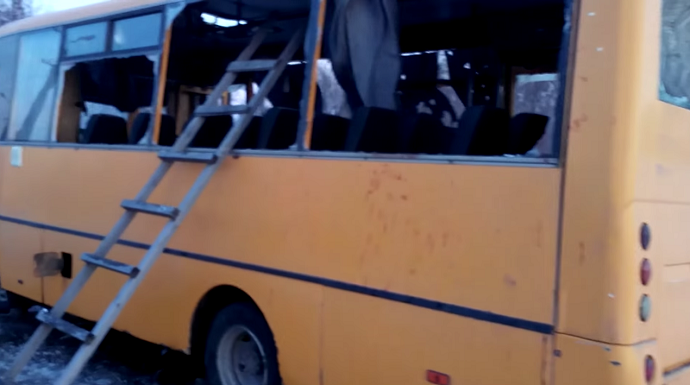 The damage to the bus, and indeed the wounds and deaths of course amongst the passengers, was consistent also with the detonation of a small roadside bomb. In particular, the shrapnel doesn't appear to have penetrated to the other side of the bus. In other words, it's been absorbed by one side of the bus, the fittings inside the bus, and sadly the passengers too.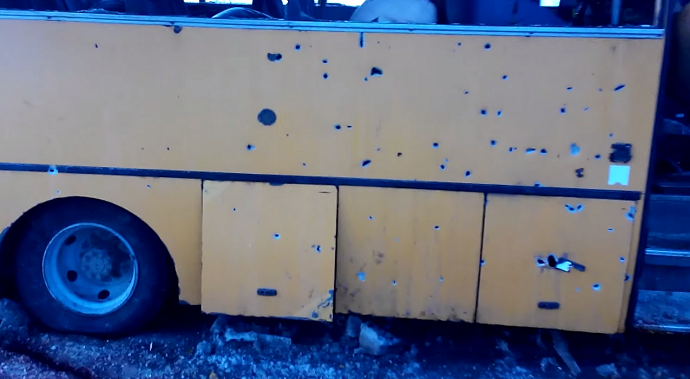 But all of this really needs to be looked at by people on the ground, and that's why of course people are calling for an independent investigation. If one looks at the shrapnel particularly, sadly that would be present in the bodies of the dead and injured victims, and much of it will be present in the bus and in the surrounding area, and that in itself will go a long way to determining what the source of this shrapnel actually is; whether it's from, for example, a nearby anti-personnel mine or whether it's from a heavier grade, for example, a Grad missile, or a combination of the two.
RT:There is another video which shows the crater left after the supposed blast, and we've heard some claims that it indicates a landmine. What do you make of that? If it's a mine – aren't they banned by the Ottawa Convention?
CS: Such anti-personnel devices have been banned, but it's really not been signed up to by a few countries. For example, the United States, I understand, hasn't signed up to that. Because after all, these are very important weapons...for the defense of checkpoints as we've got here.
I would add a point, that actually some photos are circulating on social media that seem to suggest that indeed mines were located in this area, and again it wouldn't be unusual for [the] defense of a checkpoint. What would be interesting, however, is the reason why those mines would be facing towards the road as supposed to facing away from the checkpoint to defend against possible attackers.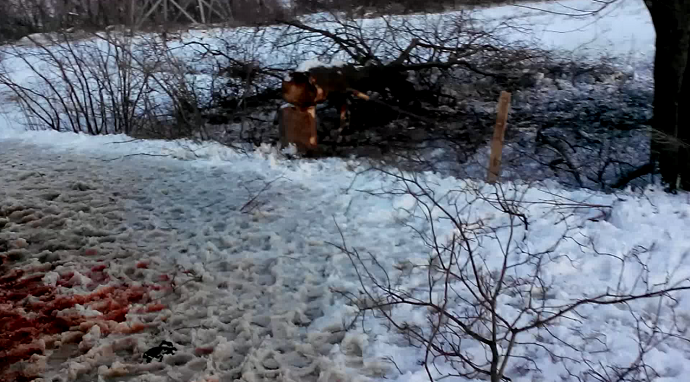 When we look at the video, much of it is consistent with an anti-personnel mine of that type. For example, if you look at the cleared snow in some of the video, that could have been blasted away by, if you like, the front of a Grad or similar projectile landing. Or it could be the back blast from a mine close to the road taking off.
Really what's needed is...an on the ground investigation to clarify this, but certainly the damage we've seen, the injuries we've seen, the circumstances, could be consistent with the detonation of a roadside mine. But again that would then beg the question of what triggered that, what kind of accident triggered it off, or indeed did a landing missile trigger it off as well. All of this could be established by an on-the- ground investigation.
RT:Here's another image – it shows a piece of metal that was inside the shell. Does it tell us anything about the armament used? Are you confident there'll be a full and thorough investigation into the incident?
CS: Of course it's entirely possible to carry out a credible investigation of these events. Shrapnel, for example, will be present in the bodies of the victims, whether wounded or dead. Shrapnel will be present in the bus and surrounding areas. This kind of shrapnel, this physical evidence, as well as, for example, blast damage on the ground, could conclusively show what kind of device caused this attack.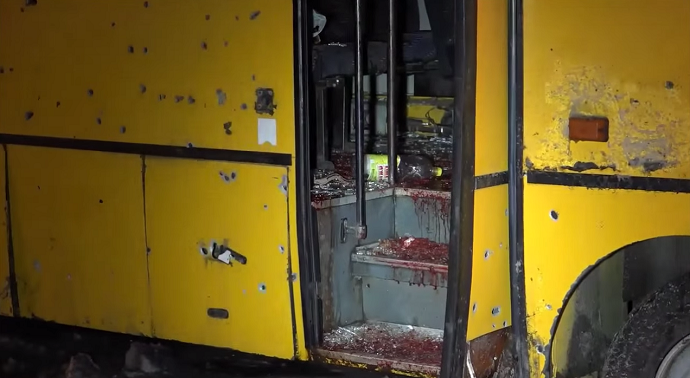 Whether an investigation of that sort will take place or not is another matter. In terms of climate and in terms of geography of the area, that's not a problem. But there are political considerations here, after all there's a conflict ongoing, and both sides can exploit propaganda advantage from this. What's required therefore is a credible independent investigation overseen by somebody such as the OSCE. Whether that happens of course is another matter because this area is under the control of the Ukrainian authorities.
The statements, views and opinions expressed in this column are solely those of the author and do not necessarily represent those of RT.
You can share this story on social media: