'Libya instability, disruption of oil production - price for NATO intervention'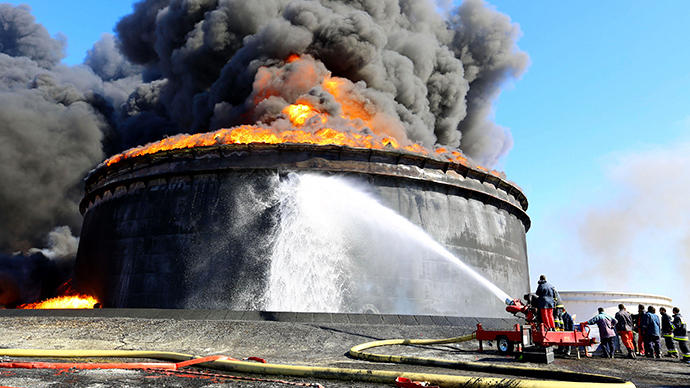 NATO intervention in Libyan internal affairs damaged the political and economic structure of the country and caused fighting, killing, and the disruption of oil production, Dr. Mamdouh Salameh, oil and energy consultant to the World Bank told RT.
A massive fire has been raging at a large el-Sidr oil facility in Libya since last week. Rival militias are vying for control of the oil facilities in the country. The fire in three of the six burning oil storage tanks has been put out. The Libyan government wants international help to tackle the widespread environmental damage.
RT:Is this incident affecting oil prices on the global market?
Dr. Mamdouh Salameh: Nothing whatsoever, because there is already glut in the oil market, and Libya has been producing only 350,000 barrels a day which are neither here nor there. It hardly now exports oil. Most of the oil they produce is used in the country domestically which means that it has no impact whatsoever on the global oil market.
RT:How about on the country itself? Libya's producing many hundreds of thousands of barrels a day, only a third of what it was putting out back in 2010. How much damage has that been to the country? Can it recover any time soon?
Dr. MS: It is a lot of damage, it destroys the Libyan economy. The Libyan economy has been dependent for almost 90 percent of the revenue from oil. Libya up to 2011 used to produce 1.6 million barrels, the second biggest in Africa, and used to export one and a quarter million barrels a day to Europe. Now they are producing around 350,000 and that is not guaranteed, that's far below domestic demand. So the damage to the economy is huge, but above all you are talking about armed militia fighting each other, a lot of killings, absence of central government and disruption of oil production. That is the price the Libyans are paying for the NATO intervention in their affairs.
RT:Who's likely to come to Libya's aid and tackle this incident bearing in mind the country's deeply-divided between rival militias vying to control of oil facilities there? If facilities like this continue to burn who will put it out?
Dr. MS: Libya has already asked for Italian help. To do it Italy could provide planes which can smother the fire and they are doing their best now to try to put the fire out. But it is still spreading and to my understanding around 850,000 barrels have been destroyed. And that area where the fire is taking place is the biggest terminal in Libya. It can store up to 6 million barrels a day. So you can imagine the damage it is having on the Libyan oil industry, on the economy, and of course on the environment as well.
The statements, views and opinions expressed in this column are solely those of the author and do not necessarily represent those of RT.