'Cold War kind of propaganda' launched in Greece as leftist party gains popularity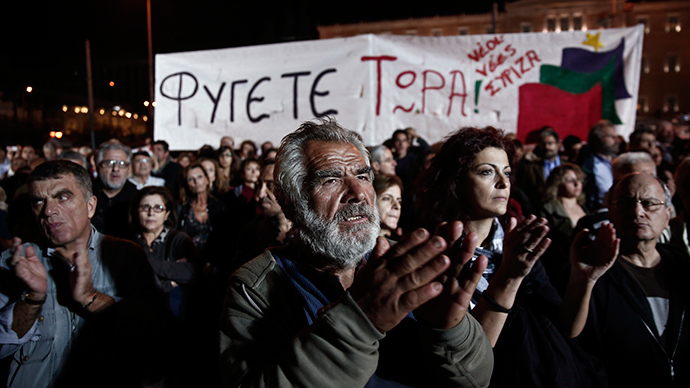 The ruling parties in the Greek parliament are up for re-election, and are trying to impose on the Greek people an atmosphere of fear, strenuously using propaganda, to stave off a win by the leftist SYRIZA party, journalist Aris Chatzistefanou told RT.
The Greek Parliament failed to elect a president on Monday. It rejected Prime Minister Antonis Samaras's candidate, and a general election is set for January 25. The current situation was most likely triggered by the policy of austerity imposed by the ruling New Democracy party. Leading in the opinion polls is the left-wing SYRIZA party, which is against Greece's EU/IMF bailout. The result of the snap elections will show if the country receives more financial assistance and redefine the country's economic policies.
RT:The SYRIZA coalition of the radical left is leading in the opinion polls in Greece, but its popularity has been dropping recently. What are its chances of winning the vote in your opinion?
Aris Chatzistefanou: According to latest polls that we have seen today SYRIZA is ahead by almost 6 percent that will give [it] a clear majority, but I wouldn't expect that they will manage to keep this difference until the day of the election. Don't forget that we have in front of us a campaign of fear and terror imposed on Greek public opinion by the powers that are losing their positions in the Parliament. Just to give you an example, I have the latest front page of a leading newspaper with a Russian bear, and it writes "Here is the Russian winter coming," and they say that of course because of SYRIZA. I have to admit that I haven't seen this kind of propaganda since the end of the Cold War. We don't know what to expect in the following days, they'll probably say that ATMs will stop giving us money that the economy will collapse, that foreign countries will invade, or I don't know what they can think. That's exactly the same scenario that they were trying to impose during the previous elections and it was quite successful, I would say. If SYRIZA fails to have a clear majority, it will have to make a coalition, that will be quite difficult given the situation in Greece and the positions that other parties have taken during the previous months, most of the parties that could cooperate with SYRIZA have supported the extreme austerity measures, so we have to wait and see about that.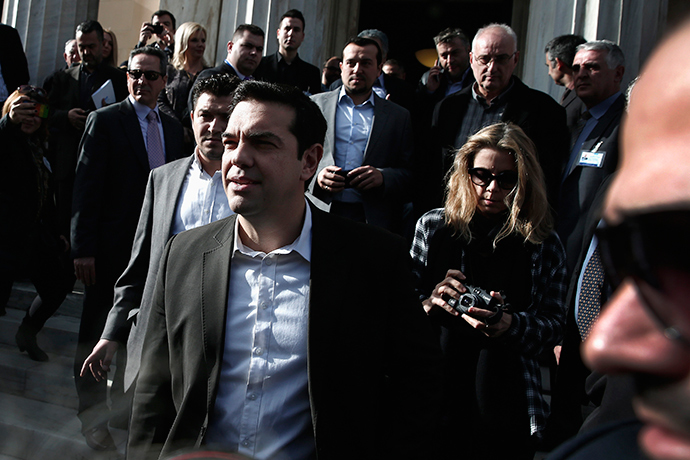 RT:Greece's prime minister says that a SYRIZA government would lead to bankruptcy and an exit from the euro. Is that assessment accurate?
AC: For the past few months the Greek prime minister was saying that the Greek economy is going really well, that we a have a primary surplus, that the banking sector is safe. Now for the past few hours he says that everything could collapse. I can't understand how things can change within a day. At the end of the day, if we have to choose between the stability of the markets which impose financial dictatorship on Greece, and democracy, I think that we should prefer democracy. But that's not the problem right now in Greece. If there is instability in Greece, it's not because we follow the democratic procedure, it's because of the extreme austerity measures imposed that managed even to increase the debt, not only as a percentage of DGP but the real numbers. We have huge unemployment rates and we have the public sector collapsing.
'SYRIZA could bring an end to Greek humanitarian crisis'
Costas Douzinas, Director of the Birkbeck Institute for the Humanities, told RT that he is not surprised at the likelihood the leftist SYRIZA party could steal a march in next month's election.
"After four years of austerity the economic situation is much worse today than it was in 2009 when it all started. To give just a couple of figures: in 2009 the ratio of GDP to debt was 125 percent. Now, after 4 years of cutbacks of salary, cuts in pensions, and firing of so many people it is 185 percent of GDP," he said.
It's not only Greek politicians who talk about a policy of austerity – it has also become typical for other EU countries, including Spain, Portugal, Ireland, and Britain, he said. But what is happening in Athens, "is a historic moment," he believes.
"For the first time, people who have been hit by these austerity measures for the last 4-5 years imposed by the EU, IMF, and so and on, have stood up and said: "No, we have had enough, we are not able to take it anymore!" And in this new wave of resistance against these measures started in Greece, a kind of 'Greek Spring' starts here in Athens, and perhaps in a may then move on to other parts of Europe," Douzinas said.
Explaining the popularity of SYRIZA party, the analyst said that it could bring an end to "the huge humanitarian crisis, the 30 percent unemployment figures, and 60 percent youth unemployment figures." Besides that, the party could suggest a new economic program which would not just be "following the dictates of the Europeans and the IMF but trying to create new types of economic activity, and social economic measures."
The statements, views and opinions expressed in this column are solely those of the author and do not necessarily represent those of RT.