'Palestine is occupied state, not disputed territory'
Published time: 19 Dec, 2014 02:36
Edited time: 19 Dec, 2014 14:47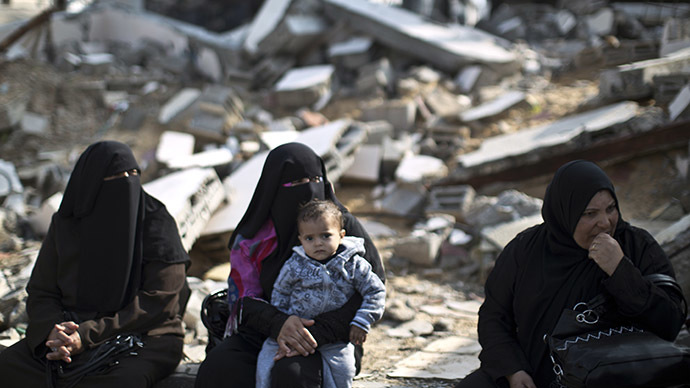 The symbolic recognition of the Palestinian state by Europeans demonstrates that the international community cannot accept Israeli aggression and occupation of Palestinian lands anymore, Palestinian ambassador to UK Manuel Hassassian told RT.
RT:The draft resolution has been submitted to the UN Security Council demanding Israel withdraw from Palestinian lands. What chances, do you think, it has of going through?
Manuel Hassassian: First of all, I think, you know we have to talk about why the Palestinian leadership has decided to go again to the United Nations. Because of the faltering peace process which America has brokered and proved nothing except hollow promises, which ended up basically with the Palestinians to have different alternatives.
We are going to the Security Council for recognition and ending occupation. Because you cannot continue to accept the discourse of Israelis, that the West Bank is not an occupied territory but a "disputed territory." We wanted to go and claim that these are our lands that have been occupied 4 June 1967. And we need the recognition of the international community, that we are not only people under occupation, but we are a state under occupation.
RT:And are you confident you will get that?
MH: No, we went to the Security Council and we submitted our draft resolution and we don't know whether we are going to get the nine votes in order to have the vote on the resolution. But you know, it doesn't harm us to go to the Security Council, because such a resolution will embolden the position of the Palestinians. Let alone, it will embolden the peace process. Because then the dynamics of the peace process will be changed from the top dog with the underdog brokered by the United States, that has showed, basically, impotence in terms of ice breaking, you know the stalemate that has been going for a long time.
RT:Many nations symbolically recognized Palestine as a state, with EU lawmakers doing the same yesterday. What does that give Palestinians in reality?
MH: Well, first of all, it gives us symbolic support. It shows us that public opinion in all Europe is for the Palestinian cause for an end of occupation, for the right to self-determination. And that the international community cannot continue to sit idle, to see the desecration of our holy sites, the building of settlements and more and more.
The recognition of the Palestinians, their statehood, is a signal to Israel that this occupation has to end and that the international community cannot be fooled by all these systematic policies that Israel has been using – let alone its naked aggression against our people, whether in Gaza or in the West bank. So, this is a message for Israel that the international community cannot be fooled by the propaganda machine.
RT:It's is a message for Israel but is Israel listening?
MH: Israel is not going to listen for the simple fact, and it's so unfortunate, that Israel is above international law, that Israel is being supported by the United States and Israel cares less about Europe.
RT:So you don't think these non-binding votes will have any effect on Israel's policy going forward?
MH: No, it will have an effect on Israel policy for a simple fact, maybe we cannot cash the dividends immediately, but Israel more and more is being isolated in the international community. And Israel cannot continue to act belligerently and act as a pariah state without paying a price. Israel cannot continue to act with impunity against the Palestinian people, who have been suffering for the last 47 years of this ugly occupation.
RT:The conflict has been dragging on for decades, peace talks seem to crumble every time, and Palestinian blood is being spilled. Are Palestinians willing to make sacrifices to find a settlement?
MH: Well, our options are always open, and of course negotiations has been a strategy for the Palestinian leadership. And President Mahmoud Abbas, considered to be the author of pragmatism, has accepted that the only way out of this conflict is basically through negotiations and through political accommodation.
Yes we do understand that the negotiations are difficult. We have for the last 22 years been negotiating with Israel. But the other options, of armed struggle? We have tried them, we have failed, we brought more destruction. Now we have to continue with our diplomatic endeavor to get more recognitions and to carry out our case to the international community, i.e. through the Security Council and all the international agencies.
I think it is about time that the international community understands that we are not terrorists, we are people trying to survive under occupation. We are in one of the longest occupations in modern history. This is the time where we have to move on with our lives and Israel has to understand that they cannot continue to occupy us forever.