'Israel must be held responsible in front of the international law'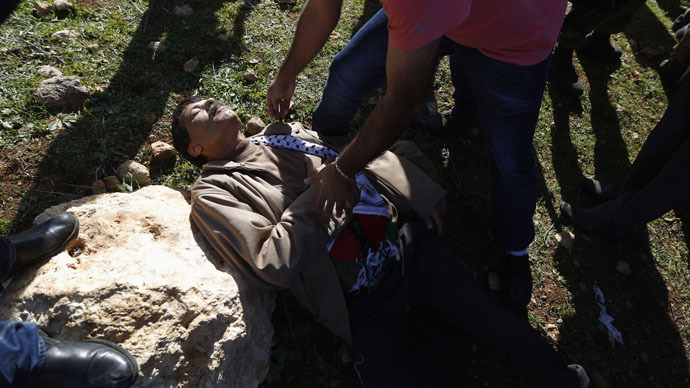 Palestinians will keep struggling for justice regardless to further deaths, and will make Israel responsible in front of ICC for the crimes committed against civilians, Moustafa Barghouti, member of the Palestinian Legislation Council, told RT.
Palestinian official Ziad Abu Ein died after a confrontation with the Israeli soldiers. Palestinian President Mahmoud Abbas has vowed to respond to the incident.
RT:Do you see it as a tragic accident or was it something specifically targeted?
Moustafa Barghouti: No, it was not an accident; it was a tragic killing of a Palestinian leader by the Israeli army. It was not a confrontation. Mr. Ziad was participating in an act of planting trees in the most peaceful manner. He was attacked with all the other participants with force. He was attacked with percussion bombs, with tear gas bombs, and also he was beaten directly by Israeli soldiers He fell down, stood up and then they continued to attack him again, and this all is very well recorded. As a result of that it seems his heart stopped and he died. This is a crime; this is a criminal act by the Israeli soldiers against a peaceful non-violent demonstration. There was no act of violence from the Palestinian side. These were peaceful people who were peacefully trying to plant the trees and trying to reach the land that Israel is preventing Palestinians from reaching.
RT:Mahmoud Abbas promised measures in response to this, but he hasn't said more yet. What are those measures likely to be?
MB: There are popular reactions and official ones. From the popular side I can assure you that the popular non-violent resistance will not stop. It is a struggle for freedom; it is a struggle for dignity and a struggle for our independence. This crime makes the number of Palestinians killed by the Israeli army this year at 2,265, including 600 children, it will not stop us. But on the other hand, officially speaking the Palestinian Authority is required to suspend, and there is a promise that there will be suspension, of all forms of security coordination with the Israeli army. We are demanding that the meeting of the leadership takes the decision tonight to immediately sign the Rome Statute [ICC] and take Israel to the International Criminal Court. Israel must be held responsible in front of the international law, and must be held accountable for the crimes that are committed by its army against the Palestinian population.
RT:Should we expect new outbreaks of violence following this incident? What is the worst case scenario, do you think, could happen after this?
MB: I think the worst case scenario is already happening: Israel is killing any opportunity for peace; Israel is blocking any peaceful talks. They continue settlement actions in violation of every international law. They continue to attack peaceful demonstrations as if they are sending a message to the Palestinian people that Israel understands only the language of force. The worst scenario is already happening which is not only consolidation of the longest occupation in modern history, but a transformation of this occupation into a system of oppressive apartheid and a racial discriminatory system. This has to end. We have tried every possible way. Twenty-one years of negotiations and nothing came out. To me the only way out of this situation is to continue and upscale the Palestinian popular resistance. It is also to enhance the boycott, divestment, sanctions [BDS Movement], and campaigns against Israel in the same manner that happened against the apartheid system in the South Africa at one point of time.
The statements, views and opinions expressed in this column are solely those of the author and do not necessarily represent those of RT.