'BRICS becoming a significant alternative voice in the international arena'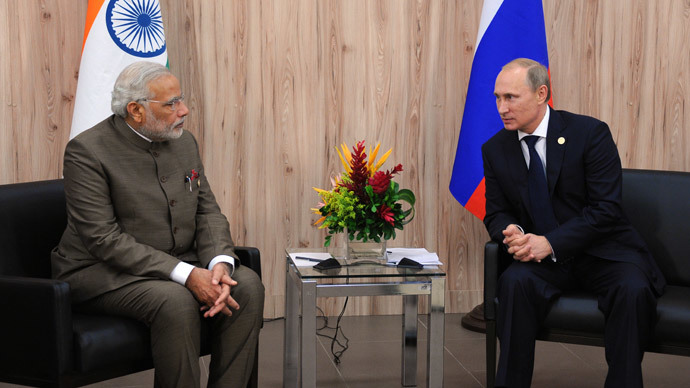 BRICS could emerge as a voice for an alternative world view and development model as there is a good scope to take the relationship forward, Rajiv Sikri, former secretary at India's Ministry of External Affairs, told RT.
Russian President Vladimir Putin is heading to India with one-day visit. The meeting between President Putin and Indian Prime Minister Modi promises deals on natural gas and new nuclear power for India. As for Russia, it is seeking to expand its energy links with Asia to counter sanctions from the US and its allies in the West.
Rajiv Sikri argues that India is very interested in close cooperation with Russia, while energy, arms sales and technology are the key sectors for developing the Russia-India partnership. He added that India would not support sanctions against Russia.
RT:In his interview before the visit President Putin said that Russia is aiming at becoming the major energy supplier to Asia as Western markets grow more and more complicated. Does India see this as an opportunity?
Rajiv Sikri: Definitely. I think energy has always been a priority in our relationship with Russia. We have been looking for more opportunities to invest in Russia and to work out long-term arrangements on oil and perhaps natural gas also. After Sakhalin-1 we have had a few modest ventures in Russia but nothing major. I hope that during Mr. Putin's visit we could agree on something. There is also some talk, and I would welcome that, of exploring the possibility of a gas pipeline from Siberia to India. That is a very futuristic idea that would really lock the countries into a long-term energy partnership.
RT:Talking about energy we should also mention nuclear power. It's reported that Russia may build up to 24 nuclear units in India. Why does India turn to Russia when it comes to nuclear power?
RS: Russia was the first country that offered cooperation with India in the nuclear power sector with Kudankulam-1 which was the first agreed in 1989 during Mr. Gorbachev's time. Currently it's the only foreign partner which has actually set up a nuclear power station in India. There is a good level of trust between Russia and India, and I do hope that there can be a long-term large-scale program of cooperation in the nuclear sector that could be agreed upon during the forthcoming visit of President Putin to India.
RT:This will be the Russian leader's first visit to India since Prime Minister Modi took office in May. How different will Putin's relations be compared to when Manmohan Singh was at the helm?
RS: The first and most important thing about India-Russia relations is that this is a relationship that enjoys very broad national consensus among all political parties and among the people of India. So no matter who is the Prime Minister of India, which party is in power – all political parties and the people of India can see Russia as a very old, trusted and sincere friend. It's a continuation of the traditional India-Russia friendship, but of course Mr. Modi is a new prime minister, he is coming with a majority, he is a man who is in a hurry. I'm sure he'll want to explore how Russia and India can cooperate in advancing the respective national development priorities of both countries.
RT:India's deal with France on Rafale fighter jets still hangs in the air, and India earlier reportedly threatened to cancel its contract due to France's decision not to sell Mistral ships to Russia. Is India reconsidering France as a defense supplier after this?
RS: India has obviously diversified its sources of supply, though Russia remains very important – the first or the second defense partner – and we are getting some kind of equipment and technology that we are not getting from any other country like an aircraft carrier or nuclear submarines. I think our armed forces are very happy with the experience that they have in using Russian technology, our systems are geared to Russian production and weapons. So I see that Russia will remain a very important defense partner with India in the coming years. Actually if there are any technologies that are not available with Russia, India will go and look at other partners, but I don't think that Russia needs to be concerned that India is downgrading the defense aspect of its relationship.
RT:Russia and India are talking about working on joint hi-tech projects. What are your prospects on this partnership? Is this just a few things the countries are interested in or it is this about creating a new hi-tech powerhouse?
RS: I hope it's about creating a hi-tech powerhouse because Mr. Modi's government has focused on a campaign making India develop manufacturing in India, including the defense technology sector and manufacturing sector in India. To the extent that Russia can transfer technology and work out collaborative projects for production both in the military and civil sector, I think this would meet Mr. Modi's objectives of developing the Indian economy. I think Russia would be ready to share technologies with us, it has always done so in the past and I see no reason why it would not be willing to do so now.
RT:India and Russia are now working on concluding a free trade agreement (FTA) between India and the Customs Union of Russia, Belarus and Kazakhstan. How much of a breakthrough would that be if it's reached?
RS:It would be an important economic step and also an important political step because this would be a huge and integrated market and this could be one of the ways to offer increasing rather than a lower level of bilateral trade. We need to do something imaginative on this front and perhaps India joining the Customs Union and having free trade with the Customs Union would be one step to energize trade and economic partnership.
RT:How vital is it for Russia to increase its relations with its BRICS partners, and India in particular in times of tough economic sanctions from the West? Is it possible that India support any of the sanctions against Russia?
RS: We have made it very clear that we do not support any sanctions on any country which are not endorsed by the UN Security Council. That position is a principled position. The last BRICS summit – both President Putin and Prime Minister Modi were there – showed that BRICS is becoming a significant alternative voice in the international arena. The New Development Bank has been set up. I think the rest of the world is also taking BRICS seriously. It will take time but BRICS could emerge as a voice for an alternative world view and development model. You already see it at G20, there is G7 and then BRICS. So in G20 you have some alternative views that are emerging. It's not that all the BRICS countries agree on every issue but on those that we do agree, I think, there is a good scope to take the relationship and institution forward.
The statements, views and opinions expressed in this column are solely those of the author and do not necessarily represent those of RT.