'UK base in Bahrain is not about stability, but greater role in the region'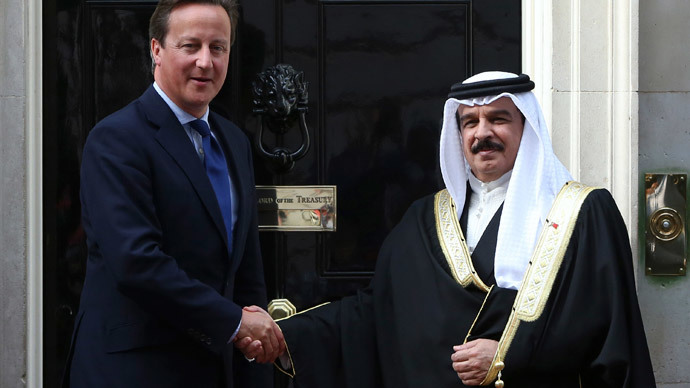 The UK wants to again become a major international player in the Middle East, so it ignores human rights abuses and a mass move away from any kind of democracy in Bahrain, Dominic Kavakeb from the Bahrain Justice and Development Movement told RT.
Activists are protesting in Bahrain as the country plans to host a British military base, which was announced on December 6. Protesters say the base is only in the interests of London which ignores human rights violations in the Kingdom. Most of the UK bases in the region were scrapped in the 1970s and now London seems to be reviving them. Bahrain itself showed a lot of interest in the project and decided to pay partly for the construction of the base. In return, the UK reportedly plans to supply Bahrain with arms.
READ MORE:Bahrain's price for hosting UK naval base is 'blood of our children' – Rajab to RT
RT:Why does the UK need this base and why is Bahrain so eager to have it on its soil?
Dominic Kavakeb: We don't think Britain does need this base. We think this is a terrible mistake, this is a shocking move, and it's deeply disappointing. It's a slap in the face for every single person in Bahrain who wants democracy, who wants to see human rights. This is a move which completely legitimizes the Bahraini dictatorship, and every single form of legitimization that the international community gives for Bahrain is yet another nail in a coffin for any chance of democracy and human rights. It's fully understandable why the Bahraini people would oppose it, but it's very hard to understand why Britain would want it. We think it's really a trend towards the 1970s, "East of Suez." What Britain wants is to try this great new role for itself in the region, to be a major international player once again in the Middle East, but unfortunately completely forgetting about what is really happening in this country - great human rights abuses and a mass move away from any kind of democracy.
RT:What's the UK authorities' argument for the public? How does Britain explain to its citizens why this base is needed?
DK: One of the things that the British government has said in the statement about this move is that this is going to be about stability in the region and this is also about Britain's standing in the world. But I don't think anyone seriously in this country, any British taxpayer, can honestly argue that this is something that is anyway in their benefit. I think what we need to see now is ordinary British people, we need to see the parliamentarians, NGOs, activists coming together to say that this is not in our name. This naval base is not happening in the name of the British people, it's purely an analyst's game being set up by the people who run this country and it's certainly got no interest for ordinary people.
RT:It's reported that Bahrain would also get British weapons. Why would Bahrain theoretically need weapons? Why would it need to build up its arsenal?
DK: It's really about legitimacy. The Gulf countries have been building up these arsenals for many years now, but if you look at Saudi Arabia it's exactly the same. It has got huge amounts of British and US weapons, there is no sense they are solely going to use this, it's more about their position and their standing in the world. As I said before, one of the arguments that the British have made – this is about stability in the region – you can be absolutely 100 percent sure that every form of legitimization for this dictatorship does not bring about stability in Bahrain. We have seen this just a couple of weeks ago, the British Ambassador trumpeting up the elections in Bahrain. Has it brought stability? Of course it hasn't. Just a few days later we saw attacks on the home of one of the leading Shia clerics in the country Sheikh Issa Qassem. So clearly these sorts of tactics used by the British don't bring about stability, and we have to be extremely clear on this point. If they want to see stability in the region, the only way this can come about is if they promote democratic reform, human rights, and if they try to push their so-called allies towards these things. That's the only [way] we can get stability.
The statements, views and opinions expressed in this column are solely those of the author and do not necessarily represent those of RT.
The statements, views and opinions expressed in this column are solely those of the author and do not necessarily represent those of RT.
You can share this story on social media: