Putin in Turkey: Russian Bear basking in Turkey's Crescent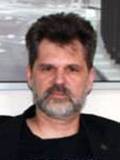 Can Erimtan
Dr. Can Erimtan is an independent scholar residing in İstanbul, with a wide interest in the politics, history and culture of the Balkans and the Greater Middle East. He attended the VUB in Brussels and did his graduate work at the universities of Essex and Oxford. In Oxford, Erimtan was a member of Lady Margaret Hall and he obtained his doctorate in Modern History in 2002. His publications include the book "Ottomans Looking West?" as well as numerous scholarly articles. In the period 2010-11, he wrote op-eds for Today's Zaman and in the further course of 2011 he also published a number of pieces in Hürriyet Daily News. In 2013, he was the Turkey Editor of the İstanbul Gazette. He is on Twitter at @theerimtanangle
Dr. Can Erimtan is an independent scholar residing in İstanbul, with a wide interest in the politics, history and culture of the Balkans and the Greater Middle East. He attended the VUB in Brussels and did his graduate work at the universities of Essex and Oxford. In Oxford, Erimtan was a member of Lady Margaret Hall and he obtained his doctorate in Modern History in 2002. His publications include the book "Ottomans Looking West?" as well as numerous scholarly articles. In the period 2010-11, he wrote op-eds for Today's Zaman and in the further course of 2011 he also published a number of pieces in Hürriyet Daily News. In 2013, he was the Turkey Editor of the İstanbul Gazette. He is on Twitter at @theerimtanangle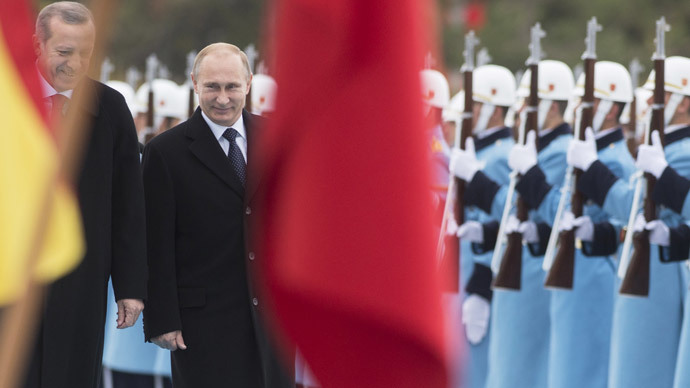 Turkey's President Erdogan seems willing to perform an unlikely dance of alliances involving Russia, Turkmenistan and the EU. But when it comes to commerce and trade, it's all cordial between Moscow and Ankara.
Russian leader Vladimir Putin arrived in Turkey on December 1 for a packed one-day visit, accompanied by a delegation of ten ministers. Even though Ankara and Moscow do not see eye to eye on some issues, they enjoy warm relations when it comes to economics.
Regarding such foreign policy pickles like the Ukraine and Syria, the traditional enmity that marked much of both countries' earlier histories is on full display. For starters, Turkey regards the Russian annexation of the Crimea as an unlawful occupation that can only lead to a deterioration of the situation for indigenous Tatars in the medium and long run - a double whammy for Turkey really, as the Tatars are Muslim and tied to Turkey by historical precedent, while the country also houses a vocal minority of Tatar immigrants who fled Czarist rule in the 18th and 19th centuries. The ongoing civil war in Ukraine proper, on the other hand, appears of scant concern to Turkey's policymakers, albeit that the conflict appears to all but a thinly veiled proxy-war pitting Obama against Putin. Turkey's position as Washington's "absolutely indispensable" US ally in the fight against the Islamic State (aka ISIS or ISIL), as put by outgoing Defense Secretary Chuck Hagel, immediately points to the other important foreign policy row between Ankara and Moscow, namely Syria. Turkey has been an active component of the anti-Assad coalition since the very beginning, while Russia continues its support of the beleaguered leader in Damascus.
Cozy relations
Still, irrespective of these potential minefields, Turkish-Russian relations have been improving for quite some time now in terms of energy trade and trade policy. Just prior to the Putin visit, Russian Energy Minister Aleksandr Novak declared publicly that "Turkey has acted in the opposite direction of Western countries about Russia. And Turkey does not create any problems with the South Stream gas pipeline. We appreciate this . . . Who knows; maybe a new pipeline may be built through the Western parts of Turkey when the South Stream project is completed."
While at the same time, Ankara is also in large measure reliant upon the Gazprom nation for its own energy needs - after all, Turkey is "the second largest European importer of Russian gas after Germany," while gas constitutes around 33 percent of the country's energy consumption. As a result, in terms of its continued commitment to fossil fuel consumption (which makes up 89 percent of the nation's total energy consumption), Turkey really seems to have turned itself into a nation very much dependent upon Russia and others as providers of much needed energy resources (for a whopping 72 percent). In fact, Novak said as much when he stated that "some $18 billion of goods and services were exported from Russia to Turkey in the last nine months of this year. This figure is quite high, as the total trade volume was $23.7 billion. This is mainly caused by Turkey's huge energy imports."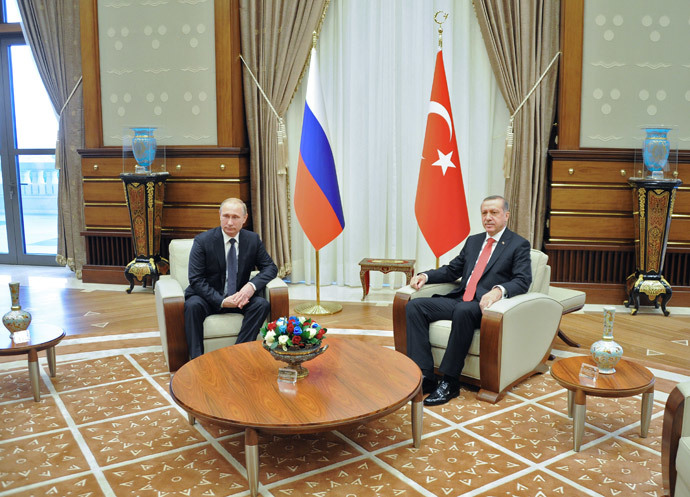 Putin meets Erdogan
Against this backdrop of Turkish energy dependency Vladimir Putin arrived in Ankara. Even though the present government led by the Justice and Development Party (or AKP) has led Turkey down a post-Kemalist path, Putin nevertheless adhered to Kemalist protocol and (the so-called Anıtkabir) before getting down to business in the newly-opened White Palace, constructed illegally on the grounds of the Ataturk Forestry Farm (AOÇ). And the business was the fifth meeting of the Turkish-Russian High Level Cooperation Council (HLCC), jointly chaired by Putin and Recep Tayyip Erdogan, Turkey's popular yet divisive PM-turned-President. The previous session was held as long ago as 22 November 2013, when Erdogan visited Moscow.
Both leaders share a number of traits, not least their demonization by certain Western politicians. US Senator John McCain, always a good source for controversial sound bites, called the Turkish President "a real Islamist. Even worse, he has become an oppressive dictator"; while characterizing Russia's President as heading a "gas station run by a mafia that is masquerading as a country." Unperturbed by these unkind words uttered by an aging American politician, both politicians simply went ahead with their meeting.
Afterwards, Erdogan spoke to the Turkish press. He started off by saying that there exists a "annual trade volume of $32 billion between Russia and Turkey," adding that the two countries are willing to develop this relationship to reach a "$100 billion" level by 2023, Turkey's centenary and the symbolic date for the AKP to achieve its transformation of Turkey. Erdogan also indicated that they had "evaluated steps regarding reciprocal investment opportunities."
Turning specifically to the field of energy, President Erdogan made plain the extent to which Turkey is actually dependent upon Russia, saying that "Fifty percent of Turkey's needs are met by natural gas provided by Russia." In fact, Putin all but scrapped the South Stream pipeline project to supply gas to southern Europe and stated that Turkey would be his preferred partner for an alternative pipeline, a pipeline that would go under the Black Sea. In addition, the Russian President also promised hefty discounts for Turkey's future gas purchases; news that was broadcast triumphantly across the Turkish media subsequently.
Aleksey Miller, Gazprom's chief executive who was part of the Russian delegation, even stated that the "level of gas price for Turkey could reach the one Germany has today." And so, now it seems that the Russia and Turkey have suddenly become the best of friends. Gazprom's Miller immediately started negotiating with the Turkish Petroleum Pipeline Corporation, known as BOTAS in Turkish, signing a memorandum of understanding on the projected pipeline to be built under the Black Sea.
Russia's Energy Minister Novak sounded much more guarded when he said that "energy ministers and companies (on both sides) were ordered to look into these proposals in detail," adding that it is "hard to assess the costs, financial mechanisms, terms of fulfillment for now." Still, it seems safe to say that Russia is now actively aiding Turkey to achieve its ambition of becoming a regional energy hub, the western edge of that quasi-mythical region known as "Pipelineistan." But this Russo-Turkish rapprochement could very well have adverse effects on Turkey's ties with the US and possible the EU.
Turkey-Azerbaijan-Turkmenistan Triangle and the EU
As such, Turkey's energy ambitions led Erdogan to visit Turkmenistan last month, giving President Gurbanguly Berdimuhamedov a call. Now that the Nabucco Pipeline project seems to have all but vanished, Turkey's new hope for the future appears to be the Trans-Anatolian gas pipeline project (TANAP), set to be completed by 2019. And, in addition to natural gas from Azerbaijan's Shah Deniz gas field in the Caspian, Turkmen gas could also contribute to this supply route, a route that is actually aimed at undermining Russia's hold on Europe's energy market.
This "Turkey-Azerbaijan-Turkmenistan triangle" would suit the EU very well, but now that the Russian Bear is basking in Turkey's Crescent, Erdogan seems to have been caught unawares. Or, is the Turkish President now actually playing another game of alliances, a game that could see him attempt to put pressure on the EU by means of the Russo-Turkish accord that has now been reached? The Turkish President apparently harbors the desire to establish his country as a serious energy hub, but also as an "influential energy state" in its own right and even as a "central Eurasian power," able to deal with such big boys as the EU or Russia on equal terms.
The Widening Chasm
While Turkey's leadership is now cozying up to Russia, popular opinion is very much divided over President Putin's visit. Demonstrations were held in front of the Russian Consulate in Istanbul. These protesters, calling themselves Crimean Turks as their ancestors fled to the Ottoman lands following the Russian annexation of the peninsula, gathered in Beyoglu to voice their condemnation of Putin's renewed annexation of their ancestral homeland. At the same time, another group of protesters gathered in Ankara's Guvenpark to express their disapproval.
These protests, in conjunction with the widespread disapproval for Turkey's Syria policy, indicate that Turkey's leadership has become alienated from certain sections of Turkish society. While the AKP-led government is forging ahead, bringing economic prosperity to pro-government businessmen and their families, the polarization of the population that was laid bare during 2013's Gezi Park protests appears to deepen. And now that Erdogan appears willing to perform an unlikely dance of alliances involving on the one hand, Russia's Putin, and Turkmenistan's Berdimuhamedov and various EU heads, on the other, this polarization will not go away anytime soon.
The statements, views and opinions expressed in this column are solely those of the author and do not necessarily represent those of RT.