A German 'savior' launches the Romanian reboot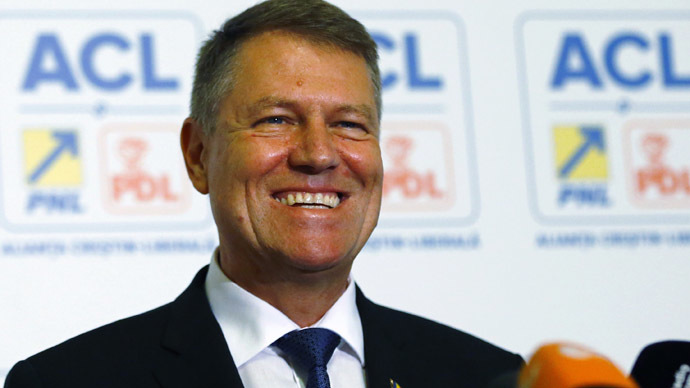 The second poorest EU nation has taken a step towards civilization, the electorate delivering a blunt verdict on a dubious dysfunctional oligarchy passed off as a political system, and electing an ethnic German, Klaus Iohannis as the new president.
For those who like their politics and nations neatly homogeneous, the eastern half of Europe can be confusingly complex. In south Eastern Europe things can often be more complex still. Equally the politics of the Balkans can often involve words like "brutal" and that's often on the positive side of the ledger. In Romania, we find a remarkable country. After the ghastly President Ceausescu fell, Romania, unlike, say, Poland, never achieved the same cleansing leading to transparent laws and sound long-term growth. Poland has had some foibles of late but great men like Leszek Balcerowicz helped deliver a free and fair post-Communist system while broadly eliminating corruption. By comparison, Romania resembles a cesspit. The stench of rank corruption stifles a wonderful citizenry while a horrible oligarchy (often descended from the Ceausescu regime) carves up the wealth. Events described as riots in the western media can look pretty orderly compared to the Romanian company AGM.
Amidst the political class, the ability to trough and avoid legal rebuke has been enshrined and become entrenched. Romania is so corruptly inefficient it has failed to deploy its allocated EU funds. Given that Brussels recently celebrated 19 consecutive years of audit failure (from 19 audits) one has to offer a certain twisted kudos to Bucharest.
On Sunday 16th November, a minor earthquake hit the political establishment. A decent soul, a man who appears both honest and keen to serve the people was elected President. What's more, for those who regard Romanians as a mono-cultural orthodoxy, he is an ethnic German Protestant. The President-elect is a keen advocate of making politicians accountable, removing their right to avoid prosecution.
The magnificent medieval Transylvanian city of Sibiu now represents both the historic past and great future potential of Romania. As Mayor, Klaus Iohannis propelled the city forward, attracting foreign investors and, well, serving his electorate (an essentially unknown phenomenon in many constituencies).
In the first round of voting, Romanians endorsed sitting Prime Minister Ponta (40.4 percent) leaving Iohannis trailing, albeit on a respectable 30.4 percent - a remarkable score for a provincial mayor from a city of under 250,000 people in a nation of 22,000,000. However, the scandal (being Romania there is always scandal, alas) was the anarchy of the election itself. To describe the Romanian government apparatus as barely fit for purpose is tautology (leading clearly to the question of why it was ever allowed to join the EU when it clearly still falls short of prevailing standards). Expatriate Romanians, most driven to economic exile by the need to find work outside the crypto-feudal Romanian state, found themselves queuing for hours, sometimes unable even to vote in the first round. Riot police were called to the embassies in London and Paris as tempers flared.
As losing candidates from disparate parties raced with traditional unseemly haste to "deliver" their voters in exchange for political favor, Klaus Iohannis stood firm: no deals. He received almost all their votes anyway… The dysfunctional state became the leitmotif of the entire campaign. The Foreign Minister resigned. Suddenly a typically brutal campaign by Prime Minister Ponta backfired spectacularly.
Thus the earthquake struck. In the modern age of political pygmies, the Romanians chose the honest alternative to a dysfunctional status quo. Turnout soared in the second round: at 63 percent the highest national turnout since 1996. Ponta's coronation ended up a humiliating 54.5 percent to 45.5 percent loss. In attempting to stymie the overseas vote, Ponta had galvanized the broad electorate to deny him the Presidency.
President Iohannis retains a mountain to climb for his mantra of an inclusive consensus Romania "where things are done properly." Much of the establishment is part of a huge cross-party trough. Moreover, the President does not manage the day-to-day executive. However this election marks the first occasion in a generation where Romanians have identified an honest champion who wants a better nation, an end to fetid corruption, dismal bureaucracy, and a chance for every Romanian, whatever their politics, religion or ethnicity to be able to prosper.
No honest individual can avoid endorsing the Iohannis Presidency. This transcends mere party politics - it is an encouraging sign that Romanians want a fair and prosperous future. After Ceausescu and an ugly interregnum of political oligopoly, it's time for the Romanian reboot.
The statements, views and opinions expressed in this column are solely those of the author and do not necessarily represent those of RT.
The statements, views and opinions expressed in this column are solely those of the author and do not necessarily represent those of RT.
You can share this story on social media: