'Sanctions politically useless both for Russia and Europe'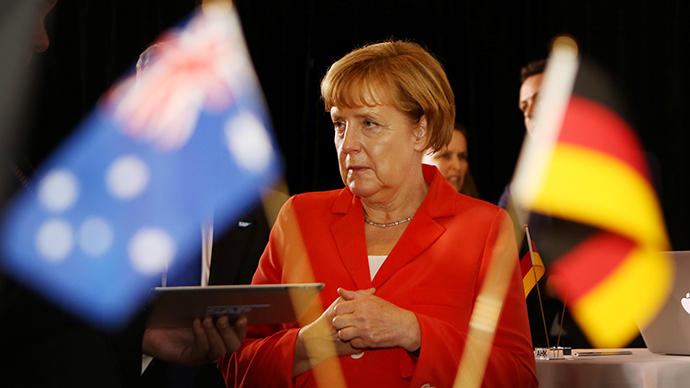 The history of sanctions shows that they are useless and harm the economy, so there is no reason to put them on Russia and the other way around, Marcus Pretzell, a German MEP from the Alternative for Germany party, told RT.
A new wave of economic sanctions against Russia is possible, German Chancellor Angela Merkel said this Saturday at the G20 summit in Australia. However, German Economy Minister Sigmar Gabriel, said in contradiction that further sanctions will not solve current problems in Ukraine, but only aggravate the situation. The West accuses Russia of sending its troops to eastern Ukraine. Russia keeps denying the presence of its military forces there.
RT:You were the only member of your party to vote against sanctions on Russia. Why did you decide to do that?
Marcus Pretzell: The only member of my group, in fact, of the entire group, not only from my party. It was not only about the sanctions but also the resolution was very one-sided. It blamed only Russia for all the problems in the Ukrainian conflict. I believe that there are more people to blame in the conflict: the Western states, the European states, the US, the Ukrainian government itself. They have made many [mistakes] as well, and so has Russia of course. But there is no such thing as a "good guy" in the game. So I believe it is wrong to look at it in one-sided way. That was my key concern about the resolution.
RT:What's Germany's next step likely to be on Russia?
MP: I hope that the German government will have a strong position because I don't believe it is in German interests to [impose] more sanctions on Russia. As an exporting state, Germany has very good economic relations with Russia; we get a lot of gas and oil from Russia and we export machinery and cars there. So it is in Germany's vital interests to have good economic and political relations with Russia. I hope very much that we will not have more sanctions put on Russia and I hope that we will end those sanctions.
RT:Clearly, sanctions are taking a toll on both Russia and Europe. Is there a tipping point when the sides will drop this economic clash?
MP: We have already seen a 15 percent [decrease in] exports from Germany to Russia in 2014, compared to 2013. It has had an impact on the German economy. Not too bad of course, but still it doesn't make much sense. We have seen many sanctions in history. We have seen sanctions on Iran, on Iraq, on North Korea, South Africa, Cuba, and many other states. They have never done anything good. Politically they are useless, and they harm the economy in both Russia and Europe. So there is no reason to put more sanctions on Russia and the other way around.
The statements, views and opinions expressed in this column are solely those of the author and do not necessarily represent those of RT.