'IS to coerce people into joining them out of fear and a sense of helplessness'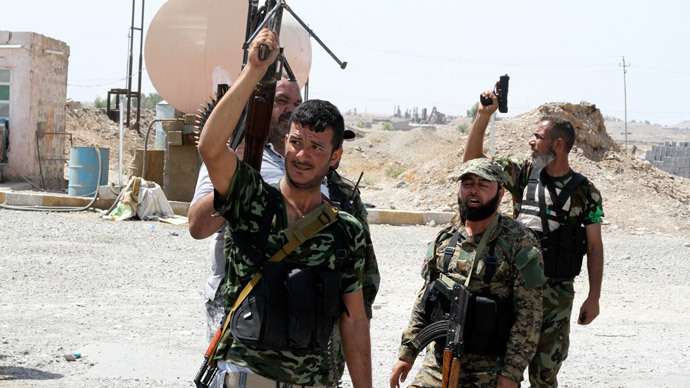 The beheadings committed by IS will continue unless extraction teams are sent to Syria or Iraq to free the hostages, which is highly unlikely as it means Western engagement in talks with terrorists, Middle East expert Catherine Shakdam told RT.
RT:The latest video of a beheading was released just hours after Western leaders at the G20 summit pledged tougher action against Islamic State. What sort of message are the extremists trying to send now?
Catherine Shakdam: I think they are trying to strike fear in the minds of foreign public and foreign powers and send a clear message to the world leaders, saying that whoever and however they will try to defeat them, IS will meet them with horrific force, and they are willing to commit horrific murders and massacres to achieve their goals. I think terror in itself is propaganda. And that is what they are trying to achieve, they are trying to prove a point and demonstrate that they are willing to go to the other extents, to claim victory over the foreign powers and the region.
READ MORE:ISIS video shows beheading of US hostage Peter Kassig
RT:The previous executions didn't lead to the end of Western intervention against the Islamic State. What are the extremists expecting to achieve this time?
CS: You need to understand it on a more local level, I would say. The IS understands completely that if it is to remain powerful and keep the traction that they have on the ground in both Syria and Iraq, they need to install fear in the hearts of the local population, and it's very much the case of the psychological warfare, whereby the local populations feel they have no way out of the IS, and a lot of people will feel if they cannot defeat IS and the foreign powers cannot defeat IS, they then might well join them.
And that is what they [IS] are trying to achieve - they are trying to coerce people into joining them out of fear and a sense of helplessness. If that is something we are really to look at because the Western powers, it's not to say that they don't care, of course they care, and they really have a backlash at home because I don't think people will take lightly seeing another [hostage] being beheaded in public. I think you need to look at it on more regional level and see how this would affect the local populations.
RT:Have Western governments done anything to secure the release of the hostages?
CS: It's a difficult situation to be in, in any case. To assume that it's just about money… it's not the case of paying ransom and expect the IS will hand over a foreign national that they have in captivity. It is more to do with the IS trying to humiliate and prove that they have an upper hand on foreign powers. I think it's more to do with that. At this moment of time, unless extraction teams are sent to Syria or Iraq to free those hostages, I don't think there is a real possibility of seeing them go home. It's a sad reality but this is reality nevertheless. Neither the British government nor the US is willing at this moment of time to send troops on the ground to free the hostages, and I don't think they will do it anyway because that would mean for them to engage into negotiations with terrorists - something that they do not want to do in public anyway.
The statements, views and opinions expressed in this column are solely those of the author and do not necessarily represent those of RT.