A Mormon in the Donbass militia: 'A volunteer's motivation beats that of a draftee'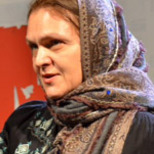 Nadezhda Kevorkova has worked at RT since 2010, before which she was a special correspondent for 'Novaya gazeta,' 'Nezavisimaya gazeta,' and 'Gazeta.' Kevorkova has also worked extensively in Russian mass-media. As a war correspondent, she covered the Arab Spring, military and religious conflicts, and the anti-globalization movement. She has worked as a reporter in Egypt, Sudan, Palestine, Jordan, Lebanon, Syria, Iraq, Iran, Pakistan, Azerbaijan, Ukraine, Hungary, Greece, Turkey, Cuba, and in the republics of the North Caucasus, Tatarstan, and in the Far East. In 2001, after an invitation from US State Department, Kevorkova visited a number of states, including Alaska. As a correspondent of 'Gazeta' she reported from Indian settlements in the US. She covered the 'Gaza Freedom Flotilla' in 2008, 2010 and 2011; she also visited Gaza several times during the blockade. In 2010, Kevorkova was nominated for the 'International Women of Courage' award.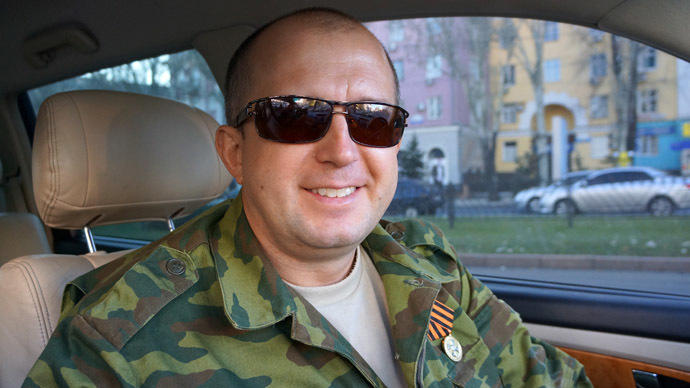 Sergey's call sign is "Snow." He was born in the Donbass. He's a businessman, a Mormon and he's happily married. He has been in the army for five months without getting any money.
He is one of the few soldiers who don't hesitate to say their names and give their pictures. He is 40. He has been fighting since May 21. He participated in the bloodiest battle near Semyonovka, which is not far from Slavyansk. He was one of the first soldiers to receive a medal. He had a military unit under his command. On June 21, he was wounded in the leg. Now he is back on duty.
"I'm a Mormon, a sectarian, as they call us here, but I'm willing to shed my blood for the Donbass," Sergey says. Sergey, his wife and their three kids are Mormons.
"Before I became a Mormon, I was an atheist. In the 1990s people didn't feel so negative about things that come from America. We used to baptize whole families every week," he says.
At that time the closest Mormon temple was in East Germany. There are no Mormon temples in Russia.
"We used to go to Germany twice a year to study and to pray," Sergey says.
Later they built a temple in Kiev, but now he cannot take his family there, because they may arrest him for being a militiaman and a commander.
"We have only 150 temples around the world, but we also build meeting houses. Before the war there were three meeting houses in Donetsk, one in Makeyevka and one in Gorlovka. There are around 100 Mormons in each parish in the Donbass region. We don't drink, don't smoke and have strong marriages. Eighty percent of our church members are for the Donetsk Republic, and twenty percent are against it." According to Sergey, that's the situation among all Ukrainians.
"Three of our church members are also in the militia," Sergey says. He says he believes that not many denominations can boast of such a high mobilization level.
"Our members gathered humanitarian aid and took it to Semyonovka under fire through Ukrainian checkpoints."
Before the war he had a small metal goods business, but in the spring his business collapsed.
He hasn't received any salary as a militiaman so far. He was fighting, then he was wounded and now he works at the command headquarters.
"We have a rule – you don't get any pay for your first month of service. But, as for me, something always happens during the first month. It's been over a month since I've left the hospital, but I haven't received any money so far," Sergey says. He has been serving in the army for five months now.
Like many others in the Donbass, he sent his family and his parents to the Crimea. They had some savings, but they ran out. He didn't get any compensation for his injury. He gets help from his family – his parents receive pension payments and his wife found a temporary job.
After his injury he was assigned as personnel officer.
"I keep asking to send me to my unit, but they won't let me. Our commander thinks I'm valuable," Sergey says.
He doesn't understand why people treat him and his fellow believers nicely, but are still suspicious toward Mormons in general.
"They took our four buildings and gave them to the militia. We were treated as if we were American spies. At first, I would go to the authorities and show them my injured leg, and they would back down. But now it doesn't work any longer. But our members didn't get hateful. Our women suggested that our buildings be turned into hospitals, so they could take care of the soldiers there. But we don't know what will happen eventually." Sergey hopes that his fellow believers understand why some people don't like Mormons.
"You cannot talk to each one and explain that our relations with the Kiev Mormons hardened after the first revolution in 2004. As far as I know, none of them went to war," Sergey says.
He remembered that a winner of a Biathlon European Championship came to support the Donetsk Republic. "He is also a Mormon!" he says.
Sergey says that the Salt Lake City Central Mission doesn't interfere in their followers' political life. The president of their mission, an American, left when the situation began to heat up. Currently Mormons meet on Sundays in their homes. Out of 100 Mormons, only 30 still remain in the city.
Sergey says that not only Mormons are in a difficult situation; the prayer house of the Pentecostal group 'Word of Life' has also been taken by the militia forces, though some of their members also volunteered to fight. In Slavyansk, a pastor was killed.
"I know a guy named 'Gross' from the Vostok battalion." Sergey tries to call him, but the telephone connection with those at the front line is bad.
He hopes that sooner or later the attitude toward Mormons will change, not just because he is a member of the self-defense forces. "Our leaders send millions of dollars to help the Donbass. People know about it."
Sergey thinks that there are no unbelievers on the battlefield, as for differences in their beliefs, they don't matter much for soldiers.
"After three days, everybody puts on crosses, icons or amulets. I shall never forget my first night in the trenches, how I was praying there. You can find all kinds of religions here at the front, even Rodnovery (Slavic native faith groups – RT)". Sergey recalls his first day at the front: "It seemed like a time machine had taken me back to 1942. Here I am, sitting in the trenches with my rifle against tanks."
He still wonders how the militia forces managed to stand against much stronger government forces. "Near Semyonovka, there were 300 to 400 of the militiamen fighting with machine guns against 120 units of Ukrainian armored vehicles."
He thinks that at the front line believers understand each other better than in ordinary life.
"One day I lectured the soldiers against swearing, together with an Orthodox priest. We have no icons or crosses, but I feel bad when they start swearing in front of their relics. Since then we've agreed not to swear in the trenches. Father Anatoly thanked me for the lecture and gave me an icon."
It's too bad not all the soldiers have a chance to listen to such lectures. Many of them swear because they feel it's a sign of the macho world. Sometimes you see a soldier wearing crosses, but he swears like a sailor.
When you talk with someone who has been at war, the talk inevitably touches on other conflict zones.
"I am pro-Palestinian. I've been to Israel, and I wasn't impressed at all – all the sanctuaries are commercialized, and their politics is just wrong," says Sergey.
For him, fighting for Donbass is the right cause. He points out that such a great number of people willing to die for it is all the proof he needs.
Almost all of his fellow combatants have been wounded. On June 3, nine got killed in the most fierce fight they've been in so far.
"We were up against 240-mm mortars, howitzers, tanks, and Grad rocket launchers. And all we had was these nine guys from the antitank detachment with the 1944 issue guns. Their number 3, a Rodnover guy, went to fetch the ammo, and by the time he got back all of them were dead. He used up all the ammo he brought and hit a tank," Sergey said.
He does not agree with the principle some trying to apply – that it's Ukraine vs. Russia or Ukrainians vs. Russians.
He recalls volunteers from Kiev who came to join the Donetsk militia:
"There was one guy, his call sign was 'Mole.' He also took out a tank. He was always very neat, even in battle he was tidy. My commanding officer Cedar is also from Kiev, he is now back after a time in hospital, he was badly wounded."
Wartime storytelling generates all sorts of fantastic stories. For example, Sergey says, there was a 16-year-old from Kiev, with the call sign "Vandal." They say when he was 14 he witnessed some Kiev protesters throw down a Russian flag and stomp on it – and he snatched it from under them to protect it. And they say Putin sent this youth a watch as a thank you.
He continues, "Our medic is a true hero. He retrieved so many wounded under fire. He used to say, "It's my Orthodox Christian Jihad."
Sergey grew up with the values which were typical for Soviet youths – believing that being a soldier is honorable and that his homeland will never have to suffer from another war. Both his parents were deployed with the Red Army contingent to Hungary. His mother was a teacher of English, and father a communications officer, taught technical discipline to the soldiers. When the family returned to Donetsk, both parents went on to teach at a military school. So for Sergey to want to become an officer was a natural choice. In 1991, he enrolled in the Donetsk military school, but as the Soviet Union dissolved the same year, Sergey decided to quit.
"I did pass all the qualification exams, honestly! I was in the last class at the school, prior to dissolution. I didn't serve in the army either. And yet you see, I ended up fighting in a war anyway," says Sergey.
He says that more than half of the militiamen here haven't even served in the army.
"In action, you learn very quickly," he says. "The Donetsk militia has had a total of 16,000 volunteers – and that's against the 30,000 Ukrainian troops. But you see, a volunteer's motivation beats that of a draftee. In my unit, I had two fathers with their sons join us. And a family of a husband and wife."
According to his data, and since he works with the staff he does know what he's talking about, 70 percent of the militiamen are natives of Donbass, 20 percent are from the rest of Ukraine including its western regions, and 10 percent are volunteers from Russia.
"On the average, those volunteers from Russia who have had an experience of army service are much better prepared than the rest. We also had some outstanding fighters. For example 'Motorola,' the commander of my battalion, is a natural-born military leader. He is only 5 feet tall, skinny, but his leadership qualities and his tactical mind are unbelievable, that's something you can't just learn in a military school."
"Motorola" was the first to think of posting video reports on the Internet so that people could put a face to the militias.
Among these video reports was one called, "A Mormon in the militia."
"It began as a joke," says Sergey. "It wasn't for publicity. I've never been to the USA. I fight for Donbass because this is my home."
The statements, views and opinions expressed in this column are solely those of the author and do not necessarily represent those of RT.