'Antares rocket's explosion is setback for science and private space companies'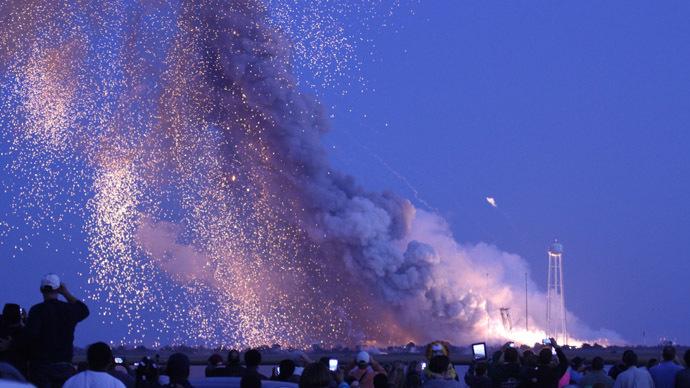 The accident with Orbital Sciences' Antares rocket shows that it is risky and dangerous to use private companies to ferry astronauts to the ISS, even though previous launches were successful, Tarik Malik, the Managing Editor of space.com, told RT.
An unmanned American rocket exploded shortly after takeoff from Virginia's eastern shore Tuesday. The Orbital Sciences' Antares rocket carried equipment to restock the International Space Station. It was supposed to be the third of out of eight planned Orbital missions to ferry gear, food, and equipment to astronauts aboard the ISS.
Orbital called the destruction of its rocket a "vehicle anomaly" on Twitter.
Though there were no injuries on the ground, the facilities are destroyed which questions NASA's ability to launch spacecraft in the near future.
READ MORE:ISS-bound rocket explodes on takeoff from NASA facility in Virginia (PHOTOS, VIDEO)
Tarik Malik, the Managing Editor of space.com, argues that this is a big setback for Orbital and NASA.
"It is definitely a setback for both Orbital Sciences, and NASA's commercial plans to use these companies for cargo delivery to the space station," he told RT.
He also mentioned that earlier this year NASA announced plans to use private space taxis to get astronauts to the space station, which actually seems to be rather risky after this accident.
"For that program it really…shows the risk and the danger of relying on those companies to do that. At the same time this was the fourth mission to the station with these vehicles by Orbital, and the other three missions including the test flight just of the rocket itself were flawless," Malik said.
Fortunately, there were no astronauts onboard and the International Space Station crew is not desperate for supplies, which could be restocked by a Russian Progress spacecraft. Therefore, the consequences of this explosion are "mostly for the scientists," Malik said.
"The price of failures that we saw tonight is extremely harsh – we lose the vehicle. Luckily this was an unmanned spacecraft with no crew because it's another safety measure that you have to meet when these commercial space taxis become NASA's road to space," Tarik Malik told RT.
"The biggest setback is going to be for the science that was on this spacecraft. It was carrying 2.5 tons of new gear, food, clothing for the astronauts, a lot of student experiments, a lot of life science experiments, things that the researches on the ground have really been waiting to get into space," he added.
Though the reasons that led to the accident are unknown, some consider that there have been some problems with the rocket engine. Bruce Gagnon from the Global Network against Weapons and Nuclear Power in Space told RT that last May a similar rocket engine blew up in Mississippi at the Stennis Space Center.
"I think it is too early to tell for certain what the cause of the accident was. It appears it began to break apart immediately after launch within seconds of a booster fail. The booster rocket failure caused an explosion," Gagnon said.
He also argues that accidents of this kind usually take place because of human errors.
According to Bruce Gagnon, the US is under big pressure as Russia may stop ferrying US astronauts to the space station after 2020.
"The USA has been relying on Russia to ferry the astronauts to the space station. But then Russia is saying that after 2020 they will not be doing that anymore. So the US is now under a lot of pressure to cope with these private corporations," he told RT.
Meanwhile, Aleksey Krasnov, the head of Roskosmos' manned spaceflight department, told RIA Novosti today that Russia is prepared to ferry US supplies to the International Space Station on its Progress spacecraft to compensate for the loss of the Antares rocket.
"So far NASA has not asked us, but we have a gentleman's agreement to help each other should a need arise such as after the loss of a supply ship or another emergency," he said.
The statements, views and opinions expressed in this column are solely those of the author and do not necessarily represent those of RT.