150 liters a day: 'Water - critical part of Ebola patients' treatment'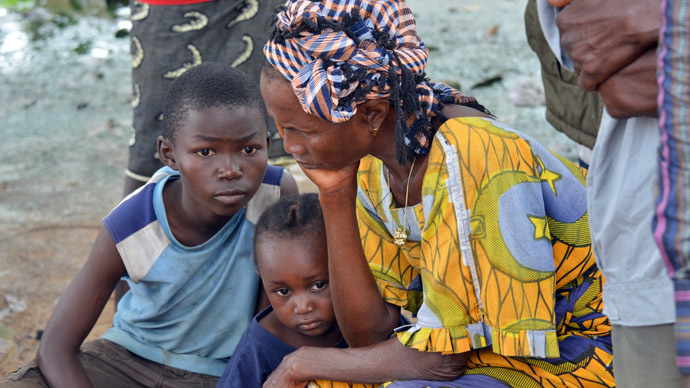 Water supply is an essential part of Ebola treatment, which is needed not only for drinking, but also to wash clothes and disinfect hands and bodies, Laurent Duvillier, Regional Communication Specialist at UNICEF, told RT.
RT:How can you describe the current Ebola situation in Liberia? Are there any positive changes?

Laurent Duvillier: What we see on the ground is that the situation remains extremely concerning, especially the exponentially growing number of cases. But we also see signs of optimism and improvement. This morning I was visiting one of the health centers in one of the urban poor areas, and we see more and more mothers coming, bringing back their children for vaccination. You must know that due to Ebola, and the fear of contagion, all the vaccination campaigns have been interrupted in Liberia. But the routine vaccination for the newborns is continuing. Because of the fear of contagion many mothers were too scared to go to the health centers for the vaccination. It is extremely dangerous for the children because that means that those children are at risk of not being vaccinated against preventable diseases like measles, polio, and pneumonia. They're at risk of dying from those preventable diseases. So it is extremely important that vaccination continues, and UNICEF is there on the ground providing vaccines in the health centers, and also protection for those who are in the frontlines, those vaccinators, to make sure they themselves are not exposed to the risk of contagion.

RT:How significant is the role of water in the Ebola treatment?

LD: Water is a critical part of the treatment to the Ebola patients. It is a life blood of the Ebola treatment units. We always talk about the medical treatment which is important but we often overlook the importance of safe water. One Ebola patient needs every day 150 liters of safe water. This water will be used for drinking but also is needed to wash clothes, wash hands, and also to disinfect bodies and the outfits used by the medical doctors and nurses. So the quantity of water that we need every day for each patient is very, very high, in a country where in normal times every citizen has access to 15 liters of safe water per day. That means we need to ensure that 10 times the quantity of safe water is accessible for this Ebola treatment unit. UNICEF is in charge of coordinating this supply of safe water. It is very important humanitarian challenge to ensure this access to safe water. Every day, 24 hours a day, seven days a week -- it is a big, big challenge.

RT:So what has already been done by UNICEF and some other organizations as well?

LD: A lot has been done, and now with the increase number of cases and new Ebola treatment units being opened, we see the increased need for safe water. So we are looking for different possibilities, we are drilling blowholes, and we are also dealing with water companies to ensure that there will be no interruption. There are two concerns: ensuring that there will be no interruption in supplying water and ensuring the quality of the water that is being supplied. It is very important that it is safe, drinkable water. Those are the two concerns UNICEF is working on currently.

RT:People in Liberia don't know how to properly act to avoid further spread of the disease. So is there any special training in the country?

LD: Absolutely. We are working with the government and training different kinds of people. We are training health workers. But we are also training, for example, teachers. This week we will start training of 5,000 teachers in Liberia to train them about hand washing promotion. You must know that the schools remain closed. It is very important that we train those teachers. We will see since the schools are closed we can tap into to those recourses. We may want to involve other teachers in promoting hand-washing at the community level.
RT:Are there any changes in people's behavior in Liberia, and what are they?

LD: One of the good signs that we see here, and one of the positive effects of the Ebola outbreak, if we could say so, is that now people are extremely aware that hand washing is important. Everywhere in Monrovia, and I visited some urban poor areas, even in those areas, people are extremely aware that hand washing is important. You can see buckets everywhere. You can see people washing their hands. You didn't see that few months from now. This is very important and I am sure that children from Liberia will be raised with this importance of hand washing, they will keep this in mind, and that will probably help us to prevent many diseases in the future.

RT:Obviously, it will take time before vaccines are commercialized and become accessible to people. So what can and must be done before we obtain them?

LD: It is important to support all the efforts for vaccines. As you mentioned it will probably take time before it can be commercialized and accessible for the people in need, and more available here on the ground. So we need to sustain the effort and work on two different fronts, and we support the efforts of World Health Organization (WHO) to develop those vaccines and to make them accessible for all. But in the meantime, we should not forget those who are in the frontline: health workers here, the vaccinators here. They need support. They need to reduce the risk they can be exposed to the outbreak and the virus. We need to continue to support them. So far we have only received about a third of the resources that UNICEF needs to address this problem. It is not acceptable. It is a huge gap. We need to receive more resources, and to make them accessible to the people who are in need, and leading the fight here in West Africa.

RT:Is there a possibility of mutation of the virus?
LD: At this stage there is no scientific evidence that the virus could mutate. Nobody knows whether it could happen. At this stage there is no scientific evidence. The only organization that has the authority to monitor the epidemiological surveillance is the World Health Organization. It is very important that we all look at them, and their guidance on that matter.
The statements, views and opinions expressed in this column are solely those of the author and do not necessarily represent those of RT.