'IDF don't see Palestinian people as people, children as children'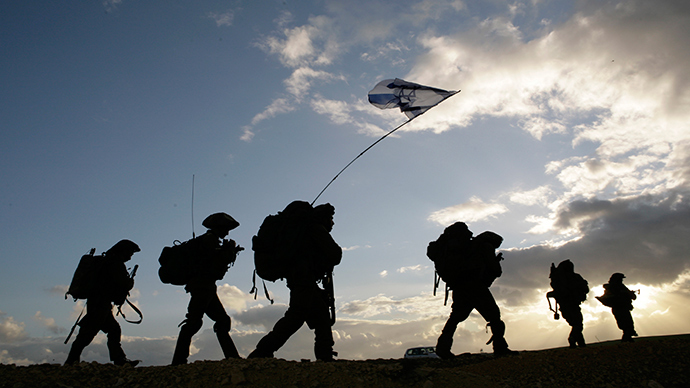 Israeli troops serving in the occupied West Bank see Palestinians not as humans, and when they are ordered to arrest someone, it does not matter whether it is a child or an elderly person, former IDF soldier Nadav Bigelman, told RT's In the Now show.
On Sunday the Israeli Defense Forces (IDF) arrested an 11-year-old mentally ill Palestinian boy living in the outskirts of Hebron, a Palestinian town in the West Bank, a video revealed by Israeli rights group B'Tselem revealed. The teenager was arrested for throwing rocks at military vehicles.
According to UNICEF, every year about 700 Palestinian children from 12 to 17-years old get arrested, interrogated and detained by IDF.
RT:What do you make out of this latest video? Have you arrested children like that yourself?
Nadav Bigelman: Unfortunately it didn't surprise me. I can say that as a soldier who served also in Hebron as a combat soldier between 2007 until 2010, I took part several times in arrests like this. I think what people need to understand is that … soldiers look at Palestinians in the way not as at human beings. In that way they also won't look at them as at children or teenagers… As a soldier who served…in the Occupied Territories, I can say that when you need to arrest someone, that is the order you were given, you would arrest him, you would detain him, you would handcuff him. It doesn't matter if he is 8-years old, 25-years old, 50 or 60. The order is very clear - if you need to arrest him or detain him, then you do it. If he is 10-years old you would also do it. After a while you stop looking at people as people, you stop looking at children as children, you stop looking at teenagers as teenagers, you look at them just as at Palestinians, just as at people that can always potentially be terrorists.
RT:What made you stop and look at these children as children, not just Palestinians?
NB: One of the things that I went through is during [service in] the army I started asking questions. It took me a while, only after I got out of the army, I broke my silence, - I gave a testimony to the organization I am a part of now, Breaking the Silence. And I started to be exposed to more and more things like that. What people should understand is that children and the youth are only part of these kinds of groups. We are talking about the elderly, or women, or any kind of groups of people that the army wants to deal with, to arrest, to detain, whatever, they would do it. I started to think that maybe the problem here is much bigger and that this is the nature of the occupation, this is how controlling millions of people looks like.
RT:Do you feel any pressure from your peers, from Israeli society for coming out, for speaking out against the IDF?
NB: I am not speaking against the IDF. I was a soldier. I am representing here a group about 950 soldiers that served either in the Gaza troop or the West Bank. What we are saying is that the problem in many ways is not the army, the problem is what the army is sent to do and that is to control about 4 million people under a military regime. We have been doing it for almost 50 years.
RT:So who is responsible for this problem, for using the army in this way?
NB: There is no doubt that we are trying to show to the Israeli public and to the international community that we keep on choosing day after day to control millions of people. Once you do that, and I can say again from my own personal experience and after I had hundreds of testimonies, that this is how it works. You cannot control people without force, you cannot take people's liberty and freedom without them resisting you and then arresting them, and then we can see images and videos just like we have seen in the last few days. This is how the occupation works; it cannot be quiet, it cannot be symbolic, it cannot be non-violent because my definition - it is a violent structure.
The statements, views and opinions expressed in this column are solely those of the author and do not necessarily represent those of RT.
The statements, views and opinions expressed in this column are solely those of the author and do not necessarily represent those of RT.
You can share this story on social media: