'Europe doesn't care about worsening migrant problem' – Calais deputy mayor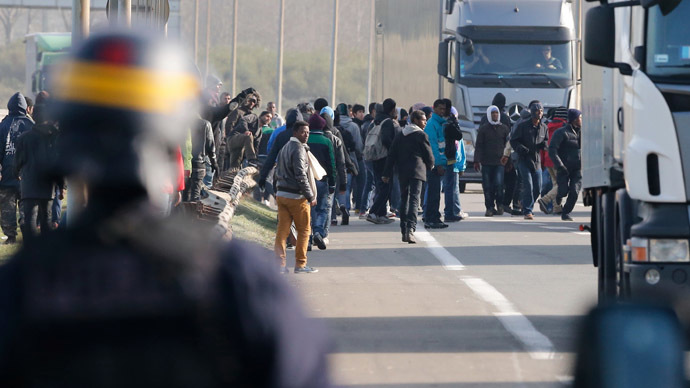 The situation with illegal migrants desperate to get to Britain from the French town of Calais is worsening because neither the French government nor European officials care about the problem, Philippe Mignonet, the deputy mayor of the town told RT.
Hundreds of migrants trying to reach the UK stormed trucks waiting to board ferries at the French port of Calais on Monday, according to AFP. Local police used tear gas against them.
RT:Illegal immigrants have been a problem, on and off, for Calais for the last 15 years.How come the problem still hasn't been solved?
PM: We have been facing that situation as you said for more than 15 years, but it has been getting worse and worse over the last weeks, especially in the last few days. We have a lot of migrants fighting against each other in the city and around the port of Calais. The situation [continues] because there is no decision taken by the French government to treat the problem and to try to solve the situation. Also by Europe, Europe doesn't care I think about that situation. The best example is that there is no European commissioner for immigration. So what can we do ourselves as a city? We are only a city, we are not a country and we just can apply the national and European rules.
RT:Britain's ambassador to France said that it needs to be explained to the migrants that the UK is not an "El Dorado."Is Britain putting responsibility on Calais for the migrant crossings?
PM: England is saying that it is French problem, and mainly a problem in Calais - which it is not. We know why the migrants are in Calais - because they are blocked, because the UK border is in Calais and English controls are made in Calais. They are blocked in Calais because England is refusing to receive them. Of course, before they get into Europe from their countries they are told by kinds of mafias that England is the "El Dorado" - which it is not. Nothing is done against those mafias - would it be in Europe but also in their countries. You must understand that illegal immigration in Europe is creating a profit between 5 to 6 billion euro a year. And nothing is done to fight against those mafias.
England is of course blaming the city of Calais because the migrants are still arriving. But we are not at fault. We have not made a choice of having those migrants in Calais.
RT:Rival groups of migrants have started clashing with each other.How far will this violence escalate?
PM: The violence is growing and growing. A couple of minutes ago I was not far away from my office and there were some kind of riots in the city. Calais is not a place where there is a kind of war. But the violence and the tensions are higher and higher every day. …The train station is blocked at the moment by the police force because some migrants are fighting in the train station as well. It is something that the French government has to take into account. The Mayor of Calais, Natacha Bouchart, made some proposals to the French Home Office minister, but nothing is changing. We have the feeling that it is done on purpose where the city of Calais is left alone to face it. We wonder whether it is becoming a political problem between the French government and the city of Calais.
The statements, views and opinions expressed in this column are solely those of the author and do not necessarily represent those of RT.