'Good public health system - solution for Ebola containment'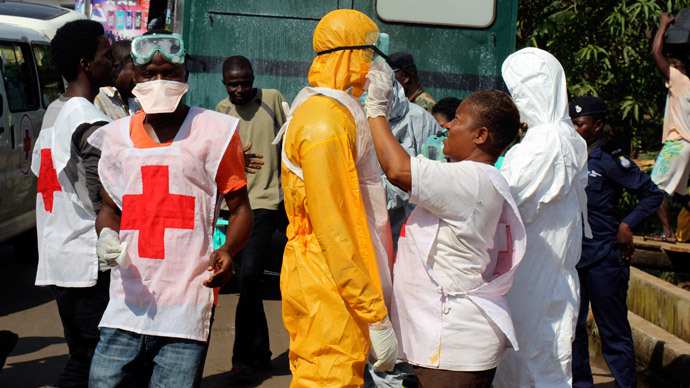 It is extremely important to take preventive measures, ensure good hygiene is in place, and undertake important steps towards changing behavior, Sheldon Yett, UNICEF representative in Liberia, told RT.
RT:Why is Ebola getting this level of concern when other infections like pneumonia or flu are claiming far more lives? Is the situation really so serious?
Sheldon Yett: Absolutely, the situation remains very serious on the ground here. People continue to die every day and this is something that must be stopped. The outbreak continues to spread. So yes, it is serious. Of course the impact of the disease goes far beyond the number of people who are directly contracting the disease, but of course has a tremendous impact on the economy, has impact on communities. It has impact on the ability of people to find food, to sell food. It has an impact on the ability of kids to go to school. So the impact of this disease is huge, massive, and continuous.
Dr. Nuhu Maksha, INICEF Immunization Specialist: "UNICEF has been working together with government departments to ensure that children are separated from their mothers when they are sick and they are attended to in terms of adequate nutrition."
RT:Why is Ebola more dangerous than other diseases like malaria or flu, for example?
SY: I think one of the most important things to keep in mind is there are very easy treatments for flu and many of these other diseases. Today, we don't have a vaccine that we know works for Ebola. It is extremely important that we take preventive measures and that we ensure good hygiene in place, and that we ensure that measures that are important for changing behavior are undertaken here. We need to ensure that this outbreak is stopped and the spread of this disease is stopped as soon as possible.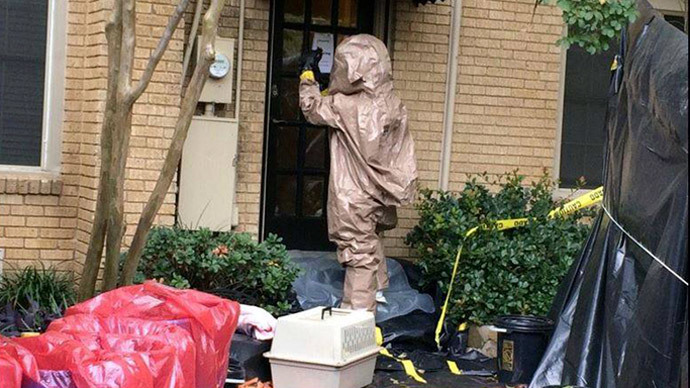 RT:What are the major pharmaceutical companies doing in terms of finding a cure for Ebola?
SY: Of course, there are a number of pharmaceutical companies that are looking at this. There is some early indication that some vaccines may work but we don't know yet. It is far too early to know. But there is a tremendous amount of interest in this disease and we hope that companies will have a vaccine at some point. But right now the solution is in good public health, in strengthening public health measures and insuring that health systems are functioning as soon as possible.
"There are many agencies that are working on coming up with a vaccine but that is the challenge to the global community especially to the medical community," Dr. Nuhu Maksha told RT.
RT:The world has already seen a number of Ebola outbreaks, but this time it seems to be spreading more quickly. Why it is so?
SY: I think one of the reasons is that it is in urban areas. This is the first outbreak that has really affected large urban areas. That makes it far more difficult to contain. And that has led to the spread of disease beyond cities that initially have been infected and other cities. That makes it far more dangerous.
RT:Why do you think Europe and the US are so worried about Ebola considering they're far better-equipped medically than African nations?
SY: It isn't just Europe and the US, Russia is also very, very worried about it, China is worried about it. There isn't a corner of the globe that is not worried about Ebola. Nobody wants the disease to spread across their borders because they have seen the devastation and destruction that it leaves. That is why it is so important to focus world energy and to focus the resources here in the epicenter of this disease and addressing it here.
RT:What states are at risk now? Where can it go?
SY: Obviously countries with strong public health systems and good health infrastructure are far less at risk than countries with poor infrastructure. Unfortunately, Liberia is one of the countries that has a very poor health infrastructure. The health system has not received resources that it requires, and until the health system gets additional resources, unfortunately, populations will be at risk.
"The [Ebola outbreak] took the West African region by surprise because it was here in Africa, but in a different part of Africa, and it came to us, to West Africa, and it was a new virus for us," Dr. Nuhu Maksha said.
RT:Can Ebola be contained?
SY: The world has a good chance to contain it, but it's important that the world concentrates its efforts on addressing the outbreak here, in West Africa. The threat and danger to populations here is much greater than it is to populations in the US or Europe or elsewhere in the world because people here are much closer to the epicenter of the disease. And as I mentioned, health infrastructure is much poorer here than it is in Western Europe or the US.
The statements, views and opinions expressed in this column are solely those of the author and do not necessarily represent those of RT.
The statements, views and opinions expressed in this column are solely those of the author and do not necessarily represent those of RT.
You can share this story on social media: